Found November 20, 2012 on Mets360.com:
It became official yesterday. Commissioner Bud Selig approved the mega-deal between the Miami Marlins and Toronto Blue Jays. Mark Buehrle, Josh Johnson, John Buck, Emilio Bonifacio and our immortal beloved Jose Reyes are leaving sunny Florida and are headed to the Great White North, while Henderson Alvarez, Yunel Escobar, Adeiny Hechavarria, Jeff Mathis, Anthony DeScalfani, Jake Marisnick and Justin Nicolino go south. That's an awful lot of hyperlinks, don't you think? Setting aside whatever opinion you may have of Marlins' honcho Jeffrey Loria – I happen to think he's a vile, venal little slug who in the words of author Jeff Pearlman "would trade Christmas if it would make him five bucks" — trades like this are actually fun for the inveterate off-season junkie like myself. I just wish the whole Miami experiment had been given more than ten minutes before it was deemed an abject failure. Most of those guys who just got traded were only signed in late-2011/early-2012....
Original Story:
http://feedproxy.google.com/~r/Mets36...
THE BACKYARD
BEST OF MAXIM
RELATED ARTICLES
Pack your bags for Canada, former Marlins. On Monday, after several days of hemming and hawing, Major League Baseball commissioner Bud Selig decided not to block the pending trade that will send Josh Johnson, Jose Reyes and Mark Buehrle to the Blue Jays. The commissioner had reportedly been reviewing the trade and whether it should be blocked under the "best interests of baseball"...
Now that commissioner Bud Selig has signed off on the 12-player trade between Miami and the Toronto Blue Jays, the Marlins face a major damage-control task with their fans and their star player. "I am sensitive to the concerns of the fans of Miami regarding this trade, and I understand the reactions I have heard," Selig said in a statement Nov. 19 when the mega-deal was...
Commissioner Bud Selig on Monday formally approved of the Miami Marlins trading star shortstop Jose Reyes and standout pitchers Josh Johnson and Mark Buehrle to the Toronto Blue Jays for a slew of prospects last week. The city of Miami … Continue reading →
Baseball commissioner Bud Selig on Monday approved the big trade of last week that sent Jose Reyes, Mark Buehrle, Josh Johnson, John Buck, and Emilio Bonifacio from Miami to Toronto in exchange for Adeiny Hechavarria, Yunel Escobar,Henderson Alvarez, Jeff Mathis, Justin Nicolino, Jake Marisnick, and Anthony Desclafani. There had been some speculation Selig might reject the deal...
In recent days, a number of Mets fans have taken to Twitter to remind me of a column I wrote about the team last February. The column said that commissioner Bud Selig should persuade his friend Fred Wilpon to sell the Mets if the uncertainty about the team's finances lingered into this winter. "One more season of this," I wrote, "and no more." Well, that...
Sorry Miami fans, there was no stay of completion granted in baseballs best interests or yours. The 12-player deal between the Marlins and Toronto Blue Jays is official. Commissioner Bud Selig signed off on the controversial trade Monday, meaning shortstop Jose Reyes, right-hander Josh Johnson, left-hander Mark Buehrle, outfielderinfielder Emilio Bonifacio and catcher John Buck are...
Ben and Sam discuss whether MLB`s Commissioner should have the power to block a trade, as Bud Selig considered doing to the Marlins-Blue Jays blockbuster.
In this Thanksgiving Holiday season, we step back and look at five reasons that Major League Baseball fans are thankful for the current state of the game. 1) Small Market teams can still win the World Series The San Francisco Giantsand St. Louis Cardinals have won the last three World Series.  These teams aren't the ones targeting all the $20M free agents (Pujols, Fielder, Sabathia...
NEW YORK (AP) -- The players' association will monitor the Miami Marlins following their payroll purge, saying it is too early to determine whether the salary cuts will cause any issues under baseball's labor contract. After complaints by the union that the Marlins weren't using revenue-sharing money to improve, the players' association, Major League Baseball and...
Unless there's a dramatic turn of events, the likelihood that the blockbuster trade that sees the likes of Jose Reyes, Mark Buehrle, Josh Johnson and others going from the Miami Marlins to the Toronto Blue Jays is going to go though. If you were looking at just this deal and nothing else, it might raise high interest, but not ire, the latter of which has been in high doses regarding...
I'm currently on the West Coast for the week so the "morning" part still applies to me, however as for the "grind", a rant is still the same no matter where in the world you are, so here I go: Yesterday the illustrious COO of the New York Mets Jeff Wilpon spoke to reporters, saying that their first priority –allegedly–is to re-sign both David Wright and R.A. Dickey...
MIAMI (AP) -- The Miami Marlins finalized their big salary dumping trade that sends All-Star shortstop Jose Reyes to the Toronto Blue Jays with pitchers Mark Buehrle and Josh Johnson, catcher John Buck and outfielder Emilio Bonifacio for seven relatively low-priced players. Miami received infielders Yunel Escobar and Adeiny Hechavarria, pitchers Henderson Alvarez, Anthony DeSclafani...
MLB News

Delivered to your inbox

You'll also receive Yardbarker's daily Top 10, featuring the best sports stories from around the web. Customize your newsletter to get articles on your favorite sports and teams. And the best part? It's free!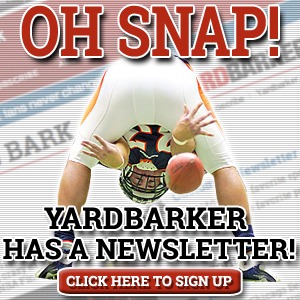 Latest Rumors
The Backyard

Today's Best Stuff

For Bloggers

Join the Yardbarker Network for more promotion, traffic, and money.

Company Info

Help

What is Yardbarker?

Yardbarker is the largest network of sports blogs and pro athlete blogs on the web. This site is the hub of the Yardbarker Network, where our editors and algorithms curate the best sports content from our network and beyond.