Found August 16, 2012 on Baseball Prospectus:
PLAYERS:
Felix Hernandez
,
Sean Rodriguez
,
Adam Dunn
,
Scott Rolen
,
Mike Trout
,
Andrew McCutchen
,
Dan Uggla
,
Shin-Soo Choo
,
Starlin Castro
,
David Freese
,
David DeJesus
,
Paul Goldschmidt
,
Miguel Cabrera
,
Ty Wigginton
,
Chris Iannetta
,
Greg Dobbs
,
Danny Espinosa
,
Dayan Viciedo
,
Josh Donaldson
,
Jay Bruce
,
Logan Forsythe
,
Todd Frazier
,
Jeff Mathis
,
Josh Hamilton
,
DeWayne Wise
,
Eric Young Jr.
TEAMS:
Seattle Mariners
,
Tampa Bay Rays
,
Detroit Tigers
,
Chicago White Sox
,
Cincinnati Reds
,
Los Angeles Angels
,
Pittsburgh Pirates
,
Atlanta Braves
,
Cleveland Indians
,
Chicago Cubs
,
St. Louis Cardinals
,
Arizona Diamondbacks
,
Philadelphia Phillies
,
Miami Marlins
,
Washington Nationals
,
Oakland Athletics
,
San Diego Padres
,
Toronto Blue Jays
,
Texas Rangers
So, did anything happen in the baseball world yesterday? I think I might have missed it... How about some trots! Home Run of the Day: Felix Hernandez, Seattle Mariners [video] Sorry, but there is no way I can justify placing a run-of-the-mill home run over King Felix's perfect game here. I could watch that final strike to Sean Rodriguez over and over again. In fact, maybe I will. Slowest Trot: Delmon Young, Detroit Tigers - 25.52 seconds [video] The best thing about this home run is the pair of twin brothers who end up snagging the ball. It's not something you expect to see in your home run highlights, I suppose. Young beats out Adam Dunn's 399th career tater trot by nearly a second for the slowest trot of the day. Quickest Trot: Scott Rolen, Cincinnati Reds - 18.24 seconds [video] Even when it feels like Rolen is slowly moving around the bases, he's still good enough for the quickest trot of the day. Mike Trout, at 19.7 seconds, and Andrew McCutchen, at 19.97 sec...
Original Story:
http://www.baseballprospectus.com/art...
THE BACKYARD
BEST OF MAXIM
RELATED ARTICLES
GOOD TO BE THE KING
Felix Hernandez was utterly dominant against the Rays on Wednesday, pitching the 21st perfect game of the modern baseball era.
As Felix Hernandez completed his perfect game against the Tampa Bay Rays on Wednesday afternoon, the Jackson Generals (Seattle Mariners' Double-A affiliate) watched on their stadium (Pringles Park) jumbotron during batting practice, and celebrated the Seattle ace's remarkable achievement. Oh, and Felix's brother Moises is a pitcher on the Generals, so it made the scene...
Felix Hernandez threw a perfect game on Wednesday afternoon against the Rays, joining Mat Cain and Philip Humber as third pitcher to accomplish the feat this season. Hernandez, a former CY Young winner and one of the best pitchers in the America League, struck out nine Rays whiel facing the minimum 27 batters. Tampa Bay Rays manager Joe Maddon was tossed out in the seventh inning...
Felix Hernandez's perfect game this week got me to thinking about the radical changes that both MLB and The NFL are now going through. The change in MLB is its shifting back to a style of  lay where pitchers are more dominant and roided up 70 homer a year frauds like Bonds and Big Mac no longer shame baseball history. I admit that the game is far from being full cleaned but...
King for a Day, Perfect Forever Felix Hernandez Throws a Perfect Game   Felix Hernandez completed the first perfect game in the history of the Seattle Mariners Wednesday. It is the 23rd in MLB history but what may be even more impressive is the fact he had to be perfect as his M's only scored one run. The lone run came on an RBI single off the bat of catcher...
As Felix Hernandez threw the first perfect game in Seattle Mariners history, Twitter decided to have another epic freak out and the most creative comment came from Detroit Tigers pitcher Justin Verlander: Sadly, Justin Verlander is still not welcome in the Perfect Club:
This season has not been one where Seattle Mariners and perfection have been used a lot in the same sentence.  But today, Wednesday, August 15th, the Seattle Mariners joined the storied list of franchises that own a perfect game to their credit.  Felix Hernandez showed why he is one of the best pitchers in baseball by throwing a perfect game against the Tampa Bay Rays.  This capped...
Yesterday, Felix Hernandez went 27-up, 27-down against Tampa Bay, becoming just the 23rd pitcher in baseball history to throw a perfect game. Amazingly, this was the sixth perfect game in the last four years, as Felix joins the company of Mark Buehrle, Dallas Braden, Roy Halladay, Philip Humber, and Matt Cain as the newest members of the club. Back when Cain threw his perfect game...
The fourth pitch Felix Hernandez threw yesterday wasn't very good at all.  I certainly couldn't have hit it -- it was a 92 mile an hour fastball, with at least a little bit of movement -- but big league hitters could. Rays leadoff hitter and Wikipedia superstar Sam Fuld could, turning on the ball and hitting it with a force and trajectory that, in most cases, one assumes...
So much for all those waves the Tampa Bay Rays have been making in the AL Wild Card race lately. Wednesday afternoon in Seattle, it was more like a massive belly-flop. And in this case, the big splash at Safeco Field was made by brilliant Mariners' righthander Felix Hernandez, whose perfect game in a 1-0 victory suddenly leaves the Rays floundering again. And just when it...
If 2011 was "The Year of the Pitcher," 2012 has been "The Year of the No-Hitter." Felix Hernandez recorded a perfect game against the Tampa Bay Rays yesterday, marking the sixth no-no to have been thrown this season and the third bout of perfection. The six no-hitters marks the most in the MLB since 1886, when eight was the benchmark. Besides Hernandez, the Giants' Matt...
There's a difference between dominating and being dominant.  Anyone can dominate for a moment but being dominant is something else all together.  Jeremy Lin dominated for a few games.  Michael Jordan was dominant.  The other night Felix Hernandez proved that he's not only capable of dominating but that he is dominant.  Other players have made that jump as well but as much...
MLB News

Delivered to your inbox

You'll also receive Yardbarker's daily Top 10, featuring the best sports stories from around the web. Customize your newsletter to get articles on your favorite sports and teams. And the best part? It's free!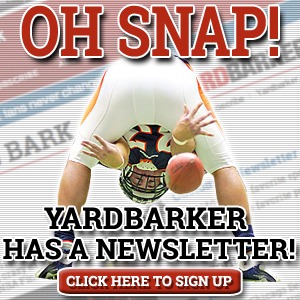 Latest Rumors
Best of Yardbarker

Today's Best Stuff

For Bloggers

Join the Yardbarker Network for more promotion, traffic, and money.

Company Info

Help

What is Yardbarker?

Yardbarker is the largest network of sports blogs and pro athlete blogs on the web. This site is the hub of the Yardbarker Network, where our editors and algorithms curate the best sports content from our network and beyond.