Found April 06, 2012 on SF Giants Nirvana:
PLAYERS:
Willie Bloomquist
,
Tim Lincecum
,
Chris Young
,
Buster Posey
,
Pablo Sandoval
,
Melky Cabrera
,
Ian Kennedy
,
Bruce Bochy
,
Aubrey Huff
,
Joe Paterson
,
Brett Pill
TEAMS:
Arizona Diamondbacks
,
San Francisco Giants
Willie Bloomquist, who really shouldn't even be batting leadoff, hit a single off Tim Lincecum to get things going for the Diamondbacks. The next batter, Chris Young, hit a home run. And that pretty much set the tone for the game; Lincecum gave up a couple bombs in the first inning, and ultimately couldn't get through six innings. His fastball velocity sat around 90, topping out at 91.4 MPH. More concerning though, as Dustin Parkes pointed out, was the location. He had trouble keeping the ball down in the zone, and according to Brooks Baseball, only 23 of the 42 four-seamers he threw went for strikes. The overall results weren't pretty — 5.1 innings, five runs, and four of the six hits he allowed went for extra bases. But there's a silver lining: seven strikeouts, one walk. Last season, Lincecum had eight starts in which he allowed fewer than two walks. Seven of those games came in the first half. Walks were a problem for Lincecum last season, and he's made a point to address the problem this year (pitching to contact). Hopefully, this start is a sign that he's headed in the right direction. (And the strikeouts were still there, which is important.) Meanwhile, against the ace of the D'backs' staff, the Giants' hitters managed to put nine hits and three runs on the board. The Giants' one-through-seven batters all had hits at one point or another in this game. Buster Posey collected a couple singles and drew a walk, Pablo Sandoval was his 2011 self, and Melky Cabrera looked pretty good at the plate (well, aside from this oddity). They weren't entirely dominated by Ian Kennedy. There were squandered opportunities, particularly in the earlier innings. And none stood out more than that seventh inning, when Bruce Bochy left Aubrey Huff in to face LOOGY Joe Paterson. Paterson held left-handed hitters to a .574 OPS last season. Huff is a left-handed hitter. Brett Pill, a right-handed hitter, was available off the bench. That's what he's there for. He probably should have hit for Huff — with a defensive replacement coming in for Huff thereafter. But that's definitely not where the blame lies for this loss, and furthermore, I'm inclined to believe that Pill against left-handed pitching is not a terribly significant improvement over Huff against left-handed pitching. And for what it's worth, Huff put up a pretty decent at-bat regardless. A lot of things went well for the Giants in this one, and the lineup is looking…competent. Quite simply, San Francisco wins this game with a better start from Lincecum. Not an ideal start to the season, but oh well.      
Original Story:
http://feedproxy.google.com/~r/Splash...
THE BACKYARD
BEST OF MAXIM
RELATED ARTICLES
PHOENIX -- Diamondbacks teammates Paul Goldschmidt and Chris Young were both a little out of place in Friday's opening-day lineup against the San Francisco Giants. D-backs manager Kirk Gibson slotted Young, the center fielder, second in the batting order, a spot he hadn't hit in all spring and had hit in only once in 2011, exactly one year earlier. Goldschmidt, meanwhile...
Tim Lincecum loses to Arizona and Ian Kennedy beats San Francisco. Those facts persisted through all of last season and carried over to the reigning NL West champion Diamondbacks' 5-4 season-opening victory over the Giants on Friday night. Chris Young and Paul Goldschmidt hit first-inning home runs, then Ryan Roberts' two-run double broke a sixth-inning tie as Arizona defeated...
I have to say that for all the complaints we Giants fans may have from time to time, I cannot say that management is incompetent. Cheap? Sometimes. Gunshy of big free agents? Yes. But inept? Absolutely not. With the group that reported to Scottsdale this spring, I really believe the best 24 came back to The City with the team."But Dodgerhater, isn't it a 25 man roster, not...
PHOENIX -- Ian Kennedy knows how difficult it can be to win 20 games, having lived through it last year. So he limits his numerical goals to those more in his control, liking being in good enough condition to make every start and log 200 or more innings. Still ... "It is something you can build off," Kennedy said last week. The construction begins Friday, when Kennedy...
Because the Arizona Diamondbacks won the NL West in 2011, the road to the division crown in 2012 technically runs through them. But "technically" is about all the Giants, the D-backs' opponent on Opening Day, will concede. As they await their season opener Friday at Chase Field, the Giants acknowledge the D-backs' place as NL West favorites by default, but they...
Opening Day is finally here for the Giants and with it the first installment of my attempts to handicap how the series will play out. Normally for this I have the statistics from the season in progress to go off of when doing this but seeing as the season hasn't started yet, I will use the ZiPS Projections and the Baseball Musings Lineup Analysis tool with lineups...
The Arizona Diamondbacks have not wasted any time scoring runs in the season's first two games to continue their recent success over the San Francisco Giants. Looking to sweep their opening series for the first time in 12 years, the Diamondbacks try for an eighth consecutive victory over the visiting Giants on Sunday at Chase Field. A big reason for Arizona's surprise run...
Episode 72: We Are Young, So Let's Set the World on Fire is out! In the seventy-second episode, Thomas and Danny recap the final roster decisions and the new youth movement for the Giants, guess about Panda's catching future, Nate's lack of playing time and the Opening Day Second Baseman. Click on the image below to find it on iTunes: You can also find it on the RSS feed...
It's about damn time.  Why do the Giants have to wait so long to get their opening day?  This just means the Giants can't go wire-to-wire now. I'm ready.  Are you?
MLB News

Delivered to your inbox

You'll also receive Yardbarker's daily Top 10, featuring the best sports stories from around the web. Customize your newsletter to get articles on your favorite sports and teams. And the best part? It's free!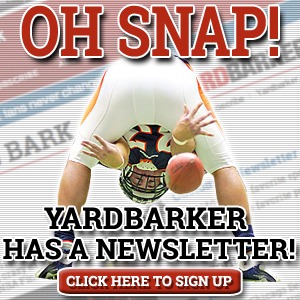 Latest Rumors
Best of Yardbarker

Today's Best Stuff

For Bloggers

Join the Yardbarker Network for more promotion, traffic, and money.

Company Info

Help

What is Yardbarker?

Yardbarker is the largest network of sports blogs and pro athlete blogs on the web. This site is the hub of the Yardbarker Network, where our editors and algorithms curate the best sports content from our network and beyond.