Found July 17, 2012 on Sports Blog Net:
"So 19 year old baseball "phenom" Bryce Harper, why do you have so much pine tar on your bat?" Simply said,
"Thats a clown question bro!"
 Come on Ozzie Guillen, unless the umpire comments on his use of pine tar, you need to keep yourself inside the dugout where you belong. The kid has his own routine and you should respect that. Pine tar has been an issue for a long while
publicity was emphasized on the George Brett incident and now this brings up the controversy once again. Pine tar is a substance used to grip the bat better and has been used in baseball for a long time. I mean if you want to criticize somebody for using pine tar, it should be bat slinger Josh Hamilton. Guillen should be laughed at for his impersonation of Harper and the league should go by the standards of the rule placed in 02'. The rule states that players should be permitted to use it on the handle of the bat up to 18 inches. The rookie knew what he was doing and he simply overcame the nonsense. I give Harper 5 stars for handling the situation and Guillen as I said just needs to sit down and shut up. Thank you for reading and please read some other stories.
Brayden West
Original Story:
http://backfromthebrink.sportsblognet...
THE BACKYARD
BEST OF MAXIM
RELATED ARTICLES
NICE GESTURE, BRO
To lighten the mood after Ozzie Guillen called Bryce Harper "unprofessional," the Nationals sent the Marlins skipper a bat autographed by Harper.
Those who were expecting nonstop quotes mixed in with a solid amount of controversy once Bryce Harper got called up to the big leagues have been extremely disappointed. Harper has said and done all the right things since joining the Nationals. That is, if you ask anyone besides Ozzie Guillen. The Marlins manager was furious with Harper on Sunday but would not say what had him so...
COLLISION COURSE
Your browser does not support iframes. Here's video (via MLB.com) of Bryce Harper's fantastic game-ending catch/collision with Steve Lombardozzi to end a 4-0 Nats win that turned into a nailbiter in the 9th. Pretty eventful day for Harper in Miami, eh? (Screencap via MLB.com video.) Befriend Nats Enquirer on Facebook. Follow on Twitter.
Just a few short days after appearing above Bryce Harper's upper lip (again), Bryce Harper's mustache is gone. There's Harper above as seen on TV in his first AB Monday night. Maybe it was just pine tar? Good news: Harper didn't get beaned by Carlos Zambrano in his first AB. It helps that Zambrano couldn't really find the strike zone (Harper walked on five...
Bryce Harper has taken the Major League by storm and has created a storm of his own with Miami Marlin manager Ozzie Guillen. Three years ago, Harper became the youngest baseball player to appear on the cover of Sports Illustrated, and he is living up to his hype. The fearless 19-year old is batting third best on his team,taking on clown-reporters (which you may have heard your boyfriend...
MASN's Kristina Akra talked to Bryce Harper after last night's walkoff thriller (video of the interview here); asked if Harper thought about scoring on his game-tying triple in the 10th after the ball rolled to the Mets dugout. Akra: "As you see the ball rolling towards the dugout, how bad did you want to jump up and go home."Harper: "I was tryin...
I want to hate Bryce Harper and Mike Trout.  Maybe if they played for the Tigers I'd love them but two guys that young, that talented and that successful who aren't on my team?  Honestly, I really want to dislike them. With Trout it's a little harder because somehow he comes across as a good guy and great teammate despite only being 20 years old.  Harper, it's a little...
Remember, kids, you don't want to forget to fill your ESPN cutlines before going live with graphics because there is a guy out there waiting to bust your ass for the error. Next thing you know it's on Twitter & dorky Internet guys are LOLing at you. In other sports news, the halo on a Joe Paterno mural in State College has been modified. The halo has been painted over! Meanwhile...
As much as he hates Wrigley Field, Ozzie Guillen had to enjoy this one. Carlos Lee hit a grand slam and the Miami Marlins beat the Cubs 9-5 on Tuesday night, giving Guillen a win in his first game back managing in Chicago. Lee's slam against Travis Wood highlighted a five-run fifth and tied him with Jimmie Foxx and Ted Williams for seventh on baseball's career list with...
We could separate outfielders into separate positions, but quite frankly not every position has enough players to make the list of five. When we make it ten outfielders for the three position we really see a compelling list of outfielders. The best two young players in the game happen to be in the outfield. They are both center fielders, so center field is obviously...
MLB News

Delivered to your inbox

You'll also receive Yardbarker's daily Top 10, featuring the best sports stories from around the web. Customize your newsletter to get articles on your favorite sports and teams. And the best part? It's free!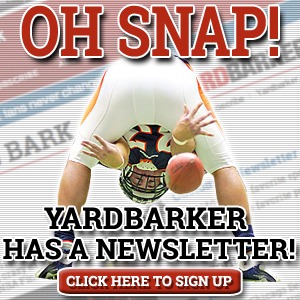 Latest Rumors
The Backyard

Today's Best Stuff

For Bloggers

Join the Yardbarker Network for more promotion, traffic, and money.

Company Info

Help

What is Yardbarker?

Yardbarker is the largest network of sports blogs and pro athlete blogs on the web. This site is the hub of the Yardbarker Network, where our editors and algorithms curate the best sports content from our network and beyond.