Found February 09, 2012 on Pirates Prospects:
There's been a lot of talk lately about the Pittsburgh Pirates and the New York Yankees discussing a A.J. Burnett trade. A big hold up with any Burnett trade is money, as the right hander is due $33 M total over the next two years, and is coming off two bad seasons with New York.
Yesterday there was some talk that the Pirates could be interested in Burnett, with the Yankees paying a bulk of his salary. Buster Olney speculated that a Garrett Jones for Burnett swap, with New York paying 90% of Burnett's salary, might be appealing.
Tonight Olney reports that Jones is, in fact, the guy the Yankees want from the Pirates, but that the Pirates don't want to move Jones. Olney added that the Yankees know they'll have to eat a huge portion of Burnett's salary, likely in the $25-27 M range.
To get an idea of the value of a Burnett deal, let's take a look at his trade value:
A.J. Burnett
YEAR
SALARY
WAR
VALUE
2012 $16.5 1.5 -$8.8 2013 $16.5 1.5 -$8.8
TOTAL
$33.0 3.0
-$17.6
Explanation: Burnett has been a 1.5 WAR pitcher the last two years. That, plus his $16.5 M contract, makes him worth negative $8.8 M per year.
What He's Worth: The Yankees would have to pick up $17.6 M in salary just to give Burnett away. Even then, the team that gets Burnett is getting no value on his 1.5 WAR. Burnett would be owed $7.7 M per year in that scenario. In order to get a grade C pitching prospect, the Yankees would have to pick up an additional $2-3 M, which takes Burnett down to $6 M a year.
So what about Garrett Jones?
Garrett Jones
YEAR
SALARY
WAR
VALUE
2012 $2.3 1.0 $2.9 2013 $3.8 1.0 $1.4 2014 $5.0 1.0 $0.2
TOTAL
$11.1 3.0
$4.5
Explanation: Jones was an 0.9 WAR player in 2011. He will likely see a bigger role in 2012, although I went conservative and just bumped him up to an even 1.0 WAR. His 2013 and 2014 salaries are arbitration estimates. Jones is eligible for arbitration in 2015, but it would provide negative value at a 1.0 WAR, so I didn't include that.
What He's Worth: Jones is worth $4.5 M over the remainder of his team control. This assumes he continues playing at the same rate as his 2011 season. If he improved even a slight amount to a 1.5 WAR player, his value would jump to $12-14 M, depending on whether you want to add that last arbitration year.
Jones for Burnett?
Value-wise, the Yankees would have to pick up $22.1 M just to match the value of Jones from his 2011 season. That would cost the Pirates $10.9 M over two years for Burnett. Of course if the Pirates value Jones higher than a 1.0 WAR player, then the deal wouldn't make sense. The Yankees would basically have to pick up all of Burnett's salary just to meet that price.
The Pirates seem set on going in to the year with Garrett Jones as their starting first baseman, with Casey McGehee platooning in the role. Trading Jones would seemingly leave McGehee as the first baseman, although I think Matt Hague could fill the platoon role against right handers. It's also interesting that the Pirates will be working out Dmitri Young. At the present time it would make no sense to have Young. They've got Jones/McGehee in the majors, and Hague in AAA, plus they've got Nick Evans as a non-roster invitee.
The thing about all of this is that the Pirates seem to be in the driver's seat. The Yankees are in a position where they need to clear Burnett's salary to make room for Eric Chavez and a left handed DH bat. The Pirates seem to be the only team that would be willing to take Burnett, even if the Yankees are picking up all but $8-10 M of his salary. So the Pirates don't really need to give up Jones and open a spot at first base. They could hold off and try to give up a lesser return, since the Yankees are short on options.
Personally I wouldn't mind a Jones for Burnett swap, especially if the Yankees were eating $25 M. I'd like to finally see what Matt Hague could do, and I think Burnett has more upside than Jones. I don't see Jones as a guy who will ever break out of the platoon role/power hitter off the bench situation he's in now. Burnett, on the other hand, would have massive value to the Pirates if he somehow discovered his old form, especially with the Yankees paying most of his salary. And while I consider Matt Hague an average first baseman in the majors, the combo of Jones/McGehee doesn't project as much better, and this finally gives the Pirates an opportunity to see if Hague is a long term solution.
Original Story:
http://feedproxy.google.com/~r/BuccoF...
THE BACKYARD
BEST OF MAXIM
RELATED ARTICLES
The following is being syndicated from The Yankee Analysts.It seems all but inevitable that A.J. Burnett will be toeing the rubber in PNC Park come April, and my feelings are surprisingly mixed on the subject. While I do genuinely believe that he may be the best option of the fifth starter triumvirate (mostly due to the higher beta of Phil Hughes and the blase nature of Freddy Garcia...
The New York Yankees and Pittsburgh Pirates continue to engage in trade talks surrounding Yankees righthander A.J. Burnett. A source told the Pittsburgh Post-Gazette that discussions between the team were ongoing Friday night. ESPN has reported that the Yankees were seeking Garrett Jones in exchange for Burnett, but the newspaper report said Jones was not part of the deal. Burnett...
First of all, yes, I'll admit it: I'm eating my words right now. After writing my aggressively-headlined "Good Luck Shopping A.J. Burnett, Yanks" piece on Wednesday, it turns out the Yankees have found at least one potential suitor for Burnett in the Pirates. The two sides are still haggling over how much money the Yankees should eat, but considering the Yankees' incentive...
The New York Yankees and Pittsburgh Pirates are talking about New York sending embattled starter AJ Burnett to the Pirates. The key hangup is salary, as Burnett is due $33 million over the next two seasons. The Yankees are looking to split the salary evenly, but the last report from Pittsburgh indicates that the Pirates are willing to eat about $11 million of Burnett's contract...
From the NY Daily News:In an effort to rid themselves of underperforming pitcher A.J. Burnett, the Yankees are turning to a familiar trading partner. A team source confirmed Friday that the Yankees have held discussions with the Pirates about Burnett recently, with the understanding that the Bombers would have to absorb a "significant" portion of the flighty righty&...
Here is the latest on the A.J. Burnett rumors: -Jon Heyman of CBS Sports reports that the two sides continue discussing a possible deal that would send Burnett to the Pirates. Heyman reports that the Yankees are willing to pay a substantial portion of Burnett's remaining salary, but that the two sides are still a few million apart. Heyman mentions that the Yankees first offered...
We heard some rumblings about the Pirates possibly inquiring on starter A.J. Burnett earlier this offseason, but it did not amount to much. Today, Ken Rosenthal wrote that the Pirates are believed to be one team that is considering a trade for the highly paid veteran. First off, Burnett has a list of 10 teams he put on his no trade list. Amazingly, the Pirates are not among those...
Early this morning, Tim Dierkes at MLB Trade Rumors wrote about the Yankees desire to trade AJ Burnett and made up a list of teams he thought might be good fits for the veteran righty. At the top, he put the team that's been unsuccessfully trying to get a vetern right-handed starter to take their money for the last month now: the Pittsburgh Pirates. Shortly after that, Buster...
There's been some speculation today about the Pirates and Yankees pitcher A.J. Burnett, and Ken Rosenthal confirmed that the Bucs have been in talks about the struggling flamethrower. He also notes, however, that "those conversations failed to progress and perhaps qualified only as due diligence, major-league sources said." Trading Burnett would be a great way for the Pirates...
This week's Pirates Round Table Podcast is up where Jon from McEffect, Brian from Raise the Jolly Roger, Cory from Three Rivers Burgh Blog, and myself discuss some of the current events surrounding the Pirates. We start off discussing the possibility of A.J. Burnett joining the team and just go from there. Definitely worth a listen. Click here to listen or download. Also on iTunes.
MLB News

Delivered to your inbox

You'll also receive Yardbarker's daily Top 10, featuring the best sports stories from around the web. Customize your newsletter to get articles on your favorite sports and teams. And the best part? It's free!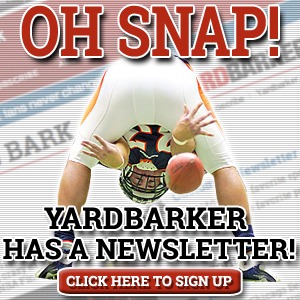 Latest Rumors
Best of Yardbarker

Today's Best Stuff

For Bloggers

Join the Yardbarker Network for more promotion, traffic, and money.

Company Info

Help

What is Yardbarker?

Yardbarker is the largest network of sports blogs and pro athlete blogs on the web. This site is the hub of the Yardbarker Network, where our editors and algorithms curate the best sports content from our network and beyond.