Found July 19, 2013 on Waiting For Next Year:
PLAYERS:
Matt Garza
,
Zach McAllister
,
Danny Salazar
,
Carlos Carrasco
,
Trevor Bauer
,
Buster Olney
,
Rich Hill
,
Nick Hagadone
,
Scott Barnes
,
Terry Francona
,
Oliver Perez
,
Eric Wedge
,
James Russell
,
Joe Thatcher
,
Jose Fernandez
TEAMS:
Chicago Cubs
,
Cleveland Indians
,
Boston Red Sox
,
Seattle Mariners
,
San Diego Padres
,
Miami Marlins
While everyone in baseball is talking about where the Cubs' Matt Garza will end up, the Indians should be looking elsewhere. Zach McAllister, arguably the Tribe's number two starter before he injured his finger, pitched six scoreless innings of two run ball for the Columbus Clippers last night in a rehab start. He struck out two and walked two and was able to throw his curveball effectively. If last night was any indication, The Zach Attack will be back for Tuesday's start in Seattle. With the kid Danny Salazar showing what he can during his spot start eight days ago, along with Carlos Carrasco and Trevor Bauer, the Indians should be fine with where they are in the rotation. Let me rephrase that – overpaying in prospects for a rental of Matt Garza, who is good, but not great, and certainly not like acquiring Randy Johnson at the deadline, is just not a wise move. So what should the Indians do? ESPN's Buster Olney tweeted this morning that the Indians are looking for a left-handed reliever. That should come as no surprise considering how spotty Rich Hill, Nick Hagadone, and Scott Barnes have been all season. I talked about this on Wednesday, but not having a late-inning matchup lefty he can count on is hamstringing manager Terry Francona. With that said, it is a sellers market out there. Who exactly is available? The names won't wow you, but there are options. There are four lefty relievers that can be had. Oliver Perez – age 31 – Seattle Mariners – 36.0 IP, 1.75 ERA, 1.15 WHIP, 12.50 K/9 – 3/19 inherited runners scored – free agent at season's end - Perez may be the most intriguing option for the Indians. He comes cheap, making $1.5 million for 2013, and has a track record. People forget that Perez was once a hot starting pitching, strikeout machine who the Mets gave three years and $36 million to. He flopped and disappeared in 2011 before resurfacing in Seattle midway through last season as a reliever. In 2013, he is mowing down the competition and seems to have found a way to keep his big league career going. Stramgely, lefties are hitting better (.250) against him than righties (.171) are. The Mariners are nowhere near the position to contend and should be sellers at the deadline. The way I figure it, Eric Wedge, now managing in Seattle, owes us one for Brandon Phillips. Fun fact: Perez's agent is former Indian Mike Fischlin (look him up kids). James Russell – age 27 – Chicago Cubs –  35.2 IP, 2.78 ERA, 1.18 WHIP, 7.56 K/9 – 9/33 inherited runners scored – arbitration-eligible – control thru 2016 – Back in 1994 at the trade deadline, the Indians were in search of a closer. They turned to Texas and acquired Jeff Russell. Fast forward 19 years and the Tribe is looking again at relievers and could turn to his son for help. James is the Cubs' late-inning lefty of the past two seasons and has done a nice job making a name for himself. Lefties have hit just .189/.218/.284 against him in 2013. While he isn't a big strikeout pitcher, his job is to neutralize lefties, which he has done. Unlike Perez, Russell is arbitration-eligible and should the Indians chose, they could keep him under their control through 2016. That fact might cost them a better prospect, but it could well be worth it to solve the issue they currently have. Joe Thatcher – age 31 – San Diego Padres – 26.2 IP, 2.36 ERA, 1.06 WHIP, 8.78 K/9 – 4/34 inherited runners scored – arbitration-eligible - 2015 free agent - Now here is a guy I bet most of you have never heard of, but he has become one of the better left-handed specialists in the NL. Toiling in San Diego for a last-place Padres team will do that to you. However, this is is fifth season as the Padres' primary lefty out of the pen and he is enjoying his best season. Lefties are hitting just .203/.238/.220 against him with 18 Ks and just two walks. With runners in scoring position, opposing hitters are just 4-29 (.138). His road ERA is just under a point higher on the road (2.84) than it is at the pitcher-friendly Petco Park (1.93), but Thatcher has a proven track record over the past five seasons. He makes just $1.35 million and is arbitration-eligible for 2014. Mike Dunn – age 28 – Miami Marlins – 41.1 IP, 2.83 ERA, 1.35 WHIP, 8.71 K/9 – 7/17 inherited runners scored – arbitration-eligible – control through 2017 - The Marlins are in a perpetual state of flux. They want to trade as many veterans as they can to collect young cheap assets. However, they are willing to listen on just about anyone not named Jose Fernandez or Giancarlo Stanton. Dunn isn't my favorite name on the list and is more Rich Hill than Russell or Perez. He averages about a strikeout per inning and is more of a finesse pitcher. His splits this season are pretty even (.231 vs lefties, .234 vs. righties). However, he is available. Given my order of preference, I would love to see Thatcher come over. If he can't be had, then I would look towards Perez on a rental. Russell could be a better long term solution should the Indians want to go that route. I'm not a huge fan of Dunn's and would rather stick with Hill. –  (AP Photo/Matt York)
Original Story:
http://www.waitingfornextyear.com/201...
THE BACKYARD
BEST OF MAXIM
RELATED ARTICLES
Not yet... Although I suppose they were as close as they could be yesterday, exchanging medical information on players and something turned up on one of the Rangers pitchers that caused the Cubs to squeeze the brakes. Names have been flying around, but Neil Ramirez, C.J. Edwards and Mike Olt seem to be the hottest names of late. Jeff Passan says the Rangers also showed interest in...
The Texas Rangers may be moving on from Cubs starting pitcher Matt Garza, according to Patrick Mooney of CSN. In an unexpected turn of events, the Rangers appear unwilling to meet the Cubs' trade demands for Matt Garza and are in 'advanced stages' in talks to acquire their 'Plan B.' The teams in on Garza are the Rangers, Dodgers, Diamondbacks, Blue Jays,...
It is very likely that the Cubs deal Matt Garza, but we don't know where he'll land. The teams interested in Garza are the Dodgers, Diamondbacks, Rangers, Red Sox, Blue Jays, Cardinals, Pirates, Indians and others, but it appears that the AL teams are in the lead in the Garza race and by a wide margain, according to this report from Tom Loxas of Cubs Now: Would be...
The Texas Rangers tried to acquire right-hander Matt Garza from the Chicago Cubs a year ago, but an injury to Garza prevented the deal from happening. Well, the Rangers are trying again. The Rangers and Cubs have had extensive talks on Garza and discussed the framework of a trade, but other teams remain involved in the talks, according to major-league sources. One of those teams...
photo provided by cbssports.com While the Washington Nationals starting pitching has been one of the few bright spots on the team this season, there is rumor of an unknown "mystery team" jumping in and trying to snag Chicago Cubs pitcher Matt Garza. According to Gordon Wittenmeyer of the Chicago Sun-Times, that team is the Washington Nationals. Apparently though, the Washington...
The Rangers and Cubs were set back on the Matt Garza talks to the point where the Rangers are now viewed as only one of many teams now in the mix for the star righthander. The impressions left now is Texas and Chicago made no progress in overcoming the snag that derailed a deal for Garza Friday night -- though the Rangers aren't eliminated as both sides are still looking for...
It appears that we're close to having a winner in the Matt Garza sweepstakes. FOXSports.com reports that the Rangers are close to acquiring Garza from the Cubs. According to the Sacramento Bee's Joe Davidson, the deal, which involves six players, is "99 percent done" and the teams are now going over medical records. The Cubs will receive a strong package of prospects for...
So the Twitter-verse exploded Thursday night with numerous reports that the Rangers and Cubs were nearing a deal to send Matt Garza to Texas for up to 3 prospects. Names were even bandied about that included the likes of Luke Jackson, C.J. Edwards and a position player that varied between Mike Olt, Luis Sardinas or Jorge Alfaro. When it came to getting some of the Rangers top 20...
With FoxSports.com reporting the Rangers are perhaps on the verge of acquiring Cubs starter Matt Garza (with the Dodgers still believed to be in the mix), industry sources explained that the Red Sox hadn't been deep into negotiations for the pitcher due to their unwillingness to part with any top-tier prospects for the starter. One source explained that the Red Sox' hesitancy...
MLB News

Delivered to your inbox

You'll also receive Yardbarker's daily Top 10, featuring the best sports stories from around the web. Customize your newsletter to get articles on your favorite sports and teams. And the best part? It's free!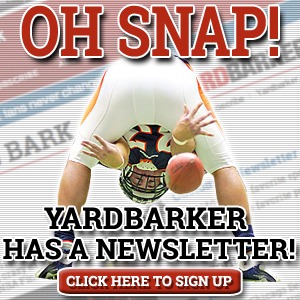 Latest Rumors
Best of Yardbarker

Today's Best Stuff

For Bloggers

Join the Yardbarker Network for more promotion, traffic, and money.

Company Info

Help

What is Yardbarker?

Yardbarker is the largest network of sports blogs and pro athlete blogs on the web. This site is the hub of the Yardbarker Network, where our editors and algorithms curate the best sports content from our network and beyond.