Found March 27, 2013 on Fox Sports Detroit:
PLAYERS:
Matt Tuiasosopo
,
Jim Leyland
,
Stephen Strasburg
,
Miguel Cabrera
,
Don Kelly
,
Nate Robertson
,
Doug Fister
TEAMS:
Detroit Tigers
,
Washington Nationals
,
Seattle Seahawks
,
Oakland Raiders
,
Los Angeles Dodgers
,
New York Jets
LAKELAND, Fla. -- Matt Tuiasosopo has always had faith -- in himself and in God. That faith paid off Tuesday afteroon when Tigers manager Jim Leyland called the versatile non-roster invitee into his office to tell him he had made the big-league club as a bench player. "Nobody knows how this is going to play out, but if ever there was a guy that came in and opened your eyes up and deserved a shot -- the way he's performed and the way he's gone about his business -- it's him," Leyland said. "He's stung the ball. He's hit the ball out of the ballpark. He's hit the ball hard. He's played first. He's played third. He's played in the outfield pretty well. "I think it's a great story, and I think you're supposed to reward people like that." Tuiasosopo, 26, said he didn't feel nervous at all when he went into Leyland's office. "I was more excited," Tuiasosopo said. "He was either going to tell me I made it or I didn't. "Like I've been this whole camp, at peace with going about my work and the results will be what they are. As long as I knew that I came here, worked hard and went out there and did what I knew I could do, they were going to make their decision. Just excited to hear the news that I heard." At the beginning of the spring, Tuiasosopo making the team probably would have been the last thing anyone predicted. He started 0-for-14 with eight strikeouts and missed a game to be with his wife, Abi, for the birth of their first child, son Josiah. Abi was the first person Tuiasosopo called when he left Leyland's office. "She started crying, she was so excited," Tuiasosopo said. "I asked her if she told Josiah, she said, 'Yep, he's sleeping, but he heard me.'" Tuiasosopo never let his mind veer toward fearful thoughts, despite his slow start. "When I signed here, I believed big things would happen," Tuiasosopo said. "With my faith in God, all things are possible. "I believed in the ability that God has given me, and seriously, the whole offseason, I came into camp and believed that I could do it." That belief soon translated into big things on the field as Tuiasosopo started heating up. He hit three home runs in four games, including one off Washington Nationals ace Stephen Strasburg. Through Tuesday, Tuiasosopo was batting .320 with six doubles, four home runs and 10 RBIs in 26 games. The four home runs tie him for the team lead with Miguel Cabrera and Don Kelly. "I just had to relax and just go out and have fun," Tuiasosopo said. "I was able to put a good couple last weeks of camp together." Leyland emphasized that Tuiasosopo would have to work even harder during the regular season to be prepared when he's called upon. "In 2010, I spent most of my time with Seattle and I did that," Tuiasosopo said. "Every day I was (at) third base, shortstop, second base, first base. Then I'd go out to the outfield because I was always in the last group of BP. "I got all my work in, so I'm used to doing that, very comfortable with bouncing in and out of the infield, outfield and just getting my work done in the workouts before games." Tuiasosopo's path to the Tigers is an unusual one, involving him doing some of the work usually left to agents. After leaving his previous agent, Tuiasosopo had written to teams directly to see who might offer an opportunity. When he signed with the Legacy Agency this past fall, he told his new agents he again wanted to contact teams himself and then have them work out contract details once he decided on a team. "Pretty much kind of the same letter that I did that first offseason -- just introduced myself, kind of where my career's gone ever since I was drafted, just what I felt I could bring to the team and I was just looking for an opportunity to get back to the big leagues and help bring a World Series to the organization," Tuiasosopo said. "I sent it to Mr. Dombrowski, and they were actually the first team that responded." But the Tigers weren't the only team that responded. Tuiasosopo said he seriously considered three teams, finally narrowing it to the Tigers and Los Angeles Dodgers. Tuiasosopo then decided to get some opinions from some former teammates. "I heard nothing but great things from former players, guys I played with like Nate Robertson, who was here (with the Tigers from 2003-09)," Tuiasosopo said. "He had nothing but great things to say about the staff, the organization, the front office. I played with Doug Fister and reached out to (him), asked him what he thought and he said, 'You'd love it here.'" The Tuiasosopo name is well-known in football circles, less so in the baseball world. Tuiasosopo's father, Manu, was a defensive lineman with the Seattle Seahawks. His brother Marques was a quarterback with the Oakland Raiders and New York Jets, and his brother Zach played at the University of Washington. Tuiasosopo didn't play football until junior high but became good enough to sign with the University of Washington as a quarterback before deciding to pursue baseball instead. "Football, it was just in my blood, I could just do it," Tuiasosopo said. "I think just as I got older, started playing more travel ball, playing in bigger tournaments, some bigger showcases, I just really fell in love with baseball. Just felt like this was God's calling for me to do. My brothers and my dad, they had football. "I felt like God was directing me towards this path and I've enjoyed it. I've had a lot of ups and downs, it's been a crazy journey, up and down throughout the the big leagues and the minor leagues, being in the minor leagues the last two years, but I haven't regretted it." Now Tuiasosopo will play for the Tigers, starting a new chapter in his baseball career. "I feel very blessed and thankful," Tuiasosopo said. "It's been a crazy spring, from the birth of my first son to this. "Again, I give all the thanks and glory to God because it's been an amazing spring."
Original Story:
http://www.foxsportsdetroit.com/mlb/d...
THE BACKYARD
BEST OF MAXIM
RELATED ARTICLES
LAKELAND, Fla. -- It was a funny scene in Tigers manager Jim Leyland's office Wednesday after batting practice. Leyland had announced that barring some last-minute trade, Don Kelly had made the team. But because he'd been so busy in the morning, he hadn't had a chance to tell him. Not wanting to usurp the manager's role, a reporter asked if he needed to talk to...
The Detroit Tigers sent rookie reliever Bruce Rondon to Triple-A Toledo on Thursday, beginning their AL title defense without a set closer. "I'll tell everybody ahead of time,
The Detroit Tigers will bring both Rick Porcello and Drew Smyly north for the start of the 2013 regular season, with Porcello claiming the fifth spot in the team's loaded rotation. That, plus another roster tidbit, came out of the Tigers' camp on Tuesday: #Tigers announce Porcello will be the 5th starter, Smyly will be in the bullpen; Matt Tuiasosopo has made team, barring...
LAKELAND, Fla. -- Darin Downs made it impossible for the Tigers to leave him off the roster. Very quietly, Downs has been one of the nicest Grapefruit League stories. After another scoreless 1 13 innings Wednesday against the Philadelphia Phillies, Downs' spring ERA was a minuscule 0.64 with an equally tiny 0.86 WHIP. He's struck out 16 and walked three in 14 innings....
In an unsurprising move after he soiled the bed on Wednesday, the Detroit Tigers announced early Thursday that they optioned young flamethrower Bruce Rondon to Triple-A Toledo. Tigers GM Dave Dombrowski, despite raving about Rondon during the winter while suggesting the closer's spot was his for the taking, said skipper Jim Leyland will now "mix and match":  ...
Breaking News - The Detroit Tigers have sent down what was expected to be their closer for 2013, Bruce Rondon, to the Toledo Mud Hens. Unrelated to this, the organization also chose to send down Luis Marte. MLB Impact - The Tigers find themselves in a unique situation where as they are a team that has one of the highest payrolls in all of baseball, arguably the best hitter in the...
For a second straight year, Jim Leyland and the Detroit Tigers enter the season with sky-high expectations. That's no guarantee of success - but it sure beats the alternative. ''I love being a target. That means you've got a good team,'' Leyland said early on in spring training. ''We're going to be the hunted. We were the winner. We were the...
Justin Verlander is a Sports Illustrated cover-athlete yet again. The Tigers ace is one of six MLB players to appear on the latest regional series of covers for Sports Illustrated which previews the upcoming season. For Verlander this is his third SI cover with his first one coming back in 2006 his rookie season. As far as the predictions go, SI picked the Tigers to win the AL Central...
Rick Porcello has earned the No. 5 starter's job in the Detroit Tigers' rotation, and Drew Smyly will start the season in the bullpen. Porcello was 10-12 with a 4.59 ERA in 31 starts for the AL champions last season, when Smyly went 4-3 with a 3.99 ERA in 18 starts as a rookie. Porcello is 3-1 with a 3.00 ERA in six spring training appearances; Smyly is 4-0 with a 3.38 ERA...
DANA WAKIJIFOX Sports Detroit KISSIMMEE, Fla. -- It wasn't the best way for Anibal Sanchez to close out his spring but he wasn't too concerned. Against the Houston Astros at Kissimmee, Sanchez allowed nine runs on 11 hits while walking one and striking out three. He gave up two home runs to Jonathan Singleton and one to Jason Castro. "(Thursday), that's the problem...
Despite the presences of Miguel Cabrera, Prince Fielder and other stars, Justin Verlander remains the face of the Detroit Tigers franchise — and one of the most recognizable and popular players in baseball, period. To wit: The Tigers' ace and opening-day starter landed on one of Sports Illustrated's regional covers this week. Here's what that cover looks like: Detroit Lions...
Justin Verlander has now surpassed his (ex?)-girlfriend Kate Upton.  Verlander will grace the cover of the regional Sports Illustrated in their annual baseball preview edition.  Upton has been on the last two SI Swimsuit Edition covers. JV is one of six starting pitchers to find themselves on the covers across the country.  The other five are C.C Sabathia, David Price, James...
MLB News

Delivered to your inbox

You'll also receive Yardbarker's daily Top 10, featuring the best sports stories from around the web. Customize your newsletter to get articles on your favorite sports and teams. And the best part? It's free!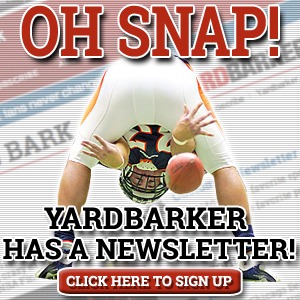 Latest Rumors
The Backyard

Today's Best Stuff

For Bloggers

Join the Yardbarker Network for more promotion, traffic, and money.

Company Info

Help

What is Yardbarker?

Yardbarker is the largest network of sports blogs and pro athlete blogs on the web. This site is the hub of the Yardbarker Network, where our editors and algorithms curate the best sports content from our network and beyond.