Found August 29, 2012 on Fox Sports Ohio:
DAYTON -- Jeff Ferrell experienced a lifetime memory Tuesday night at Fifth Third Field, home of the low Class A Dayton Dragons, a high even higher than a Rocky Mountain high. On a 3-and-2 pitch, the 21-year-old righthanded pitcher for the West Michigan Whitecaps struck out Joey Votto, the 2010 National League Most Valuable Player for the Cincinnati Reds. While he was still on the mound feeling the exhilaration of his accomplishment, the next two low Class A Dayton Dragons, Yorman Rodriguez and Juan Silva, hit home runs. Baseball is a fickle game. Votto was in Dayton on a rehabilitation assignment, testing his surgically repaired left knee, preparatory to return to the Reds this weekend after missing nearly six weeks. Votto played 4 innings and batted twice, walking his first time and striking out his second time. And he played first base, without much action. Actually, it wasn't much of a test because he wasn't called upon to do much, but he'll play again Wednesday and plans to take three at-bats. "It went all right, but I still have a ways to go," said Votto. "It was nice to hear the reaction of the fans in Dayton. I was very appreciative of that." There was a sellout, but not because Votto was there. The Dragons are on a 10-year streak of 816 straight sellouts. And there were more than 9,400 Tuesday night. They cheered loudly when Votto popped out of the dugout before the game to stretch in the outfield. And they cheered vigorously each time he came to bat. They booed West Michigan's Ferrell when he walked Votto on five pitches in the first inning and they booed when he fell behind 3-and-1 when Vottl led off the fourth inning -- before he struck him out swinging. "It was so nice to be back on the field," said Votto. "I've been off for almost six weeks now, so it's not too comfortable yet, but I don't think it'll take too long." When it was mentioned that he didn't get to test his knee aggressively, he said, "No, I didn't. I was too busy swinging and missing." But didn't he set up for the next two batters to hit home runs? He laughed and said, "It was just like the Reds. I've noticed that when I leave games or leave the team, the teams just start playing really, really well. So that was just me being a good teammate and letting somebody else take it over." The Reds are 29-14 since Votto wrecked his knee June 28 sliding into third base in San Francisco. As for not batting in the fifth, Votto said, "You'll have to ask someone else on why I didn't bat," he said. "There was no reason physically. "It was nice to face live pitching and I don't think it will take long for me to get back into the swing of things," he said. "I felt pretty good at the plate, but the concern is not necessarily my swing but it is more the other things like running the bases (which he didn't get to do, even after the walk because he was stranded at first base), playing defense (he caught a couple of thrown balls, but didn't field any) and not being concerned about how my knee reacts." Votto played a year-and-a-half in Dayton, wearing No. 29, but he had his familiar No. 19 on his Dragons uniform Tuesday. And he was the only player on the field with high pants, exposing his socks and said, "I don't have my own Dayton Dragons pants at home, so I just play it by ear." His beginning in Dayton in 2003 was not eye-popping after he was the team's No. 2 draft choice. In 60 games (195 at-bats) he hit .231 with one homer and 20 RBI. But he displayed his future possibilities in 2004 when he hit .302 with 14 homers and 72 RBI. "This brought back memories a little bit," he said. "They certainly didn't treat me as well when I was here and they are now, but it is nice to be back and I continue to be astonished with the great conditions of this field, the grounds crew does an amazing job and the fans turn out in droves, so it is a great place to play." He plans to arrive at Fifth Third early Wednesday, "To do some things on the field by myself and hopefully not strike out every other at bat. The goal is three at-bats and five, six or seven innings. I want to be on the field as long as I'm comfortable and it is leading me in the right direction. "I'm glad I'm finally back out there playing ball," he said. "Ths is the first step toward getting back to Great American Ball Park and hopefully win the World Series this year. I'm not sure they need me to win the World Series. They're playing great baseball." They need him.
Original Story:
http://www.foxsportsohio.com/08/29/12...
THE BACKYARD
BEST OF MAXIM
RELATED ARTICLES
Last Game The Reds won the first game in their series against the Diamondbacks last night by a score of 3-2. The hero of this game was Bronson Arroyo, who hit a solo home run in the sixth inning to give the Reds the lead that they would eventually win by. Next Game The Reds continue the series in Arizona tonight. Johnny Cueto (RHP, 16-6, 2.47 ERA) will take the mound for the Reds...
Last Game The Reds kicked some Diamondback butt yesterday afternoon, sweeping the three-game series. They're the first team to reach 80 wins, and the Nationals and the Rangers, who are tied for the second-most wins in baseball, only have 77. Mat Latos bounced back nicely, allowing 2 hits and striking out 7 in 7.0 innings of work. And the home run bats suddenly woke up, too. Three...
There has been plenty of news and notes swirling around the first-place Reds this week. Here's my attempt at organizing the chaos into one, central location. Enjoy. + The hype surrounding Todd Frazier's NL Rookie of the Year bid seems to be growing. Jerry Crasnick of ESPN.com published a must-read feature piece on the New Jersey native earlier today. You can check...
Cincinnati Reds manager Dusty Baker sounds willing to ride out a super funk by center fielder Drew Stubbs. "I hope he comes around soon because it's driving him crazy," Baker said. "You've got to tighten your belt and fight. That's what it's all about." After going 1-for-5 with four strikeouts in the Reds' 6-2 win over Arizona, Stubbs is...
The Reds became the first team in the majors to win 80 games this season when they downed Arizona, 6-2, on Wednesday. The win also secured a series sweep and gives the team huge momentum heading into their weekend series in Houston. But first the NL-Central leading club will enjoy a much-deserved and much-needed off day on Thursday. Here are some notable quotes from the...
Lots of good things happened in the Reds' win over the Diamondbacks last night. Johnny Cueto was the first pitcher to reach 17 wins this … [visit site to read more]
Chris Heisey has been a valuable outfield reserve for the Reds since his arrival in 2010. Last night he homered twice as the Reds completed a sweep at Arizona and became the first team in MLB to reach 80 wins this season. Mat Latos turned in seven strong innings for his 11th win. Meanwhile the second place Cardinals lost at Pittsburgh to fall eight games behind.
PHOENIX Cincinnati showed the baseball world what it thinks of Wade Miley on Tuesday night. With Gerardo Parra on third base and one out in the first inning, Reds manager Dusty Baker played his infield in, the better to choke off a run at the plate. In. With 26 outs remaining. With Johnny Cueto, his best pitcher and a top NL Cy Young candidate, on the mound. Cueto, who had not...
Chris Heisey hit two of Cincinnati's four home runs, including the tying two-run shot in the seventh inning, to rally the Reds to a 6-2 victory over the Arizona Diamondbacks on Wednesday. Dioner Navarro's solo shot two batters after Heisey's first blast put Cincinnati ahead, Brandon Phillips added a two-run homer in the eighth and Heisey capped the scoring two outs later...
Johnny Cueto scattered four hits over seven innings for his major league-leading 17th win and the Cincinnati Reds beat the slumping Arizona Diamondbacks 5-2 on Tuesday night. Cueto (17-4) gave up two runs, struck out one and walked five for his eighth victory in nine decisions. The right-hander lowered his NL-leading ERA to 2.48. Ryan Hanigan hit a two-run single and Todd Frazier...
Bronson Arroyo pitched six strong innings and homered in the sixth inning for the go-ahead run of the Cincinnati Reds' 3-2 victory over the Arizona Diamondbacks on Monday night. Brandon Phillips added an RBI double for the Reds, who remained six games ahead of St. Louis in the NL Central and gave manager Dusty Baker his 400th win with the club. Aroldis Chapman pitched the ninth...
Who is the top reliever in the game?  If your answer was either Craig Kimbrel or Aroldis Chapman, it would be difficult to call you incorrect.  Kimbrel is helping the Braves to the playoffs as a Wild Card and Champman is shutting the door on wins for the NL Central leading Reds.  Each are having phenomenal seasons.  Who is the best?  Lets take a look at the numbers...Games:Kimbrel...
Reds News

Delivered to your inbox

You'll also receive Yardbarker's daily Top 10, featuring the best sports stories from around the web. Customize your newsletter to get articles on your favorite sports and teams. And the best part? It's free!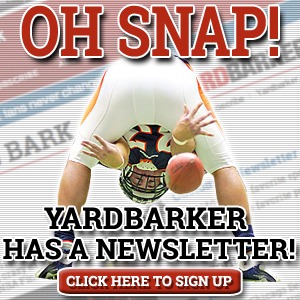 Latest Rumors
The Backyard

Today's Best Stuff

For Bloggers

Join the Yardbarker Network for more promotion, traffic, and money.

Company Info

Help

What is Yardbarker?

Yardbarker is the largest network of sports blogs and pro athlete blogs on the web. This site is the hub of the Yardbarker Network, where our editors and algorithms curate the best sports content from our network and beyond.