Found February 10, 2013 on Mets360.com:
The offseason is winding down, and the Mets still have a small bit of business to deal with. Michael Bourn still remains unsigned, and the Mets are one of the only suitors. The problem is that if the Mets sign Bourn, they may have to surrender their eleventh overall pick because of the new draft-pick compensation system. However, the Mets, The Major League Baseball Players Association or Boras could file a grievance that would be ruled on by an arbitrator in the event that the Mets wish to sign Bourn. Since the Mets were truly the 10th worst team in baseball their pick should be protected. If the Mets do get the grant it becomes more of a question of how much they should they pay for Bourn than whether or not they should sign him. Bourn has a lot of value wrapped up in his legs. He's a monster on the base paths, and he's arguably one of the best defensive center fielders in the game. When a player ages, it seems as though the first thing that goes is their legs. For a one-dimensio...
Original Story:
http://feedproxy.google.com/~r/Mets36...
THE BACKYARD
BEST OF MAXIM
RELATED ARTICLES
This season the Indians have committed (we use the term loosely as the Tribe could always flip these deals) $117 million dollars to free agents. The past three off-seasons, Cleveland has spent just over $11 million total to free agents. This fact was not lost on players, current and former. That's why Michael Bourn's deal was a big surprise to Cleveland fans, as well as some...
Last night, the Indians signed Michael Bourn to a four year, $48 million deal. It's less than he was asking for, but still a pretty significant investment for a low power/high strikeout guy headed into his thirties. I've already written about my questions over how much of his value he'll retain, both on offense and on defense, but 4/48 isn't paying Bourn to retain most...
In addition to having an offensive new t-shirt for sale, the Indians also have a new center fielder: former Brave Michael Bourn, who agreed to a four-year, $48 million deal with the team on Monday night. The contract also has a vesting option for a fifth season that can make the total contract worth $60 million. Bourn's signing comes much later than anyone expected coming...
Michael Bourn has signed with the Indians, it's of no consolation that the Mets were very close to signing him.  I do get how important draft picks are to a team rebuilding, especially as high as the 11th pick but I'm left wondering why our entire off-season came down to this.  In fact my issue with the front office is less to do with missing on Bourn over the 11th pick...
Well it looks like the New York Mets first round pick in 2013 will be protected after all!  No, it's not because the MLBPA stepped in and saw to it that the team would retain it's pick while negotiating with free agent outfielder Michael Bourn, it's because the Cleveland Indians have agreed to a 4-year contract with the 30-year-old center fielder. #bbpBox_301139171152637952...
The long and dragged out pursuit is over, and the Mets came up empty. The Cleveland Indians have signed Michael Bourn to a four-year, $48 million deal says Jon Heyman via twitter. The deal has a $12 million option for a potential fifth year. That option vests if Bourn reaches 550 plate appearances in the final year of his deal reports Ken Rosenthal of FOX Sports. Bourn represents...
It seems like for the past, I dunno, five eon's, we've been discussing whether or not the New York Mets were going to sign free agent outfielder, former Atlanta Brave, Michael Bourn. Some of us thought it was all a ruse to begin with, that the Mets were playing with our fragile hopes and dreams just to keep the team relevant and to keep selling tickets. Some of us thought it...
Chipper delivered a lot of clutch hits last season Chipper Jones, Martin Prado, David Ross and Michael Bourn have all left the Braves, and it is always difficult to see players move on to other teams or retirement.  In addition to performing well on the field, they were all popular in the clubhouse. Chipper Jones has been thought by many to be the most popular player in Atlanta...
You knew it had to end like this. You knew that all the hulabaloo about whether the draft pick was going to be protected or not for Michael Bourn would end with Bourn taking such great lengths to avoid the issue by joining a team who haven't won anything since Dewey supposedly beat Truman. Which is kinda what all the Bourn/Mets rumors seemed like. With all the talk about draft...
The final big-name free agent of the baseball offseason has found a home just in time for Spring Training. Fox Sports' Ken Rosenthal reported via Twitter that former Braves outfielder Michael Bourn has agreed to a four-year, $48 million contract with the Cleveland Indians, with a fifth-year vesting option for an additional $12 million. Cleveland will reportedly forfeit a draft...
Baseball season is getting closer and closer. I for one am thankful. These are the dog days: no Football, a month away from the NCAA Tournament, and I'm NBA Free. But pitchers and catchers reported to Goodyear on Sunday, so that means the good stuff – Tribe games 6-7 nights a week – is coming. That was the open to the piece that I was going to write about the Jason Giambi DH...
MLB News

Delivered to your inbox

You'll also receive Yardbarker's daily Top 10, featuring the best sports stories from around the web. Customize your newsletter to get articles on your favorite sports and teams. And the best part? It's free!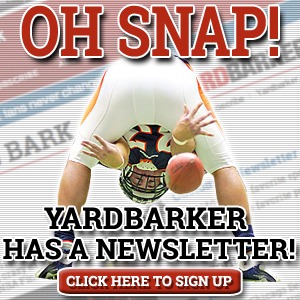 Latest Rumors
Best of Yardbarker

Today's Best Stuff

For Bloggers

Join the Yardbarker Network for more promotion, traffic, and money.

Company Info

Help

What is Yardbarker?

Yardbarker is the largest network of sports blogs and pro athlete blogs on the web. This site is the hub of the Yardbarker Network, where our editors and algorithms curate the best sports content from our network and beyond.