Found March 23, 2013 on Waiting For Next Year:
While We're Waiting serves as the early morning gathering of WFNY-esque information for your viewing pleasure. Have something you think we should see? Send it to our tips email at tips@waitingfornextyear.com. 20 years ago yesterday. Nice story from our friends at DTTWBL: "Whenever a loved one is lost, the memory of that moment seems endless. It's hard to believe that it was 20 years ago that the Olin, Crews and Cleveland Indians families all lost people that they loved." [Steve Eby/Did The Tribe Win Last Night?] — In case you missed it Friday, this story on draft prospect Shabbaz Muhammad was all over Twitter: "The father decided long ago that he would make the system work for him. For years, Holmes has tirelessly promoted the Shabazz Muhammad brand to scouts, journalists, money managers and others. Holmes navigated every difficulty, including a potentially devastating NCAA sanction that ultimately sidelined his son for only a few games. With Muhammad now projected as a top-five pick in June's NBA draft, Holmes' investment is about to pay off." [Ken Bensinger/Los Angeles Times] —- As Jon said to us yesterday, how often do we get to cite The New Yorker in WWW? More perspective on the fan sprint at the Q: "We mostly think of these episodes as spontaneous acts of misbehavior, fueled by some combination of alcohol and the pull of fandom and fame. In Blair's case, however, his rush onto the court seems instead like the calculated extension of an obsession. His timeline on Twitter gives a full narrative of his night, including a post teasing that the cops had seen his tweets and were onto his plan." [Ian Crouch/The New Yorker] —- This NCAA tournament Day 3 prospect viewing guide should be a helpful resource for your Saturday TV-watching. Guys I potentially and theoretically like as a Cav: Glenn Robinson, Gorgui Dieng, Kelly Olynyk and Allen Crabbe.[Draft Express] —- An intriguing review of Tyler Zeller's rookie season at this point in time: "So far, rookie Tyler Zeller underwhelms. This somewhat surprises me, as leading up to the 2012 draft, I ranked him eighth in a strong class. He scored everywhere, with deft touch near the basket, running in transition, and showing a solid stroke from catch & shoot situations and the free throw line. … Now, three-quarters through his age-23 season, many of those skills have not yet translated." [Kevin Hetrick/Cavs: The Blog] —- A quick lottery update on Friday, which obviously got a little better for the Cavs after their big loss: "The top two spots, as far as the odds go, are in all likelihood wrapped up for the Charlotte Bobcats and Orlando Magic. … After that, though, there are nine (!) teams with between 22 and 26 wins on the season." [David Zavac/Fear The Sword] —- Why the Indians system is so intriguing, and the Lindor/Paulino debate: "In Arizona, the Cleveland Indians were a "must see" franchise for me. … Current buzz surrounding the Indians organization is centered around a pair of young shortstop prospects in Dorssys Paulino and Francisco Lindor. Lindor, a 2011 first rounder posted a .257/.352/.355 triple slash line in Single-A. Paulino combined for a .333/.380/.558 triple slash line across two levels of short season baseball as a 17-year old." [Mike Newman/FanGraphs] —- Finally, a Scott suggestion, as we re-live Clinton Ransey's March moments of fame back in 1986 for CSU: "Clinton Ransey sealed the win with a brick. With 10 seconds remaining on the game clock, a Ramsey free throw clanged off the rim, made a thud against the backboard and fell into the hands of Indiana's Winston Morgan. Morgan turned, streaked down the court and sailed a pass to the right wing, where teammate Steven Alford caught it on the run and finished with a layup. Missed free throws late in a game can kill a team, but in this case, Ransey's mishap didn't matter." [Jordan Zirm/Stack]
Original Story:
http://www.waitingfornextyear.com/201...
THE BACKYARD
BEST OF MAXIM
RELATED ARTICLES
There's less than a week and a half left until the Cleveland Indians open up the 2013 regular season, and it seems as if almost all the puzzle pieces have come together. It was a busy week for the Indians as the team announced a handful of roster decisions. A number of the previous Spring Training position races now seem to be clear, and we should have a pretty good idea as to...
GOODYEAR, Ariz. -- Mark Reynolds shrugged it off as just another spring training at-bat. But his manager wasn't shrugging off anything. "It was fun to watch," Terry Francona said Saturday before the Cleveland Indians headed to Peoria to play Seattle. "I'll take that anytime." As in, anytime is a good time to hit a 500-foot home run that cleared a scoreboard...
According to Paul Hoynes of the Cleveland Plain Dealer, Asdrubal Cabrera injured a muscle in his back in the batting cage this morning and was subsequently scratched from the lineup for Sunday afternoon's game against the Chicago Cubs.  Manager Terry Francona indicated that Cabrera would be out of the lineup both Sunday and Monday, but given that back injuries often linger, there...
The bats were as scorching hot as the Arizona sun Saturday in Peoria as the Indians and Mariners combined for 15 runs off 34 hits with the Tribe doubling up Seattle 10-5. Scott Kazmir struggled for the first time in Cactus League play this spring, but isn't expected to lose much ground in the race for the fifth starting rotation spot, which is expected to be decided between him...
INTO ORBIT
Your browser does not support iframes.New Cleveland Indians slugger Mark Reynolds put his tremendous power on full display Friday night at Goodyear Ballpark against the Arizona Diamondbacks.With two outs and a man on board during the bottom of the sixth inning, Reynolds proceeds to absolutely unload on a 1-0 offering from D'backspitcher David Hernandez, lifting the ball high...
When we go to any baseball game, we want to be entertained by the action. Sports is entertainment, after all. What makes a day at the ballpark even more memorable, however, is when you come away from a game impressed by what you saw. Players can impress with one standout tool, like a power hitter or a power pitcher. They can also impress with their well-rounded five-tool game. No...
  Scott Kazmir's comeback with the Indians has been one of the feel-good stories of the spring. But whether the veteran left-hander's Cactus League success will translate to major-league performance remains to be seen.   One scout who saw two of Kazmir's recent starts expressed skepticism, saying that the pitcher is not throwing his breaking ball for strikes and that his...
On Friday, we posted a spectacular video of Justin Upton launching a homer over the scoreboard at Champion Stadium in Orlando. Well, last night in Goodyear, Arizona, Mark Reynolds of the Indians showed the world that he can do it too. In the sixth inning of the Indians-Diamondbacks game on Friday night, Reynolds took a belt-high fastball from Arizona reliever David Hernandez and...
Scott Kazmir gave up 13 hits over five innings while trying to earn a spot in the Cleveland rotation, and the Indians beat the Seattle Mariners 10-5. Kazmir gave up five runs, struck out five and walked none. Jason Giambi and Cord Phelps homered for Cleveland. Raul Ibanez homered and drove in three runs for the Mariners. Seattle starter Blake Beavan allowed nine runs and 16 hits...
On to the teams I have in the playoffs for the 2013 season. Since we are now talking wild card, the last spot should come down to the last week of the season with teams like the Mariners, Rangers and Orioles being in it until the end. The Indians fill the bill of the team that had much more talent on it than it showed on the field. I thought the Indians were a little overrated coming...
Thursday's game was one of the last opportunities for Carlos Carrasco to make a case for the role of fifth starter. Scott Kazmir appears to have the job sewn up, but a lot can happen in two weeks. Terry Francona has been extremely up-front with his belief that things like position battles always tend to "work themselves out." He clearly has been alluding to the potential...
Moving into the last two weeks of Spring Training (3/14-3/21), things are sorting themselves out. B games have started, allowing more players to play more innings and starting pitchers are pitching through the fifth inning. The World Baseball Classic is over (congratulations to the Dominican Republic) and massive cuts have occurred, making the actual lineups of Spring Training games...
MLB News

Delivered to your inbox

You'll also receive Yardbarker's daily Top 10, featuring the best sports stories from around the web. Customize your newsletter to get articles on your favorite sports and teams. And the best part? It's free!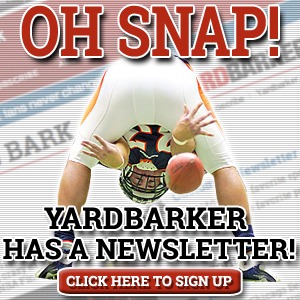 Latest Rumors
Best of Yardbarker

Today's Best Stuff

For Bloggers

Join the Yardbarker Network for more promotion, traffic, and money.

Company Info

Help

What is Yardbarker?

Yardbarker is the largest network of sports blogs and pro athlete blogs on the web. This site is the hub of the Yardbarker Network, where our editors and algorithms curate the best sports content from our network and beyond.