Found September 15, 2012 on Midwest Sports Fans:
PLAYERS:
Mike Trout
,
Miguel Cabrera
,
Josh Hamilton
,
Prince Fielder
,
Buster Posey
,
Andrew McCutchen
,
Ryan Braun
,
Jayson Stark
,
Chris Sale
,
Justin Verlander
,
Max Scherzer
,
Jered Weaver
,
Felix Hernandez
,
RA Dickey
,
Clayton Kershaw
,
Gio Gonzalez
,
Johnny Cueto
,
Kyle Lohse
,
Stephen Strasburg
TEAMS:
Los Angeles Angels
,
Detroit Tigers
,
Texas Rangers
,
Chicago White Sox
,
San Francisco Giants
,
Pittsburgh Pirates
,
Milwaukee Brewers
,
Seattle Mariners
,
New York Mets
,
Los Angeles Dodgers
,
Washington Nationals
,
Cincinnati Reds
,
St. Louis Cardinals
The clock is ticking on the 2012 MLB season. With that, time is running out for this year's MVP and Cy Young Candidates to make cases for themselves. All four races look to be highly contested and full of tough decisions for voters. Let's dive in and look at these races in each league. Mike Trout and Miguel Cabrera are the clear leaders for the AL MVP. Will it simply come down to who makes the playoffs and who doesn't? (Image credit: JULIAN H. GONZALEZ / Detroit Free Press) AL MVP Main Candidates: Mike Trout, Miguel Cabrera With Josh Hamilton really falling off the table since the All-Star break batting average wise, it now looks like Mike Trout and Miguel Cabrera make up the two-horse race for the American League MVP. How in the world do you decide between the two? We all know that since Mike Trout joined the Angels, they've taken on a different identity. However, it's hard to ignore the .325-36-177 line of Miguel Cabrera, even with Prince Fielder hitting behind him. ...
Original Story:
http://feedproxy.google.com/~r/Midwes...
THE BACKYARD
BEST OF MAXIM
RELATED ARTICLES
STAND UP FOR SKIPPER
Here's Tigers' slugger Miguel Cabrera taking away a fan's "Fire Leyland" sign the other day prior to a game against the Chicago White Sox. Initially, you can see Miguel was annoyed. But, then realized he should probably give it back, for whatever reason. The fan was later removed during the game. I also couldn't help but notice the fan being unable to pronounce Miguel…...
Miguel Cabrera has his manager's back -- and video evidence to prove it. A YouTube video has surfaced that shows Cabrera at U.S. Cellular Field in Chicago this week, signing autographs and holding a sign under his left arm. The words on the sign, although turned away from the camera, can be seen through the poster board and appear to say "FIRE LEYLAND." While Cabrera...
If you listen really close you can be reminded for the thousandth time that Mike Trout just turned 21 and gosh darn it, he's only a rookie. Listen Mike Trout has had a great year. I'll even go so far as to give him a semi-historical one. Because of that season at such a young age in his first year he is the slam-dunk, no doubt about it, put a bow on it Rookie of the Year for...
Mike Trout is going to become the first player since Ichiro Suzuki in 2001 to win the Most Valuable Player and the Rookie of the Year in the same season. That is, if the voters don't get in the way. Trout has played at an insanely high level this season, both offensively and defensively, and he didn't even start the year on Los Angeles' 25-man roster. Trout made his 2012...
Don't ever imply that Miguel Cabrera doesn't support his skipper. During the Tigers' recent series against the White Sox, a fan expressed his displeasure with manager Jim Leyland by bringing a poster to U.S. Cellular Stadium with "Fire Leyland" written on it. When Cabrera caught sight of the sign while signing autographs, he yanked it away and gave it to a security...
Not only is Justin Verlander the reigning AL MVP and Cy Young winner, he's also the Tigers self-appointed campaign manager. A year ago, he stumped for Alex Avila and Victor Martinez to get on the All-Star team. Now Verlander is touting Miguel Cabrera as his MVP successor with a "Keep the MVP in the 'D'" T-shirt. Verlander wore the shirt before a game in Chicago...
The Detroit Tigers are one of several teams across professional baseball that have fallen well short of expectations this season. As a result, Jim Leyland is one of several managers with whom fans are frustrated. After adding Prince Fielder to an already solid roster, the Tigers were expected to cruise through the AL Central. Fortunately for them, they are only a game out of first...
If there is one thing that you can say about Jim Leyland, it's that he likes "his guys" to a fault.  If there is a second thing you can say, it'd be that his players always have his back.  That was evident earlier this week when Miguel Cabrera took a "Fire Leyland" sign out of rebelling Tigers' fan's hands. According to Detroit Sports Rag, the fan's name is Justin...
MLB News

Delivered to your inbox

You'll also receive Yardbarker's daily Top 10, featuring the best sports stories from around the web. Customize your newsletter to get articles on your favorite sports and teams. And the best part? It's free!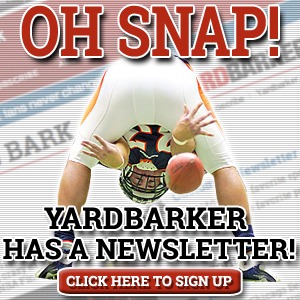 Latest Rumors
Best of Yardbarker

Today's Best Stuff

For Bloggers

Join the Yardbarker Network for more promotion, traffic, and money.

Company Info

Help

What is Yardbarker?

Yardbarker is the largest network of sports blogs and pro athlete blogs on the web. This site is the hub of the Yardbarker Network, where our editors and algorithms curate the best sports content from our network and beyond.