Found July 01, 2013 on Around Citi:
There's this guy in New York that has been playing first base for about two weeks now.  He struggled in his first few plate appearances (the first of which came on June 12th).  Pinch hitting and showing up only late in the game, he had three straight plate appearances with nothing to show for it.  But he didn't let that discourage himself.  The next game he played in, he got the start.  In five plate appearances, he went 1-3 with two walks.  His next three games were all brief appearances in pinch hit/substitution situations, however he again had two hits and a walk in those three games, reaching base each time up. From then on, Satin has started every game. On the season, he is .375/.500/.500. over 40 plate appearances.  In addition, he is walking at a 20% rate.  To put that in some sort of frame of reference, Joey Votto, debatably the best hitter in the league, with keener eyesight than a hawk, is walking at a 16.2% rate.  In only 14 games, Satin already has a WAR of .5, which is an incredible feat.  One could argue that he is new and pitchers don't know how to pitch him, and I'd believe you if Satin was pounding the ball every which way.  The thing is though, it'll probably only get tougher to pitch to him.  He isn't the kind of batter that gets figured out.  He'll continue to be a contact guy with a great eye at the plate.  The reason he is walking in almost every game is because he controls his own strike zone, and won't go out of his way fishing for bad pitches.  This in turn makes pitchers throw better pitches to him, and that's where his hits (along with four doubles) come from.  He doesn't swing for the fences.  If the ball reaches the fence, it's because he put some solid lumber on a good pitch to hit.  Otherwise, he sits and waits making the pitcher do the work for him.  That is why Satin has the potential to be a dangerous hitter.  He control's his plate.  Another thing to look at: in the 14 games Satin has played in, the Mets are 8-6.  It certainly could be coincidence.  But I'd have to disagree with that as well, for the simple reason that base runners = runs.  That's the driving factor behind the sabermetrics ideology, which is slowly gaining ground and taking over from the traditionalist theories.  Simply put, the best way to put runs on the board is to have a runner on base, and when you're getting on base at a .500 clip like Satin is, that's going to correlate to runs.  Satin gets into the mix, he gets on base, he makes pitchers work harder than they'd like to, and he takes pitches causing him to get better pitches to hit.  And he isn't a defensive liability.  Basically, he's going to get the team in a good position to score runs, and that's how you win games, and for that reason, the Mets should do what they can to keep him around, regardless of what happens when Duda is healthy again, and when Davis' eventual call-up inevitably takes place.  Photo Courtesy: Michael Baron
Original Story:
http://aroundciti.com/why-satin-shoul...
THE BACKYARD
BEST OF MAXIM
RELATED ARTICLES
Matt Harvey isn't the only New York Mets pitcher not receiving any support from his hitters. The true measure of how well Jeremy Hefner has pitched this year isn't found in his 2-6 record, but 3.72 ERA. Hefner has arguably been the Mets' second most effective starter behind Harvey, which should mute any trade discussions. HEFNER: Having understated season. (AP) Hefner, tonight's...
Please note: This article was written before/during the games played on June 29th, 2013, and all statistics are through games played on June 28th. Hello there, new people. For those who don't know, I'm Tejesh Patel, the co-founder and writer for MetsProspectHub, where I post daily minor league reports, occasional commentary, and daily Gameday Links for every level in our system...
Patience was never really a word you would hear when it comes to New York fan bases. Now, possibly more than ever, Mets fans with the exception of a vocal minority are practicing patience with regard to their expectations for this franchise. I know it's tough to be a fan especially in New York and think "we're almost there," especially after 2006 – but the situation is...
Chris and Jenson bring you another edition of The Mets Weekly. In this episode they recap the week that was against the White Sox, Rockies and Nationals while weighing in on the Zack Wheeler, Jon Niese, Noah Syndergaard and other of the week's storylines. Follow Chris and Jenson on Twitter at @TheMetsWeekly and you can subscribe to them on their YouTube channel at youtube.com/themetsweekly.
We already have an amazing photographer on staff in Gordon Donovan, whose photos you often see popping off the page across all of our articles. But you can never have too much good photography around a baseball blog, so I'd like to introduce you all to some work from a new photographer added to our staff: Kelly Madden! This is some of her work from the B-Mets double-header over...
Former New York Mets pitcher John Franco may be 52 years old and retired from baseball, but that doesn't mean he can no longer throw. According to court papers that were recently filed by a woman who was in charge of Franco's and his wife's estate sale last year, he can still bring plenty of [...]
The streak continues, as does the heartbreak. Wade Miley pitched well enough to earn a win, but the bullpen let him down before Cody Ross hit a late game home run in the 13th. But the Mets had the last laugh, walking off in the bottom half of the inning to win, 5-4. 
Once the rain stopped, the hits came for the New York Mets. Jeremy Hefner and the Mets handed Patrick Corbin his first loss, breaking away from the Arizona Diamondbacks 9-1 on a drizzly Tuesday night and sending the NL West leaders to their season-worst fifth straight defeat. Josh Satin hit an RBI double that put the Mets ahead 2-1 in a seven-run seventh inning that lasted about...
New York Mets star David Wright has to pull a Matrix move to get out of the way of this Gio Gonzalez brush-back pitch.
Your browser does not support iframes. If it wasn't for this heads up play by Joey Votto in the seventh inning, Homer Bailey would not have been credited with his second career no-hitter Tuesday night. The fateful moment came with one out, Buster Posey at the plate, and Gregor Blanco leading off second base. This is when Posey bounced an 0-2 pitch from Bailey down to...
MLB News

Delivered to your inbox

You'll also receive Yardbarker's daily Top 10, featuring the best sports stories from around the web. Customize your newsletter to get articles on your favorite sports and teams. And the best part? It's free!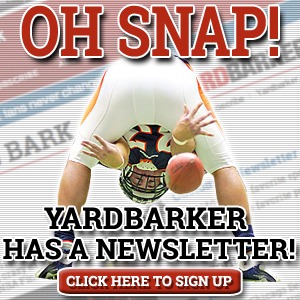 Latest Rumors
Best of Yardbarker

Today's Best Stuff

For Bloggers

Join the Yardbarker Network for more promotion, traffic, and money.

Company Info

Help

What is Yardbarker?

Yardbarker is the largest network of sports blogs and pro athlete blogs on the web. This site is the hub of the Yardbarker Network, where our editors and algorithms curate the best sports content from our network and beyond.