Found March 17, 2013 on Taking Bad Schotz:
PLAYERS:
Carlos Santana
,
Nick Swisher
,
Jason Kipnis
,
Asdrubal Cabrera
,
Ben Zobrist
,
Lonnie Chisenhall
,
Mark Reynolds
,
Mike Aviles
,
Michael Bourn
,
Michael Brantley
,
Drew Stubbs
,
Justin Masterson
,
Ubaldo Jimenez
,
Brett Myers
,
Carlos Carrasco
,
Trevor Bauer
,
Corey Kluber
TEAMS:
Cleveland Indians
,
Chicago White Sox
,
Tampa Bay Rays
,
Cincinnati Reds
Don't look now, but the Cleveland Indians have quietly put together what could be a pretty formidable lineup.  Carlos Santana is back for his third full season as the Indian's primary backstop, and he brings a career wRC+ of 124 with him.  For some perspective, the average major league catcher last season posted a wRC+ of only 95.  First base will likely be occupied most often by free agent acquisition Nick Swisher, who signed a four year, $56 million contract this winter.  Swisher, who will also see time in the outfield, hasn't recorded a wOBA lower than .360 since his lone season with the White Sox in 2008.  The keystone will once again be manned by Jason Kipnis, who combines solid power, decent walk rates, and the ability to steal 30 bases a season.  Shortstop Asdrubal Cabrera is pretty terrible in the field, but he more than makes up for it at the plate.  His .153 ISO last season ranked second among American League shortstops, trailing only Ben Zobrist who spent only 47 games at the position last year.  Third base is really the only question mark in the Indians lineup heading into the season.  Right now, the duty falls on Lonnie Chisenhall, who has only 374 major league plate appearances.  Mark Reynolds will probably see some time at third as well, but the Indians would do well to keep him out of the field as much as possible. They also have Mike Aviles available to play third, should Chisenhall falter. Photo Credit: AP Photo/Paul Sancya The outfield has the potential to be one of the best defensive groups in the league.  Free agent center fielder Michael Bourn has a great track record with an outstanding career UZR/150 of 11.1.  He might be the best defensive center fielder in baseball, and he holds his own with the bat as well.  Left fielder Michael Brantley is really a center fielder who was pushed to left due to the Bourn signing.  His UZR numbers aren't great in center field so far in his career, but they aren't terrible either.  Moving to left field should allow him to add more value on defense, and be around an average major leaguer when all is considered.  Drew Stubbs will play right field, despite playing only center in his time with the Cincinnati Reds.  This means that the Indians will essentially have a center fielder at each outfield position.  Stubbs was an above-average fielder in center (3.9 UZR/150), so a move to right should only improve upon those numbers.  On offense, he has struggled with high strikeout rates, but if he can produce at a similar level to his 2010-2011 form, he should be a valuable player when defense is factored in. Designated hitting duties will probably fall to Mark Reynolds on most days.  However, Swisher, Santana, and whoever else needs a day off in the field will likely rotate through the DH spot.  Reynolds has always had absurd power (.240 career ISO), but his fielding has been borderline embarrassing.  Luckily for Indians fans, they should see him mostly at designated hitter, where he should have been for years. Given that lineup, one might wonder why the Indians aren't being shown much love in AL Central projections.  One would only have to wonder long enough to look at the Indians starting rotation to realize why they are routinely being picked to finish in the bottom half of the division.  Their "ace", Justin Masterson, is coming off a season in which he posted a 4.93 ERA.  Ubaldo Jimenez has been disappointing to say the least since coming over from the Rockies in 2011.  His average fastball velocity has dropped from 96.1 mph in 2010 to only 92.5 mph last season.  If there is any good news for Jimenez, it is that as a fly ball pitcher, the improved outfield defense could help him out this season.  Behind Masterson and Jimenez will be Brett Myers, and some combination of Zach McAlister, Carlos Carrasco, Trevor Bauer, and Corey Kluber.  This is not an inspiring group of pitchers, although there is some upside with Bauer, and Myers shouldn't be terrible. So the Indians' rotation is pretty bad, but their outfield defense should be pretty damn good and there is no shortage of offensive weapons at their disposal.  That being said, no player affects any given game more than the starting pitcher.  If a couple things break right in the rotation, it is not hard to imagine them making a run at a playoff spot.  However, it is also pretty easy to imagine a scenario where the rotation falls apart, and they finish in the cellar.  Currently, the Vegas line on the Indians winning the AL Central is +1,100.  While I would certainly not pick the Indians to win the Central, I do think Vegas may be underestimating them a bit. -Albright
Original Story:
http://www.takingbadschotz.com/?p=12925
THE BACKYARD
BEST OF MAXIM
RELATED ARTICLES
Then & Now is a weekly feature at Indians Baseball Insider during the offseason that takes a look at a player's past and present while also offering a possible glimpse into the player's future. It wasn't long ago that Lonnie Chisenhall was one of the true can't-miss prospects in baseball. Armed with solid power, projectable defensive skills and a swing straight out...
Before people even had a chance to recover from their St. Patrick's Day hangovers, the Indians were hard at work once again trimming down the roster as Opening Day looms now just two weeks away. As the team prepared to take on the Brewers Monday at Goodyear Ballpark, numerous players were either optioned to a minor league affiliate or simply reassigned to minor league camp. Additionally...
The Indians minor league teams were in action on Saturday against the Brewers, and Tony provides a recap of how everyone did in each game. T.J. House and Toru Murata were crisp in their outings for Columbus, Michael Goodnight struggled for Akron, Leonardo Castillo was perfect on the day for Carolina, Nelson Rodriguez showed the power (again) for Lake County, and tons more.
The Indians minor leaguers took on the Rangers on Sunday, and there were plenty of noteworthy performances and some not so good showings. Tony was there to witness the action yesterday and provides all the stats for all four teams, and touches on the great day at the plate for the likes of Jose Ramirez, Dorssys Paulino, Manuel Boscan, Francisco Mejia and lots of others, and also...
There is a lot of excitement in Cleveland about the upcoming baseball season, particularly since the club landed players like Nick Swisher and Michael Bourn. Still, fans remain cautiously optimistic about their team's chances this coming season. In Cleveland, cautious optimism is typically the feeling that precedes crushing defeat. This year, Cleveland fans hope that changes. Fortunately...
Overview Ubaldo Jimenez struck out five and allowed just two earned runs across 5 1/3 innings of work to lead the Indians to a 4-2 win over the Milwaukee Brewers at Goodyear Ballpark on Monday. Jimenez was far from perfect, but he was also far from awful too, and his performance ensured that the Indians would have a chance to win the contest. Jimenez now has a 4.91 ERA in 18 1/3...
The Goodyear Notebook is back for another run this spring, and Tony will be updating us for most of the next 10-12 days on the happenings at minor league camp for the Indians. He will be providing daily comments from the front office and does so today with info on the plan for Trey Haley and more. Tony also has details on the rehabs of Austin Adams and Geoff Davenport, the impressive...
GOODYEAR, Ariz. (AP) -- Daisuke Matsuzaka will not make the Cleveland Indians' opening-day roster. Matsuzaka, trying to make a comeback after pitching in just 11 games last season with Boston following elbow reconstruction surgery, may accept an offer to stay in the club's minor league camp. The 32-year-old Japanese right-hander was trying to win a spot in Cleveland's...
GOODYEAR, Ariz. — Daisuke Matsuzaka will not make the Cleveland Indians' opening-day roster. Matsuzaka, trying to make a comeback after pitching in just 11 games last season with Boston following elbow reconstruction surgery, may accept an offer to stay in the club's minor league camp. The 32-year-old Japanese right-hander was trying to win a spot in Cleveland's rotation...
The minor league spring games kicked off on Friday, and the IBI has the full detail on how every player did in all four games. Columbus was awesome on the mound throwing a one-hit shutout, Jeremy Hermida, Francisco Lindor, Juan Romero and others had big days at the plate, and several players returned from injury.
Asdrubel Cabrera and Jason Giambi each homered to lead Cleveland to a 4-3 win over a Giants split squad on Saturday. Cabrera, recently returned from the World Baseball Classic, hit his first spring home run off Double-A pitcher Chris Heston. Giambi, a non-roster invitee hit his second home run off Jake Dunning. The Indians held a 2-1 lead going into the ninth. Carlos Carrasco...
Mike Aviles continues to be the spark plug for team Puerto Rico in the World Baseball Classic as the 51st state accomplished yet another upset, this time knocking out the vaunted team Japan. In the first inning, Aviles knocked in the first run of the game with a single after Irving Falu and Carlos Beltran walked. His nine RBI rank second among all players in this years tournament...
MLB News

Delivered to your inbox

You'll also receive Yardbarker's daily Top 10, featuring the best sports stories from around the web. Customize your newsletter to get articles on your favorite sports and teams. And the best part? It's free!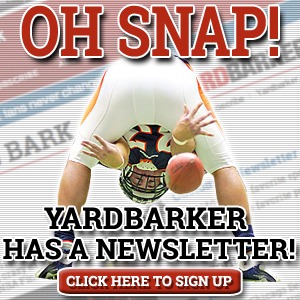 Latest Rumors
Best of Yardbarker

Today's Best Stuff

For Bloggers

Join the Yardbarker Network for more promotion, traffic, and money.

Company Info

Help

What is Yardbarker?

Yardbarker is the largest network of sports blogs and pro athlete blogs on the web. This site is the hub of the Yardbarker Network, where our editors and algorithms curate the best sports content from our network and beyond.