Found October 10, 2013 on Larry Brown Sports:
Arizona Diamondbacks teammates Willie Bloomquist and AJ Pollock placed a friendly wager over the weekend. Bloomquist played his college ball at Arizona State. Pollock played his at Notre Dame. You can probably see where this is headed. On Saturday, Notre Dame beat No. 22 Arizona State in an exciting 37-24 game at a neutral site […]
Original Story:
http://larrybrownsports.com/basketbal...
THE BACKYARD
BEST OF MAXIM
RELATED ARTICLES
The Arizona Diamondbacks were not happy last month when the Dodgers celebrated in their pool, and that is just one of several incidents that infuriated general manager Kevin Towers. Aside from the pool party, Towers spoke with Arizona Sports specifically…Read more →
Arizona State Sun Devils alum and current Arizona Diamondbacks player Willie Bloomquist took a bet with AJ Pollock, his teammate and Notre Dame fan, and evidently lost.  At least Bloomquist was a man about it and honored the bet.  Would have been funny to see Pollock dress up like Sparky. A bet is a bet! I am immediately going to the rifle range decked out in camo and face paint...
Arizona Diamondbacks general manager Kevin Towers wants everybody to know that he's a tough guy and he won't put up with anything other than an "eye for an eye" mentality, specifically on the mound. On Tuesday, Towers went on Arizona Sports 620's "Burns and Gambo" radio show and expressed displeasure for his pitchers' lack of grit. He felt his...
PHOENIX -- Beanballs, of course not. Uncomfortable at-bats? You betcha. Diamondbacks general manager Kevin Towers has emphasized a need for his pitchers to throw inside the last two times he has talked in a group setting. Nothing new there. But Towers admitted Wednesday that he could have phrased himself differently on his radio show Tuesday. This is what Towers said in a radio...
Arizona Diamondbacks GM Kevin Towers is not happy with the fight his team showed, or didn't show, this year and didn't hold back the frustration on radio with Arizona Sports 620′s Burns and Gambo on Tuesday. The main area Towers was upset about this season was the Diamondbacks lack of support for a teammate getting hit by a pitch. Towers specifically mentions a moment from...
Arizona Diamondbacks general manager Kevin Towers is not happy with his team's 81-81 season. Most GMs are frustrated after missing the playoffs, but Towers seems a bit more irritated than others. He wants his team to be tougher. And what does he mean by that? They have to start hitting more batters and stop eating […]
The Dodgers and Diamondbacks have had a 'lively' rivalry of late, especially in 2013, but D-Backs GM Kevin Towers has decided to try and take things to the next level by saying a bunch of dumb stuff, including chastising his pitchers for not hitting enough players, inferring Kirk Gibson and the coaching staff was soft, and that Charles Nagy was fired partially because he wouldn't...
It's safe to assume that Diamondbacks general manager Kevin Towers was not a fan of the Dodgers' desert pool party. During an interview with Arizona Sports 620′s Burns and Gambo on Tuesday, Towers lamented the D-backs' lack of fight and toughness after an 81-81 finish left them as playoff outsiders. He pointed to another run-in with the Dodgers as an example, when Los Angeles...
Remember back in June, when Ian Kennedy started a huge brawl between the Diamondbacks and Dodgers by hitting Zack Greinke near the head? It turns out Arizona GM Kevin Towers wants to see more of that. Speaking to Arizona Sports 620 yesterday, Towers recalled a September game in which the Dodgers hit six home runs against the Diamondbacks at Chase Field (before PoolGate ever happened...
I'm just going to leave this here, sans commentary. But, uhh, MLB should probably do something about this. Arizona Diamondbacks general manager Kevin Towers has not shied away from venting frustration about his team's lack of fight. Towers has pointed to many instances where his pitchers did not hit a member of the other team after a perceived slight or beaning of a D-back....
Most seem to hate it when Bill Plaschke of the Los Angeles Times gets up on his moralizing perch to crow about something or other, partially because it's so smug and holier-than-thou in execution but also partially because he's wildly inconsistent and regularly hypocritical. The latter reason is something that was especially noticeable today, as he riffed on Kevin Towers' comments...
The Diamondbacks became something of a punchline last offseason as GM Kevin Towers and his coaching staff made it clear they were emphasizing "gritty" and "high-energy" players. The Justin Upton-Martin Prado trade stands out the most but the Chris Young and Stephen Drew deals were also byproducts of the team's philosophy. Apparently grit and energy aren&...
Diamondbacks News

Delivered to your inbox

You'll also receive Yardbarker's daily Top 10, featuring the best sports stories from around the web. Customize your newsletter to get articles on your favorite sports and teams. And the best part? It's free!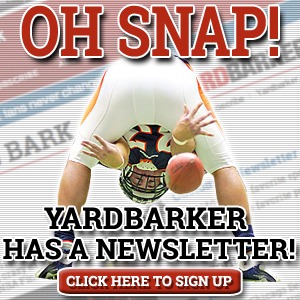 Latest Rumors
Best of Yardbarker

Today's Best Stuff

For Bloggers

Join the Yardbarker Network for more promotion, traffic, and money.

Company Info

Help

What is Yardbarker?

Yardbarker is the largest network of sports blogs and pro athlete blogs on the web. This site is the hub of the Yardbarker Network, where our editors and algorithms curate the best sports content from our network and beyond.