Found November 24, 2012 on Metstradamus:
So we've said all along that the haul for R.A. Dickey would have to be monstrous for the Mets to think about trading him ... or so we would hope. Enter the Kansas City Royals, who are repotedly dangling what could be that monstrous package that could entice the Mets to do it: In their search for a top-of-the-rotation starter, the Royals have dangled outfielder Wil Myers, the consensus 2012 minor league player of the year, two sources told Yahoo! Sports. (...) The Royals' payroll commitments are around $69 million, leaving them two options to stay within their expected payroll around $73 million: They can pursue a young starter with a cheap contract but not as much experience as the Royals want; or deal for a veteran with a higher salary whose cost would cause them to deal a veteran, such as Bruce Chen or Luke Hochevar, the underachieving starter who also would be a non-tender candidate. In private conversations I've overheard (albeit between the voices in my head), R.A...
Original Story:
http://www.metstradamusblog.com/2012-...
THE BACKYARD
BEST OF MAXIM
RELATED ARTICLES
I'm busy working on MMO's official Mets Top 25 Prospects list. I should start rolling it out in reverse order beginning next week. As I near the completion of all my research and start to fit in all the pieces of the puzzle as best as I can, I'm finding it so interesting to see how much things have changed from just one year ago. So many prospects have fallen out off last...
Sandy has done a lot of talking with very little action thus far. Mets General Manager Sandy Alderson has not given the Mets fans much to be thankful for so far this offseason. It is almost the end of November, and all he has done is make a few minor league signings. At this point it's tough to say whether or not the players he has signed thus far are going to help us next year...
Mike Vaccaro lays out a solid argument in this morning's New York Post, about why there is so much distrust between the fans and the team. In dissecting the causes for this growing schism in Mets Nation, he concludes that it all boils down to the Mets wanting to have it both ways.. As negotiations with David Wright and R.A. Dickey continue to meander, it was revealed this week...
When I look at the current Mets' 40-man roster there are few players where it would take a lot to pry away from the team. Matt Harvey is one of them, in fact, there's a thought of re-doing his contract as to buy out his arbitration years. I keep Harvey, of course. And, prospect Zack Wheeler.               NIESE: An untouchable Met? Also on the list is Jonathan Niese, who...
Two years ago today, on November 24, 2010, this report from HoJo's Mojo topped 12,000 unique reads and was what I considered to be the start of a 13 month, non-stop cycle of near-daily Jose Reyes news reports, rumors, and blog posts. It was the beginning of the end for Reyes, and when I personally started saying and writing that the All Star shortstop was as good as gone after...
After writing about Jon Niese as an untouchable Met yesterday, I thought I'd take a different approach and consider a Met believed to be out the door. Say hello to Mike Pelfrey. Long thought to be gone, but upon further review a case can be made for his return. The 28-year-old Pelfrey made $5.68 million in an injury shortened 2012 and is expected to hit the market with a career...
The Binghamton Mets appear bound for Canada, eh?   We've heard it for several years now that the Binghamton Mets were moving to Canada, and more specifically Ottawa, Ontario. According to Josh Levinthal of BaseballAmerica.com through Metsblog.com former Mets player and current owner of the Texas Rangers Nolan Ryan will be buying the Binghamton Mets and moving them to Ottawa for...
The price must be right Speculation and rumor concerning Kansas City 1B/DH Billy Butler began earlier this week, but nothing has advanced the story from the Seattle Mariners. As a true M's fan, I promised myself I would not write anything negative about the Mariners once Chone Figgins was finally gone. Either the end of his contract or the releasing of the 3B/LF/2B would be all...
It's my first morning back home after spending three days in Saratoga, NY where some of my family resides and where we celebrated the Thanksgiving holiday. It's always nice when the entire family gets together again for those 2-3 occasions a year where we eat, have fun, and catch up with everyone on everything. I come from a family whose loyalties are evenly divided at 50...
   Obviously, this offseason,  more than the previous two, has left New York Mets fans completely in the dark as far as their offseason moves are concerned. The stalling in the negotiations with 3B David Wright and RHP RA Dickey have given fans the feeling it will be a long offseason. GM Sandy Alderson has stated, in the few times he has addressed offseason moves, that the Mets...
Former Braves right fielder Jeff Francoeur will return to Turner Field next April if still with the Kansas City Royals In late April the popular, yet enigmatic former Atlanta Brave, Jeff "Frenchy" Francoeur, may return to Turner Field.  Francoeur's Kansas City Royals will face off against the Braves, April 16 & 17 in Atlanta. But will Francoeur still be with the Royals...
MLB News

Delivered to your inbox

You'll also receive Yardbarker's daily Top 10, featuring the best sports stories from around the web. Customize your newsletter to get articles on your favorite sports and teams. And the best part? It's free!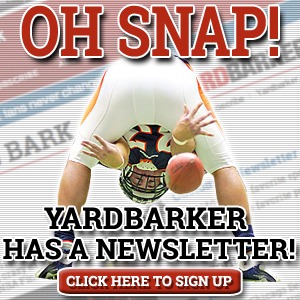 Latest Rumors
Best of Yardbarker

Today's Best Stuff

For Bloggers

Join the Yardbarker Network for more promotion, traffic, and money.

Company Info

Help

What is Yardbarker?

Yardbarker is the largest network of sports blogs and pro athlete blogs on the web. This site is the hub of the Yardbarker Network, where our editors and algorithms curate the best sports content from our network and beyond.