Found April 10, 2012 on SPORTS by BROOKS:
As much as we despise the murderous Castro brothers regime that's plunged Cuba into darkness for over a half-century, we couldn't help but empathize with oft-hyperbolic Ozzie Guillen after his regrettable comments about Fidel Castro in this week's TIME.
('Laughing' Angelos: Cubans escaping mass murderer "would've marred trip")
You see, Guillen was merely toeing the MLB party line on Castro, which has long been set by his ultimate boss, MLB Commissioner Bud Selig.
It was Selig, along with current Baltimore Orioles owner Peter Angelos, who relentlessly lobbied an unsympathetic United States Government in the '90s to allow them to stage a game between the Cuban national team and the Orioles in Havana.
The game, shamefully, eventually became reality on March 28, 1999, and was actually televised by ESPN at the time.
(Did Everyone Get a Gold-Plated Glock Under Their Seat?)
In the history of Fidel and Raúl Castro's reign of terror, there's a case to be made that nothing has done more to legitimize their python-like grip over the island nation than co-opting America's National Pastime that day.
In the aftermath of Guillen's five-game suspension by the Marlins for his comments about Castro, today Selig issued the following statement on behalf of Major League Baseball:
Major League Baseball supports today's decision by the Marlins to suspend Ozzie Guillen. As I have often said, Baseball is a social institution with important social responsibilities. All of our 30 Clubs play significant roles within their local communities, and I expect those who represent Major League Baseball to act with the kind of respect and sensitivity that the game's many cultures deserve. Mr. Guillen's remarks, which were offensive to an important part of the Miami community and others throughout the world, have no place in our game.
Coincidence we're sure that apparently Selig forgot to leave out exactly why Guillen's comments were so offensive as to merit a significant suspension of a sitting major league manager.
 ("Socially Responsible" Selig: Cuban Despot "Humble" and "Fascinating")
Or why the same "social institution with important social responsibilities," while on his watch, actively embraced being a featured centerpiece of what turned out to be a masterstroke of Castro propaganda - masqueraded as a 1999 baseball game backed by the full faith and credit of Selig's Major League Baseball.
And while now-profusely apologetic Guillen is shamed to the ends of the earth, Fidel Castro's Selig-enabled finest hour continues to serve its purpose over two decades later - thanks to the well-circulated photo of Selig, Angelos and the mass murderer, seated together in the front row of perhaps the first capacity crowd in history to watch a major sporting event by invitation only. (We say "perhaps" on the off chance Hitler sold GA seats for the '36 Olympics.)
(Why Didn't Selig Mention Evil Dictator In MLB's Guillen Release?)
The current public excoriation of Guillen is particularly ironic considering the media, baseball establishment and public took a complete pass on Guillen after he made almost identical comments about Castro to Rick Telander of the CHICAGO SUN-TIMES four years ago.
Not to mention the same media, baseball establishment and public lodging nary a protest as Selig and Castro joined blood-stained hands '99 - with one major exception.
48 hours before the Orioles game in Cuba in 1999, Mike Phillips of the MIAMI HERALD reported comments from Florida Marlins Owner John Henry at the time that could not be construed as anything other than withering criticism.
Highlights of the invective by Henry that was aimed at his baseball colleagues from the March 26, 1999 Herald article:
The loudest voice against the Baltimore Orioles' exhibition in Cuba on Sunday may not be coming from a protester with a bullhorn but from the owner of the Florida Marlins, who is almost insulted baseball has allowed the game to happen.`
`The major problem here is ignorance," says John W. Henry, who bought the Marlins two months ago. "People are not aware of the depth of oppression in Cuba. If they were, no one would support this game."

Major League Baseball called Henry this week and asked if he would like to attend the game. Henry said he almost couldn't believe it.
"I declined," Henry said. "I'm opposed to the game, and the Marlins organization is opposed to this game."
Henry was somewhat upset that baseball didn't call him before it approved the game, but even more upset that baseball didn't ask the players.

"It's disappointing that baseball didn't consider asking the Cuban-American players how they feel about the game," Henry said.

The Marlins have several players and coaches who were either born in Cuba or whose parents were born in Cuba. To a man, they are vehemently against the game.

"Obviously, the Florida Marlins should be the team playing a game in Cuba, if the game in Cuba were the right thing to do. But it's not the right thing to do," Henry said.

Henry said someone should have contacted the Marlins.

"What is the percentage of our community that is Cuban-American? Virtually every Cuban-American is a baseball fan," Henry said, making his point that no one considered the South Florida Cuban community when the decision was being made.
Henry has been out of the country the past week, but he returned Thursday. Last week, Henry met with protesters who showed up at Fort Lauderdale Stadium for a Marlins-Orioles exhibition.

"I wanted them to know I support them, that we support them," he said.

Henry was also critical Thursday of Orioles chief operating officer Joe Foss, who downplayed the protests at (Orioles Spring Home) Fort Lauderdale Stadium by saying there were only 250 protesters in a crowd of 4,000.

"If [Foss] were to go to Miami-Dade County and ask the man on the street how he felt, I think he would see it's a much larger percentage than he is aware of," Henry said.
In his aforementioned comments to the Chicago Sun-Times four years ago, Guillen said, "He's a bull—- dictator and everybody's against him, and he still survives, has power.''
Sound familiar, baseball fans?
Follow Brooks on Twitter or join him on Facebook for real-time updates
Original Story:
http://www.sportsbybrooks.com/wrong-g...
THE BACKYARD
BEST OF MAXIM
RELATED ARTICLES
SWIFT PUNISHMENT
Prior to the skipper's news conference, the team announced that Ozzie Guillen has been suspended five games for his comments about Fidel Castro.
Marlins manager Ozzie Guillen's comments professing admiration for Fidel Castro caused a bigger uproar than if the Miami baseball team had spent the entire season in last place. In the U.S. city with the biggest Cuban-American population, Cuban exiles and politicians decried his remarks. Soon afterward, the Venezuelan manager issued a tearful, public apology. He has been suspended...
Florida Marlins manager Ozzie Guillen is probably regretting recent statements he made to Time magazine as he's been suspended for five games by the MLB club for singing the praises of former Cuban dictator Fidel Castro. Quotes attributed to Guillen were published on the popular magazine's website on Apr 6 in which he praised Castro for his longevity. The comments...
The Miami Marlins suspended manager Ozzie Guillen on Tuesday for five games for comments he made about Cuban leader Fidel Castro that appeared in a Time magazine article."I respect Fidel Castro," Guillen said in the article. "You know why? A lot of people have wanted to kill Fidel Castro for the last 60 years, but that [expletive] is still here."The Venezuelan...
Ozzie Guillen tried to clear the air and do a little damage control on Tuesday morning in wake of his controversial comments about Cuban dictator Fidel Castro. The Miami Marlins manager delivered what appeared to be a heartfelt, hour-long apology at Marlins Park in Miami on Tuesday morning. He apologized over and over again and pledged to work alongside the Cuban community going...
As Ozzie Guillen tried to explain his way out of another mess he created with his mouth, Chicago's new manager felt compassion for his predecessor. Robin Ventura watched and wished the best for Guillen. ''It's a tough day for him,'' Ventura said Tuesday, hours after Guillen apologized in South Florida for comments lauding Cuban dictator Fidel Castro, remarks...
In light of his comments about Fidel Castro (of which opinions have varied about how disgusting they were, but all falling on that side of the spectrum), the Miami Marlins have suspended manager Ozzie Guillen for five games, effective starting with tomorrow's game against the Phillies. Guillen will miss the remaining two games against the Phillies, along with the first full series...
For all of you who couldn't understand Ozzie Guillen's press conference earlier today here's what he said (video here): "I'm here because I hurt a community, I didn't want to do it, but I did it. Not only all the Cuban people around the world or living in Cuba, but the entire Latin American community. People from Venezuela, Nicaragua, Guatemala, and if I forget...
MLB News

Delivered to your inbox

You'll also receive Yardbarker's daily Top 10, featuring the best sports stories from around the web. Customize your newsletter to get articles on your favorite sports and teams. And the best part? It's free!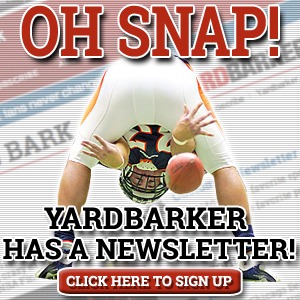 Latest Rumors
Best of Yardbarker

Today's Best Stuff

For Bloggers

Join the Yardbarker Network for more promotion, traffic, and money.

Company Info

Help

What is Yardbarker?

Yardbarker is the largest network of sports blogs and pro athlete blogs on the web. This site is the hub of the Yardbarker Network, where our editors and algorithms curate the best sports content from our network and beyond.