Found December 29, 2012 on IT IS HIGH, IT IS FAR, IT IS caught:
I think it was Lizzie McGuire who said, "If you don't watch TV, you have no right to criticize it."  Well, the same holds for IT IS HIGH non-scientific Internet polls.I know what you're thinking: Dukie, there's been too much happening in the Yankiverse this week - Christmas AND the signing of Mike Diaz - for me to waste ten seconds taking part in one of your meaningless polls. Well, comrades, while some of you are sizing Slade Heathcott's plaque for Cooperstown, one of the most important polls in IT IS HIGH history - Alphonso's opinion notwithstanding - is happening two inches to the west of this here post.With a day to go, Francisco Cervelli and Austin Romine are separated by two votes - TWO VOTES - for starting catcher in 2013. A meaningless micro-thin margin such as this could require a recount, leaving the Yankiverse torn and polarized over who should be the rightful 2013 January catching frontrunner, and - surely - the losing side will feel as tho...
Original Story:
http://johnsterling.blogspot.com/2012...
THE BACKYARD
BEST OF MAXIM
RELATED ARTICLES
HAPPY NEW YEAR! With the year 2013 just days away, the question on many fans minds is how do the New York Yankees look heading into the New Year? Here is how the 2013 Opening Day roster looks as of today, I included each players stats from 2012 season or their last full healthy season:   Please note that each table's title is underneath it. **injured players. PlayerPOSABRHRRBISBAVGOBPSLG...
From Mark Feinsand:The Yankees' search for a righthanded-hitting outfielder may not be over, but they took a step in the right direction Wednesday night with the signing of veteran Matt Diaz. Diaz, who has spent his 10-year career battering lefthanded pitching, inked a minor-league deal with the Bombers that includes an invitation to spring training. If Diaz makes the club...
MLB.com reports that CC Sabathia, the American Leagues' 2007 Cy Young Award Winner and current New York Yankee ace, is due to start throwing again following his October elbow surgery. A bone spur in his pitching elbow hampered Sabathia's 2012 season.  The Vallejo, California native was forced to the disabled list in August when the elbow flared up, but was able...
SEAFARING CENTAUR
New York Yankee third baseman Alex Rodriguez wants you all to call him "Captain Rodriguez" from now on.  A-Rod has been spending the holidays in Florida with his family and his old girlfriend Torrie Wilson.  He sent out a picture of himself cruising on a nice little speed boat with the caption above it telling everyone his new nickname.  Torrie is the main reason for...
Even after reaching an agreement with free agent Matt Diaz, the New York Yankees still have interest in signing another outfielder and are continuing to target Scott Hairston, according to Kevin Kernan of The New York Post. The Yankees still have an interest in signing another outfielder and remain interested in Scott Hairston. At this point the Yankees have...
The New York Yankees are still interested in Scott Hairston. Hairston spent the last two seasons with the Mets. Matt Diaz was signed to a minor league deal two days ago but [...]
As you'd expect, New York Yankees hats, once again, led all sports teams in robbery gear during 2012. In 2010, the New York Times reported about how crime blotters were littered with Yankees hat criminals: "A curious phenomenon has emerged at the intersection of fashion, sports and crime: dozens of men and women who have robbed, beaten, stabbed and shot at their fellow New Yorkers...
It's hard to imagine the perfect Yankee backfire - the Drabekian trade that reeks on every Higgs boson plane from the moment it transpires. Usually, it takes time to realize we gave away Tyler Clippard for Jessica Alba, or that Steve Trout has a third hip growing from his butt. It's rare to immediately smell the rotted flesh of a bad Yankee deal.And if we're looking at...
I wonder why Alex Rodriguez deleted this photo from his facebook page with the description: "Captain Rodriguez." A-Rod, who is at the wheel of the boat with Torrie Wilson, is spending his holiday creating good memories which he didn't create for us in the playoffs.[Deadspin]
"They call me Captain Rodriguez" is Alex Rodriguez posted on Facebook along with a photo of himself and Torrie Wilson on a boat in Miami. H/T Deadspin Rodriguez will miss the start of the baseball season but Yankee fans are not to worry their 'Captain' Derek Jeter is expected to be ready.
MLB News

Delivered to your inbox

You'll also receive Yardbarker's daily Top 10, featuring the best sports stories from around the web. Customize your newsletter to get articles on your favorite sports and teams. And the best part? It's free!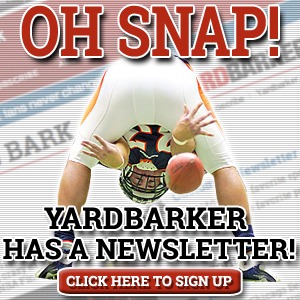 Latest Rumors
Best of Yardbarker

Today's Best Stuff

For Bloggers

Join the Yardbarker Network for more promotion, traffic, and money.

Company Info

Help

What is Yardbarker?

Yardbarker is the largest network of sports blogs and pro athlete blogs on the web. This site is the hub of the Yardbarker Network, where our editors and algorithms curate the best sports content from our network and beyond.