Found August 26, 2012 on IT IS HIGH, IT IS FAR, IT IS caught:
It's hard to imagine the great Yankee-Redsock rivalry without Nick Punto. Last game against Boston, Nick at 3B kept knocking balls down, picking them up and tossing our guys out at first - by a bare instant. He was mocking us, deriding us, mooning us. He needs to pay. Now, poof, he's gone. After all the memories, he's a Dodger, and we won't receive our birthright as Yankee fans: Pure unadulterated vengeance.But I'm wondering about the waiver deal that sent Punto and the Three Stooges to LA. Last month, MLB hyped up something called the "trading deadline" with the ridiculous assumption that teams had to cut deals before it ended. What a joke. Remember the MLB gabfests - for menstral cramp passions, "The View" has nothing on them - breathlessly covering the final ticking moments, as if it mattered?Now, I'm not sure I understand the rules of waiver deals. They're like the tax code. Way I see it, any team can put a waiver claim on a player...
Original Story:
http://johnsterling.blogspot.com/2012...
THE BACKYARD
BEST OF MAXIM
RELATED ARTICLES
Red Sox and Dodgers fans will be fixated on the three big names headed to Los Angeles in this weekend's deal, but Boston is also losing another solid team member in the epic trade. Nick Punto, who has filled in admirably all over the roster as the Red Sox fought injuries this year, is also part of the trade package the Red Sox and Dodgers are rumored to be completing. Punto appeared...
Nick Punto was the first to tip his cap to Boston and its fans. Now Adrian Gonzalez is joining him. Punto and Gonzalez, two pieces of a giant trade that is also sending Josh Beckett and Carl Crawford to the Dodgers, both bid farewell to Boston on Saturday as reports swirled that their trade to the Dodgers had been completed and they were already flying to Los Angeles. Gonzalez tweeted...
Thanks to Red Sox nation for everything. You guys are great!— Adrian Gonzalez (@adriangon28) August 25, 2012#dodgers doing it first class! — Nick Punto (@Shredderpunto) August 25, 2012The Dodgers sent a private plane to Boston to bring their new additions back on.
BOSTON -- A new era is upon the Red Sox. During a 25-minute news conference, Red Sox general manager Ben Cherington validated the decision to trade Adrian Gonzalez, Carl Crawford, Josh Beckett and Nick Punto to the Dodgers by emphasizing the need for discipline. Not discipline within the clubhouse –– even though it's a ramification of the deal –– but discipline in spending...
Adrian Gonzalez Somebody in Boston needs to go make sure that the Red Sox ownership hasn't had Fenway imploded overnight as another step in the dramatic reset of the team, that took place on Friday and was made official this morning. Gone are Adrian Gonzalez, Josh Beckett, Nick Punto and Carl Crawford, along with around $260 million remaining on their contracts. Coming from the...
After only a few hours from arriving at his new home, Adrian Gonzalez hit a three-run homer to help the Los Angeles Dodgers beat Miami 8-2 on Saturday night.   Gonzalez, a four time All-Star and three-time Gold Glove first baseman, batted cleanup in his first game as a Dodger.   Los Angeles acquired Gonzalez, Carl Crawford, Josh Beckett and Nick Punto in a blockbuster trade with...
Ben Cherington's work week never ends. That much is already obvious, but the Red Sox' monster weekend deal served as a reminder. In a franchise-altering, history-making trade, the Sox sent Adrian Gonzalez, Josh Beckett, Carl Crawford and Nick Punto to the Dodgers, which alleviates Boston of more than $250 million in player salaries. Cherington started off his Monday morning...
Squawker Jon and I were at dinner Friday night when I got the following alert from the Boston Herald on my iPhone "Red Sox working on trading Adrian Gonzalez, Carl Crawford, Josh Beckett and Nick Punto to LA Dodgers." I couldn't believe it -- I was thinking for a second that the Herald got hacked or something! What a jaw-dropper!That's the type of trade idea you...
Watch Ben Cherington's press conference on the trade that sent Adrian Gonzalez, Josh Beckett, Carl Crawford and Nick Punto to the Dodgers.  The presser gets underway at 5pm Eastern and will be streamed live below.
MLB News

Delivered to your inbox

You'll also receive Yardbarker's daily Top 10, featuring the best sports stories from around the web. Customize your newsletter to get articles on your favorite sports and teams. And the best part? It's free!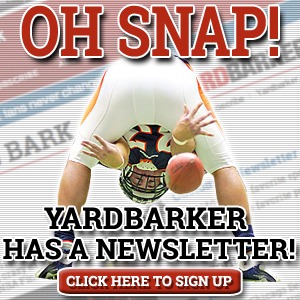 Latest Rumors
Best of Yardbarker

Today's Best Stuff

For Bloggers

Join the Yardbarker Network for more promotion, traffic, and money.

Company Info

Help

What is Yardbarker?

Yardbarker is the largest network of sports blogs and pro athlete blogs on the web. This site is the hub of the Yardbarker Network, where our editors and algorithms curate the best sports content from our network and beyond.