Found January 18, 2013 on Ted's Army:
Every morning, we compile the links of the day and dump them here... highlighting the big storyline. Because there's nothing quite as satisfying as a good morning dump. Curt Schilling, who says he has lost all of his baseball earnings, is preparing to sell the bloody sock he wore during the 2004 World Series. Schilling's Rhode Island-based video game company, 38 Studios, went into bankruptcy last year. Schilling had personally guaranteed loans to the company and listed the sock, which had been on loan to the National Baseball Hall of Fame and Museum, as bank collateral. The sock will go on auction next month, with online bidding beginning around Feb. 4 and a live auction taking place on Feb. 23, according to Chris Ivy, the director of sports for Texas-based Heritage Auctions. Ivy said he expects the sock to go for at least $100,000. "I'm obligated to try and make amends and, unfortunately, this is one of the byproducts of that," he said. WEEI - Curt Schilling set to sell World Series bloody sock Writing a post about how the bloody sock Curt wore in the World Series 'could be yours' should be a lot of fun.  There's an infinite number of jokes to be had at Curt's, the sock's, and the lucky winner of this auction's expense.  Unfortunately, Schilling ruined our good time by making this whole ordeal as depressing as possible.He's not auctioning the sock to raise money for ALS, or just to share it with the world.  The guy simply needs money.  He's broke.  He used the sock as collateral to make some video games, which was an epic failure.  Now he's talking about maybe having to sell his World Series rings as well.  How can you crack jokes at that?It's even more shocking when you factor in the fact that, according to Baseball-Reference.com, Schilling earned $114,158,000 over his career (in salary alone).  It's not just NBA players that can burn through tens of millions of dollars in the blink of an eye.  It's hard (albeit semi-hilarious) to envision Schilling supporting a 20-man posse.  Where did the money go?  It can't all be sunk in 38 Studios, can it?  I guess whatever Schilling did with his money is irrelevant.  What does matter now is that someone is going to be able to claim the bloody sock as their own.  That is clearly one of the more disgusting pieces of sports memorabilia, but one I would purchase in a heartbeat were I to have $100,000 lining my wallet.  It will be interesting to see what the winner does with this artifact of Red Sox lore.  It would be nice if the person that buys it donates the sox back to Cooperstown, where it belongs.  More than likely it'll end up above some guy's fireplace, where he'll stare at it each night, replaying the moment his wife left him, packing a suitcase while shouting about how he spent their life's savings on a disease-ridden sock.  Sports fans are weird. Rest of the links: Herald - Hip to a problem? Why Mike Napoli's hip may have scared Red Sox -- plus, links | Epic Mike Napoli saga coming to close | Xander Bogaerts will get chance to shine at WBC | Globe - Saltalamacchia signs for one year | Farrell on tour to talk to some pitchers | WEEI - Red Sox COO Sam Kennedy: 'We are paid to do one thing, and that's to win' | Ben Cherington: Mike Napoli announcement more than a couple of days away | CSNNE - Farrell: Bard taking steps 'in the right direction' | Red Sox 'have a little bit of anxiety' with players in World Baseball Classic
Original Story:
http://www.tedsarmy.com/blog/2013/01/...
THE BACKYARD
BEST OF MAXIM
RELATED ARTICLES
DON'T BE CURT
The white tube sock worn and bloodied by Curt Schilling in Game 2 of the 2004 World Series is being sold by Heritage Auctions.
His video game company in bankruptcy, former Boston Red Sox pitcher Curt Schilling is selling the blood-stained sock he wore during the 2004 World Series. The sports director at Heritage Auctions tells The Associated Press online bidding begins around Feb. 4. Live bidding will take place in New York City on Feb. 23. The sock had been on loan to the National Baseball Hall of Fame...
The baseball writers determined this year that no one was worthy of induction into the Baseball Hall of Fame. As we've seen time and time again, however, opinions change over time, so it'll be interesting to see whether players linked to the Steroids Era eventually gain enshrinement. One player who was on the ballot for the first time this year but failed to get in was Curt Schilling...
Courtesy Baseball Hall of Fame Was I the only one who thought a video game company was not the smartest place to invest your millions of dollars? Curt Schilling's boyhood fantasy-turned-real-life-disaster 38 Pitches filed for bankruptcy in June. As chief investor and creditor, Schilling must pony up for some of...
Last Sunday, we bootless and gaggle-toothed mortals of the underclass were blessed to watch the Golden Globe awards - (which should be called the Golden Calf awards) - the annual salute to human self-indulgence, second only to birthday parties given for North Korean dictators. It is an honor to watch the gods get hammered and flirt with each other - even if Redsock-leaning Ben Affleck...
• Yep, Manti Te'o GF Bobblehead Night • Johnny Manziel texts with Manti • Curt Schilling selling W.S. bloody sock • UNLV football stadium to have THIS! • You have to see NHLer Brent Burns • Behati Prinsloo working over her bra • Craziest Porn Titles At 2003 AVNs • Hot Russian Bra Model of the Day: Lina Filed under: Daily Dump
Red Sox News

Delivered to your inbox

You'll also receive Yardbarker's daily Top 10, featuring the best sports stories from around the web. Customize your newsletter to get articles on your favorite sports and teams. And the best part? It's free!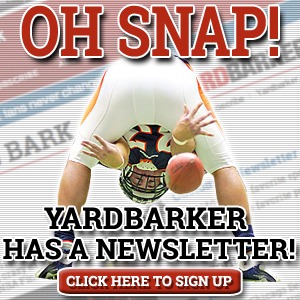 Latest Rumors
Best of Yardbarker

Today's Best Stuff

For Bloggers

Join the Yardbarker Network for more promotion, traffic, and money.

Company Info

Help

What is Yardbarker?

Yardbarker is the largest network of sports blogs and pro athlete blogs on the web. This site is the hub of the Yardbarker Network, where our editors and algorithms curate the best sports content from our network and beyond.