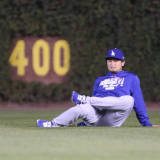 Happy Monday, everyone. Hope you had a good weekend, but even if you did, it surely wasn't as prosperous as the weekend Yu Darvish just had. On Saturday, the Cubs signed Darvish to six-year, $126M deal that, with incentives, could top out at over the $150M mark. The move takes the best starting pitcher off the market and, depending how you feel about J.D. Martinez, takes the best...
A.J. Burnett made his first start on Thursday after being sidelined with elbow inflammation since July. To welcome the 38-year-old back, the City of Pittsburgh projected the logo of one of his favorite superheros on buildings near PNC Park. Burnett is an avid Batman fan and even had special Batman inspired cleats to wear during his first All-Star Game appearance earlier this year...
It has been a long time coming for Pittsburgh Pirates pitcher A.J. Burnett; 17 seasons to be exact. After 16 he decided that his 17th would be his last. Wouldn't you know it--it has been the best season of his career (to date). So good in fact that he was finally named to an All-Star squad for the first time in his career.With it being his first (and last since he has decided to...
38,000 fans of the Pittsburgh Pirates were lustily booing umpire Vic Carapazza after his phantom foul tip call gave Cardinals' slugger Mark Reynolds a second chance that he would not waste. Reynolds drove the very next pitch from A.J. Burnett over the left field wall to stake the Cards to a 1-0 second inning lead. PNC Park was a powder keg ready to explode. Francisco Cervelli...
Pitchers are supposed to save their arms for pitching. They are not meant to be big, brawny guys that go after batting titles or anything. Typically their batting averages are among the worst in the league, and they are certainly not known for hitting the long ball--but Pirates pitcher A.J. Burnett sure got a hold of one Saturday night against the Cardinals.It's only the fourth home...
It is understandable that A.J. Burnett would like to take a mulligan for his 2014 season. No veteran pitcher wants to waste one of the final seasons of his career getting tagged with 18 losses on a last place ball club. Last season started with a regrettable decision to leave the Pittsburgh Pirates and their analytic approach to defending ground balls in favor of an opportunity...
Hey, @wudeydo34! #WelcomeBackAJ pic.twitter.com/hjgrhTligO — Pittsburgh Pirates (@Pirates) November 14, 2014 Former Phillies pitcher A.J. Burnett seemed to be headed back to the Phillies heading into the offseason. With a player option for $12.75 million, why would he go anywhere else? Burnett rejected a return to the Phillies, much to...
Last week I looked at how the Philadelphia Phillies got to where they are today and demonstrated their need for change. This week, I will take a look at which pitchers will stay and go, who are some possible trade candidates and what free agents the Phillies may target.  Phillies Free Agents A.J. Burnett: Burnett declined his 12.75 million dollar option for the 2015 season, a figure...
On Friday it was announced that A.J. Burnett and the Phillies declined their $15 million mutual option, leaving the righty hurler to decide whether to exercise his $12.75 million player option for next year. The veteran, who turns 38 years old prior to spring training, posted an 8-18 record along with a 4.59 ERA in 34 starts this past season, his first with the team.  Burnett has...
When A.J. Burnett signed his deal with the Phillies, the headline in the email sent to fans indicated that the Phillies signed Burnett to a one-year deal. However, the number of starts Burnett made would give him a player option worth up to $12. 75 million for 2015. Burnett made...
MORE STORIES >>
MLB News

Delivered to your inbox

You'll also receive Yardbarker's daily Top 10, featuring the best sports stories from around the web. Customize your newsletter to get articles on your favorite sports and teams. And the best part? It's free!