The Los Angeles Dodgers finalized coaching staffs of their Minor League affiliates for the 2018 season, which brought...
With new manager Gabe Kapler on board, the Phillies may finally start to finalize their major league coaching staffs.  The New York Mets, Washington Nationals, and San Francisco Giants all announced some coaching moves on Thursday, as the remaining available coaches settle into new positions.   The Phillies reportedly are set to add at least two to their staff. According to Todd...
The Phillies began hiring some of their new organizational staff under new manager Gabe Kapler. The first two were former outfielder Sam Fuld and Baltimore Orioles executive Ben Werthan. Soon the Phillies will be looking to fill out the major league coaching staff. One night may stand out as a prime candidate to be Kapler's bench coach. Former major league catcher Bill Haselman could...
(Photo Credit: Bryan Terry/The Oklahoman) Continuing along with our winter profiles of a few select members of the Dodgers' coaching and management crew, today we cruise down to the Triple-A level, where we take a quick look at Oklahoma City manager Bill Haselman. Haselman is unique in the sense that he's a mid-generation leader who has a distinct blend of both old school and new...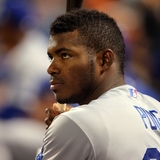 The fallout of failing to trade Yasiel Puig before the non-waiver trade deadline on Monday along with the acquisition of...
By Jacob Unruh Staff Writer junruh@oklahoman.comOklahoma City Dodgers manager Bill Haselman picked the Oklahoma City Thunder instead of his childhood team on Tuesday when asked about the NBA Western Conference finals. Haselman grew up in Saratoga, Calif., rooting for the Golden State Warriors and players like Rick Barry, John Lucas and Clifford Ray. But in his second month as OKC...
LOS ANGELES (AP) The Dodgers have installed new managers at all six of their minor league affiliates for the upcoming season. Bill Haselman will manage Triple-A Oklahoma City, Ryan Garko at Double-A Tulsa, Drew Saylor at Single-A Rancho Cucamonga, Gil Velazquez at Single-A Great Lakes, Shaun Larkin at rookie-advanced Ogden and John Shoemaker at the rookie-level Arizona League...
LOS ANGELES (AP) The Dodgers have promoted Bill Haselman to manager of Triple-A Oklahoma City after he led Class A Rancho Cucamonga to this year's California League. Haselman replaces Damon Berryhill, who was let go after leading the team to a league-best 86-58 regular-season record and was voted PCL Manager of the Year. Los Angeles said Monday that Ryan Garko takes over at Double...
Inland Empire 66ers Head Coach Bill Haselman interviews with AngelsWin.com to reflect on the 2012 season, providing insights into the players and their development over the course of the year. Click below to watch our interview with the 66ers manager. Coach Bill Haselman Interviews with AngelsWin.com August 30, 2012 from AngelsWin.com on Vimeo.
MORE STORIES >>
Orioles News

Delivered to your inbox

You'll also receive Yardbarker's daily Top 10, featuring the best sports stories from around the web. Customize your newsletter to get articles on your favorite sports and teams. And the best part? It's free!