The Oakland A's traded outfielder Coco Crisp to the Cleveland Indians on Wednesday. In return, they received 31-year-old LHP Colt Hynes. To take Coco's spot on the roster, the team promoted 2B Joey Wendle from Triple-A Nashville. News of Coco's imminent departure was reported Tuesday, but the deal is now official. The 36-year-old is having a decent season but is clearly past his...
TORONTO (AP) The Blue Jays have optioned left-hander Colt Hynes to Triple-A Buffalo and called up left-hander Jeff Francis from Triple-A. Hynes had no record and a 6.00 ERA in five appearances with Toronto this season. He pitched in 22 games for San Diego in 2013. Francis was 1-0 with a 0.00 ERA in one start at Buffalo. Colorado's first round pick in the 2002 draft, the 10-year...
Roster Update: LHRP Colt Hynes, who was competing for a spot on the 25 man roster before being released at the end of March, has been traded to the Dodgers for Duke von Schamann. Von Schamann is a starting pitcher at the AA level and a Fantastic Four villain. Player of the Game Jason Kipnis broke through for the first time this season, knocking in three and scoring once on two hits...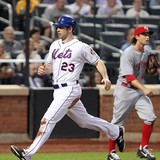 As a prospect hoarder, I'm not usually happy when the team trades a somewhat legitimate prospect for a 28-year-old lefty who has all of 17 innings pitched in the majors (and a 9.00 ERA — yay small sample sizes). But that's (kinda) what happened on Sunday. The Dodgers sent Duke von Schamann to the Indians in exchange for left-handed reliever Colt Hynes. I think Mike said it best:...
The Cleveland Indians open the 2014 season with new expectations despite many questions. The Indians' 25-man roster will look different than the group that won 92 games and lost the American League Wild Card game to the Tampa Bay Rays. While the roster may change and the expectations grow, Cleveland will need to answer many questions this spring before opening the season in Oakland...
MORE STORIES >>
Dodgers News

Delivered to your inbox

You'll also receive Yardbarker's daily Top 10, featuring the best sports stories from around the web. Customize your newsletter to get articles on your favorite sports and teams. And the best part? It's free!