PORT ST. LUCIE — Mets right-hander Matt Harvey threw live batting practice Friday, twice facing Tim Tebow in the process. Tebow managed to square up a pitch from Harvey and drive into right-center. Afterward, Tebow declined to speak with reporters about his matchup with Harvey. The 30-year-old Tebow is participating in his first major league...
2018 is going to be arguably the biggest year of Matt Harvey's career. With the righty entering his walk season, there's a lot at stake. For one, it's coming at a time when the Mets need him to step up, and two, he wants to show the goods to lock up a big contract this offseason. The soon to be 29-year-old feels confident, however, as his shoulder feels better than it has "maybe...
Check out the debut of Todd Frazier, as well as Matt Harvey and Jacob deGrom in today's New York Mets Sights and Sounds from PSL!
Matt Harvey, Jacob deGrom, and Noah Syndergaard talk to the media about expectations for the New York Mets starting pitching staff in 2018.
SNY.tv captures the sights and sounds of Thursday's workout at New York Mets Spring Training in Port St. Lucie, which featured Matt Harvey, Jacob deGrom, AJ Ramos, Jeurys Familia, and more!
New York Mets legend Doc Gooden discusses what to expect from Matt Harvey in 2018, and the importance of Harvey starting the new season strong.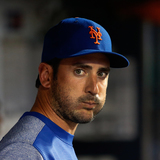 News broke on Sunday that the New York Mets were potentially shopping pitcher Matt Harvey. Now, we have an idea as to what they might want as a return.According to a report, the Mets are discussing a trade with the Texas Rangers that would send Harvey to Texas and second baseman Jurickson Profar to New York. This would certainly be a trade involving two struggling but talented players...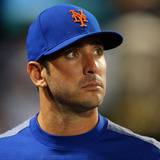 Once the undisputed ace of the New York Mets, Matt Harvey has experienced a very long fall from grace over the last two years.Harvey concluded his worst season as a professional on Friday, giving up seven hits and four runs in a loss to the Philadelphia Phillies. Needless to say, the right-hander is not exactly upset that his season is over. Harvey finished the season with a 6.70...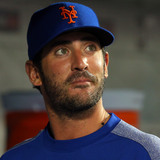 The New York Mets are still hoping to find something left in Matt Harvey's once-vaunted right arm.As Harvey finishes off another poor, injury-plagued campaign, Mets general manager Sandy Alderson said Friday that the team intends to tender him a contract, and he expects the right-hander to stay with the Mets this winter. It's hard to believe that it's been less than two years since...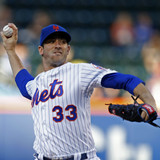 After an extended stint on the disabled list, the Mets are hoping to have Matt Harvey back in their rotation sooner rather than later.Harvey last pitched on June 14, a start in which he allowed four runs in four innings against the Cubs. Two days later, New York placed Harvey on the 10-day disabled list with an injury to his right shoulder.As the process of working his way back has...
MORE STORIES >>
Mets News

Delivered to your inbox

You'll also receive Yardbarker's daily Top 10, featuring the best sports stories from around the web. Customize your newsletter to get articles on your favorite sports and teams. And the best part? It's free!