Photoblog: Tuesday at Camelback Ranch If your phone rings during a team meeting, Dave Roberts will answer it. You've been warned. An impromptu photoshoot with Matt Kemp, Dennis Santana and Daniel Corcino. Kiké Hernández plays "What's in the box?", a new feature coming to DodgerVision in 2018. Photoblog: Tuesday workout at Camelback Ranch was originally published in Dodger Insider...
GLENDALE, Ariz – Matt Kemp looks at ease. Noticeably thinner — down 41 pounds from 2017 — with an afro his hat has trouble containing. The 33-year-old is back in Los Angeles Dodgers blue for the first time since 2014 after short stints with the San Diego Padres and Atlanta Braves. During batting practice Friday morning at Camelback Ranch, Kemp appears to be right at home. He introduces...
In one of the more surprising trades this winter, the Los Angeles Dodgers reacquired Matt Kemp from the Atlanta...
Immediate reaction to the Los Angeles Dodgers completing a trade this winter to acquire Matt Kemp could be summed...
While it was a relatively quiet offseason for the Los Angeles Dodgers, the club still pulled off one of the more surprising...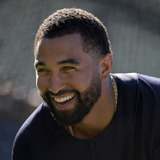 The Los Angeles Dodgers were not originally expected to keep Matt Kemp after they reacquired him as part of a salary dump earlier in the offseason, but perhaps the veteran outfielder's new commitment to fitness has led to a change of heart.Dodgers manager Dave Roberts said Tuesday that he expects to see improvements in Kemp's defense in 2018 because he's in better shape. How much...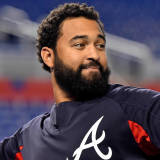 When the Dodgers recently pulled off a big-contract swap with the Braves that improved the team's luxury tax accounting, they ended up with former star outfielder Matt Kemp. It remains difficult to see Kemp ending up on the Dodgers' Opening Day roster, but the team is also finding little interest in the veteran from other organizations, according to Jon Heyman of Fan Rag.Indeed,...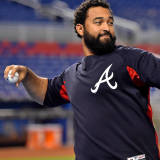 The Los Angeles Dodgers are moving some salary — and bringing back a familiar face in the progress.The team announced Saturday that they have acquired outfielder Matt Kemp from the Atlanta Braves in exchange for four players, including Adrian Gonzalez. While it is unclear if the Braves are taking on all the money in the deal, there are definitely some salary considerations involved...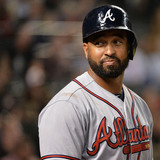 Old friend alert!MLB's Winter Meetings have come and gone, but obviously the offseason is far from over. We've seen middle relievers signing left and right, plus a couple of minor trades here and there. But on Saturday, the Los Angeles Dodgers and Atlanta Braves got together.The the Dodgers shed some salary and brought back a familiar face in the process. A two-time All-Star with...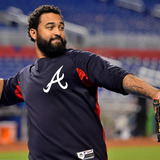 We all remember when Matt Kemp was the franchise player of the Dodgers, getting on base often and using his athleticism to cover a lot of ground in the outfield.Los Angeles is known for its fitness and emphasis on nutrition, so that must have been ingrained in Kemp's lifestyle when he was there.Well, now that he's been in Atlanta, which is known more for its food and beer, it's clear...
MORE STORIES >>
Dodgers News

Delivered to your inbox

You'll also receive Yardbarker's daily Top 10, featuring the best sports stories from around the web. Customize your newsletter to get articles on your favorite sports and teams. And the best part? It's free!