Diamondbacks starter Zack Greinke wasn't ready to fully embrace the humidor and its potential effect on Arizona's home games, saying, "I've got to see" whether it'll make Chase Field less hitter-friendly.
D-backs general manager Mike Hazen offered no update on the team's quest to re-sign J.D. Martinez, but staff ace Zack Greinke likes the idea of the outfielder's return.
Diamondbacks right-hander Zack Greinke has been told by the team that he's allowed to set his own pace in Spring Training.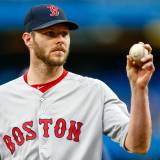 How to define the greatness of a starting pitcher has undergone an overhaul of opinion in the past handful of seasons. The battle between analytics and traditional numbers has expanded the debate on how to qualify a top starter to such a vast extent that even the amount of wins a hurler is credited with is a hotly debated value – despite the fact it is the starter's job more so than...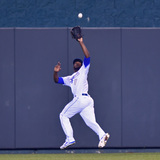 The free agent market for outfielder Lorenzo Cain could be heating up, with the Texas Rangers and Milwaukee Brewers cited as teams interested in signing the center fielder.On Thursday, ESPN's Jerry Crasnick said the Rangers had "ramped up" their pursuit of Cain. Meanwhile, Ken Rosenthal reported in a column on The Athletic that the Brewers have also expressed interest in Cain.The...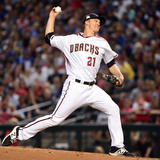 Maybe there is something to the Zack Greinke trade rumors.Though reports of a potential deal to the Texas Rangers may be dead, one interesting thing to note is that Fan Rag Sports' Jon Heyman says the Diamondbacks may be willing to eat some of the money owed to Greinke. That report is in contrast to Heyman's Fan Rag colleague Robert Murray, who said that the Diamondbacks weren't...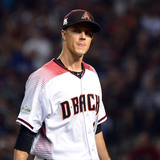 Zack Greinke's name has come up in trade rumors this week, but it doesn't sound like there's much to them.On Tuesday, reports were saying that the Texas Rangers were interested in Greinke. Then it was reported that other teams like the Philadelphia Phillies and New York Yankees were also interested in Greinke.However, it sounds like the Arizona Diamondbacks are not interested in...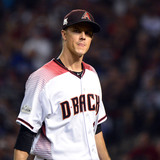 The Texas Rangers are looking to upgrade their starting pitching in the offseason. One pitcher they're reportedly looking at is Zack Greinke."Two major-league sources said Tuesday night that the Texas Rangers have been in contact with the Arizona Diamondbacks about a swap of star right-hander Zack Greinke," Jeff Wilson of the Star-Telegram reported. "One of the sources said that...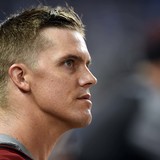 Colorado Rockies pitcher Pat Neshek is an avid collector of autographs, and his status as an MLB player gives him access to a number of opportunities the common collector doesn't have. Except, of course, when it comes to Zack Greinke.Neshek, who was then with the Philadelphia Phillies, was the team's lone representative at the All-Star Game, said back in July that Greinke was going...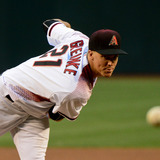 Arizona Diamondbacks ace Zack Greinke is one of the most dominant pitchers in MLB right now — with a 6-2 record and 2.82 ERA — and it looks like he now has another "out" pitch to add to his arsenal.Greinke pitched another gem in Monday night's 5-1 win, going 8 2/3 innings and completely shutting down the White Sox hitters, who often look lost at the plate. Some of the swings and...
MORE STORIES >>
Diamondbacks News

Delivered to your inbox

You'll also receive Yardbarker's daily Top 10, featuring the best sports stories from around the web. Customize your newsletter to get articles on your favorite sports and teams. And the best part? It's free!