Found July 09, 2012 on 5thRound.com:
While Chael Sonnen (Pictured) didn't seem bothered with the alleged illegal knee middleweight champion Anderson Silva unleashed on him at UFC 148, Sonnen's head trainer is submitting an appeal with the Nevada State Athletic Commission regarding the vicious strike that lead directly to his client's defeat.
"Chael's not the kind of guy who likes to complain after a fight," Scott McQuarry told BleacherReport. "I felt I needed to take this action to protect him. At the point of impact, Anderson had his hand locked in the cage and his feet left the ground. We believe his intentions were clear.
"We started the process of filing a complaint with the Nevada Athletic Commission. We believe the knee that Anderson Silva threw was illegal with the clear intent to strike the face. And it did in fact connect with the face. Chael bit his tongue and needed eight stitches."
After planting Silva on his back for the entire opening round, Sonnen's early takedown attempts were thwarted in the second stanza. The challenger then inexplicably attempted a spinning backfist. Unfortunately for Sonnen, he hit nothing but air and found himself on his behind.
Silva subsequently landed what initially appeared to be a knee to Sonnen's head. Although, on replay it seemed to connect right in the middle of Sonnen's chest. McQuarry clearly disagrees.
"I think it did make a difference in the outcome," McQuarry added. "I know that Chael grabbed Silva's shorts briefly too in response, but not for 15 seconds and two punches.
"They need to call the UFC. We need a rematch. Chael is a great champion and deserves a fair fight."
During the post-fight press conference, Sonnen appeared to come to terms with the defeat and didn't complain about the knee.
"I don't make those decisions and I hate those rules anyway," Sonnen said of the vicious shot. "I'm an old school guy … I don't care about legal or illegal. I could see him, I could see it coming. That's just the way it goes."
NSAC executive director Keith Kizer doesn't believe anything will come of McQuarry's prtest.
"Anybody can file an appeal, but as you know, the referee's decision is final," Kizer told MMAJunkie. "He's the sole determiner that the knee was a lawful strike, and then he stopped the fight thereafter after the additional strikes. I don't know what the legal basis would be."
Original Story:
http://www.5thRound.com/122126/chael-...
THE BACKYARD
BEST OF MAXIM
RELATED ARTICLES
Chael Sonnen did a lot of talking leading up to UFC 148 that rang hollow at about 1:55 into round two. Sonnen's future has now become the big question and he addressed it in his first interview since suffering the TKO loss to Anderson Silva. Related posts: Chael Sonnen talks trash on Anderson, Lesnar, and GSP – Video Chael Sonnen Talks Major Trash On Anderson Silva Anderson...
After two years of unprecedented hoopla, the rematch between middleweight king Anderson Silva and Chael Sonnen is officially a thing of the past. After manhandling Silva for nearly five complete rounds in their initial shootout, Sonnen was abruptly submitted with only 110 ticks remaining on the clock. Although tonight's fight wasn't nearly as dramatic, the result was the...
photo credit - espn.go "If you'd like to have a barbeque at my house I'd love to have you over for a barbeque." - Anderson Silva to Chael Sonnen post fight. Chael Sonnen had never been finished in his previous 49 professional career fights. That was until the biggest fight of his career. Sonnen started the 1st round of tonight's title fight the same way...
Champion vs. Icon. Anderson Silva channels his inner Scott Stevens in the weigh-in highlight video above. Silva throws his shoulder at Sonnen, adding to the hype machine that will all come to fruition tonight. UFC 148: Silva vs. Sonnen II coverage
  Full event results from UFC 148 in Las Vegas, NV: UFC Middleweight Champion Anderson Silva def. Chael Sonnen via TKO, R2 Forrest Griffin def. Tito Ortiz via unanimous decision (29-28 x3) Cung Le def. Patrick Cote via unanimous decision (30-27 x3) Demian Maia def. Dong Hyun Kim via TKO, R1 Chad Mendes def. Cody McKenzie [...]
• While many will argue that Anderson Silva was not himself due to a rib injury the first time these two fought I believe that the true reason Sonnen dominated the fight should be disclosed. Put facial hair on Anderson Silva and he vaguely resembles Wayne Brady. Who wouldn't want to beat him up for 23 straight minutes? • All (awful) jokes aside, everyone has it wrong...
There are better UFC fighters than Chael Sonnen. There is no better self-promoter. Sonnen built massive hype for his UFC 148 main event rematch against Anderson Silva through insults and race-baiting that prompted his soft-spoken opponent to fire back with his own verbal salvos. After a second loss to the UFC middleweight champion on July 7, Sonnen's camp reportedly is taking...
Move over Justin Bieber, because UFC middleweight king Anderson Silva has a new BFF. Miami Heat superstar LeBron James took his talents to UFC 148 on Saturday night to WITNESS Silva do his thang inside the Octagon. After watching "The Spider" post a 2ndRound TKO victory over Chael Sonnen, James left his cageside seat to chop it up with his fellow Nike head backstage. "Congrats...
Anderson Silva vs. Jon Jones has become MMA's version of Manny Pacquiao vs. Floyd Mayweather, and much like Pacquiao-Mayweather, this fantasy fight is unlikely to happen. After Silva took it to Chael Sonnen last weekend, the media began asking Spider if he had interest in facing current UFC Light Heavyweight champion Jon Jones. Silva's English isn't that good, but he understood...
Although UFC middleweight king Anderson Silva and former light heavyweight champ Lyoto Machida have accredited Steven Seagal (Pictured) for some of their recent successes, the mixed martial arts community continues to use Seagal as the punch line in nearly every joke. After posterizing Belfort at UFC 126 with the front-kick heard 'round the world, Silva revealed he and Seagal...
Just two days after suggesting the blockbuster bout between middleweight king Anderson Silva (Pictured) and light heavyweight champ Jon Jones probably wouldn't come to fruition, a giggly UFC president Dana White changed his tune Monday on The Jim Rome Show. White didn't stop there regarding fantasy fights. He said the Octagon's reining welterweight champion is also a potential...
MMA News

Delivered to your inbox

You'll also receive Yardbarker's daily Top 10, featuring the best sports stories from around the web. Customize your newsletter to get articles on your favorite sports and teams. And the best part? It's free!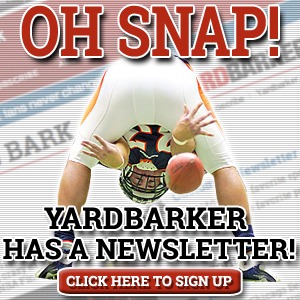 Latest Rumors
Best of Yardbarker

Today's Best Stuff

For Bloggers

Join the Yardbarker Network for more promotion, traffic, and money.

Company Info

Help

What is Yardbarker?

Yardbarker is the largest network of sports blogs and pro athlete blogs on the web. This site is the hub of the Yardbarker Network, where our editors and algorithms curate the best sports content from our network and beyond.