Found March 06, 2013 on hov-mma:
PLAYERS:
Anderson Silva
,
Alessio Sakara
,
Tom Lawlor
,
Mark Munoz
,
Vitor Belfort
,
Michael Bisping
,
Yushin Okami
,
Jon Jones
,
Chael Sonnen
,
Carlos Condit
,
Dana White
Photo Credit: tapnapsnap.com So the fight everyone has been clamoring for has become a reality. MMA legend Anderson Silva will face Chris Weidman on 4th of July weekend in Las Vegas, Nevada. Well when I say everyone, I mean everyone but me. This fight just makes no sense to me. You pit the brightest up and coming star in the middleweight division against the champion of seven years, and arguably the greatest mixed martial artist of all time, after he has fought just one top ten middleweight and hasn't fought in almost a year? Chris Weidman is two opponents away from Anderson Silva in my opinion and he needs to be tested against top middleweights before he can fight the greatest. Weidman just isn't ready for Silva yet. And when I say 'yet' I mean it. The New Yorker is an extremely talented fighter who's wrestling prowess has brought him to a 9-0 record with wins in his early UFC career against Alessio Sakara, Tom Lawlor and Damian Maia. When he fought Mark Munoz last year it was a big step up for Weidman, one he was well able for, showing an improving stand-up game knocking out Munoz with a vicious elbow in the 2nd round. Chris Weidman is destined for the top. I have no doubt in my mind he will one day be a UFC champion but the 6th of July isn't that day. At this point in their respective careers Silva and Weidman are streets apart and I only see this fight ending one way – A victory for "The Spider". Weidman really needs to come up against the other top fighters in the division like Vitor Belfort, Michael Bisping and Yushin Okami to progress his game even further before he is even ready for a title shot, never mind being a test for Anderson. Well, I hear you shout, who should be next for Anderson Silva? There are a number of Candidates. Vitor Belfort for one who has won all three of his middleweight fights since a defeat to Silva in 2011 as well as moving up to face Jon Jones on two weeks notice and giving him the toughest fight of his career. What about Jones himself? Jones v Silva would be the biggest match in the history of MMA and could easily be help in a stadium with 50,000+ in attendance. Jones' fight against Chael Sonnen on April 28th would make us have to wait a little longer to see Anderson back in the Octagon but it would be well worth the wait. The fight I would make though is long talked about superfight with Canadian superstar Georges St. Pierre. GSP fights in ten days time against Nick Diaz and should he win I see no obstacles in making this fight happen. Anderson has openly admitted asking for this fight on numerous occasions and was even brought to Canada to be ringside for St. Pierre's last bout against Carlos Condit, which ended in GSP asking for a match with Diaz and Dana White saying "Rush" needed another fight, after coming off a twenty month injury, before he faced Anderson. Everything seemed to be coming together until today. The 6th of March was a big day for MMA. Not only was the announcement made that the middleweight title would be defended in 2013 but also the New York senate sat to discuss legalising mixed martial arts in the empire state. Word is that if the motion passes the UFC plans a big show to mark the 20thanniversary of the company in late 2013 in Madison square garden. This got me thinking about murmurings that a superfight would headline in NYC - Maybe they are saving one of the Anderson Silva superfights for that date and giving him this match with Weidman merely to keep the middleweight division from getting backed up. This, for me, isn't a good reason to make a fight. You are killing off a contender before he is ready because the timing is off for other fights. Sure he can lose and come back to fight Anderson again in a few more years when he has built himself back up, but in that case why not just let Anderson fight Belfort or Okami and give Weidman a chance to shine and build up a big enough reputation so that when the two eventually meet it will be a massive fight? Now its just another defence of Anderson's title which everyone knows he will have no problem winning. Written by Sean Sheehan  @SeanSheehanBA
Original Story:
http://www.hov-mma.com/2013/03/anders...
THE BACKYARD
BEST OF MAXIM
RELATED ARTICLES
It looks like Chris Weidman will get his shot at middleweight kingpin Anderson Silva after all. UFC officials have announced that Anderson Silva will defend the UFC middleweight championship against Chris Weidman at the newly announced UFC 162. UFC 162 takes place  July 6 in Las Vegas, Nevada. The Silva vs. Weidman bout will be the [...]
Silva v. Weidman hasn't been a secret in the MMA world by any means but UFC CEO Lorenzo Fertitta confirmed today that the bout will take place at UFC 162. UFC 162 is scheduled for July 6th in Las Vegas. Silva has been the center of some of the hottest UFC news as of late due to his new contract and Dana White's confirmation of future fights against GSP and Jon Jones. Silva should...
Despite intense speculation that the greatest pound for pound mixed martial artist in the world would be leaving his division for a super fight later this year, it appears he will look to make it 11 consecutive successful  title defenses in a row instead.  Newsday broke the news earlier today that the longest reigning champion in UFC history will be defending his strap on July...
Anderson Silva (pictured) has finally agreed to grant Chris Weidman a crack at his middleweight crown. On Wednesday, Newsday.com confirmed with UFC CEO Lorenzo Fertitta that the 185-pounders will headline UFC 162. The July 6 event takes place in Las Vegas, Nevada. Either Mandalay Bay Events Center or the larger MGM Grand Garden Arena will host the gig. Weidman has been publicly campaigning...
After months of calling Anderson out, pleading to Dana White for the match and certain fans' outcries, there can be no more talk of Anderson Silva "ducking" Chris Weidman. After an oddly quiet month from Weidman after almost obnoxiously calling out Anderson on a week-to-week basis, somehow both sides have come to an agreement, and the middleweight number one contender will...
UFC 162: Silva vs. Weidman When: July 6th, 2013 Where: Las Vegas, Nevada How: Pay-Per-View (10PM ET/7PM PT) Who: Thiago Silva vs. Rafael "Feijao" Cavalcante Chris Weidman vs. Anderson Silva (UFC middleweight champion)
Middleweight kingpin Anderson Silva finally has a new fight. Top middleweight prospect Chris Weidman will challenge Silva for the middleweight title at UFC 162 in July.  The UFC revealed the news Wednesday evening on UFC.com.  The undefeated Weidman has been lobbying for this match-up for the last six months. After viciously knocking out Mark Munoz, the middleweight contender was...
What do Rafael "Feijao" Cavalcante (pictured) and Thiago Silva have in common? Yes, they are both Brazilian. Correct, they compete at light heavyweight. Of course, who could forget they're both coming off drug suspensions? What I was trying to get at is the 205-pounders will be in the Octagon at the exact same time at UFC 162. The organization announced the shootout Wednesday...
Among the many things welterweight top contender Nick Diaz (pictured) revealed during Thursday's heated UFC 158 conference call was that he would jump to lightweight and middleweight to fight the respective division's champion. Diaz wouldn't division hop just for the fun of it, Mr. 209 believes he would beat 155-pound champ Benson Henderson and 185-pound king Anderson Silva...
MMA News

Delivered to your inbox

You'll also receive Yardbarker's daily Top 10, featuring the best sports stories from around the web. Customize your newsletter to get articles on your favorite sports and teams. And the best part? It's free!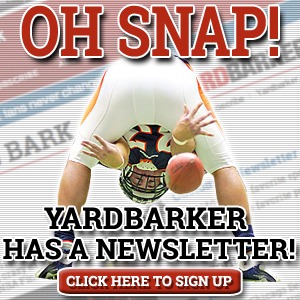 Latest Rumors
Best of Yardbarker

Today's Best Stuff

For Bloggers

Join the Yardbarker Network for more promotion, traffic, and money.

Company Info

Help

What is Yardbarker?

Yardbarker is the largest network of sports blogs and pro athlete blogs on the web. This site is the hub of the Yardbarker Network, where our editors and algorithms curate the best sports content from our network and beyond.