Found March 25, 2013 on 5thRound.com:
A day after "The Korean Zombie" Chan Sung Jung alerted UFC welterweight king Georges St-Pierre that the "Rising Sun" Hayabusa gi he wore at UFC 158 against Nick Diaz was offensive to Asians, the popular combat style clothing company issued an apology for their oversight. On Sunday, Jung posted an open message to GSP on his Facebook addressing the controversial symbol he was promoting. "For Asians, this flag is a symbol of war crimes, much like the German Hakenkreuzflagge," Jun wrote. "Did you know that? I hope not. "Just like Nazis, the Japanese also committed atrocities under the name of 'Militarism.' You can easily learn what they've done by Googling (please do), although it's only the tiny tip of an enormous iceberg." The UFC featherweight then stressed the responsibly St-Pierre has as a global role model to set the right example to the millions that look up to him. "Many people say GSP is the best welterweight fighter throughout history, to which I totally agree," Jung added. "This means you have a great influence on every single fan of yours all around the world. And I do believe your wearing 'the symbol of War Crime' is a very bad example for them, not to mention for yourself. "So, what do you reckon? Do you want to wear the same Gi next time as well?" Hayabusa co-president Craig Clement agrees wholeheartedly with Jung and has accepted full responsibility for his company's error. The gi will no longer be made available for purchase: "Since Georges St-Pierre wore our walkout gi at UFC 158 we have received attention surrounding the negative connotation of the rising sun graphic used. The last thing we want is to offend or alienate anyone with the choice of design on our products. We at Hayabusa have the utmost respect for culture and history and appreciate all of our customers worldwide. As such, we accept full responsibility for this design and are taking all complaints and comments very seriously. The gi worn by GSP will not be brought to market. In addition, we will be very conscious of this specific design element when developing future communication materials and products. Please accept our sincerest apology for any offence this has caused." St-Pierre wore the "Rising Sun" gi in black (pictured above) in his UFC 154 win over Carlos Condit. However, Hayabusa didn't come under fire for the outfit until the sun rays were made in red, which it was earlier this month at UFC 158.
Original Story:
http://www.5thRound.com/142644/hayabu...
THE BACKYARD
BEST OF MAXIM
RELATED ARTICLES
PERFECT CASTING
Rumor has it that UFC fighter Georges St-Pierre is slated to portray Batroc the Leaper in the upcoming film, Captain America: The Winter Soldier.
UFC welterweight king Georges St-Pierre (pictured) may have finally met his match. According to Latino Review, St-Pierre will be taking his talents to the silver screen to play a villain on "Captain America: The Winter Soldier."  GSP will serve as Batroc the Leaper. The film is currently in production and is slated to open April 4, 2014. St-Pierre's inclusion comes as a...
Georges St-Pierre is coming off a relatively easy win over Nick Diaz and GSP is now looking to try his hand in Hollywood. St-Pierre  has locked in a pretty prominent role in Marvel's next installment of the Captain America series, Captain America:The Winter Soldier: SportsNet MMA analyst Joe Ferraro confirmed the role via twitter:   Just received confirmation that GSP will play...
Georges St. Pierre has made it trademark of his walk-out to the cage to do battle, wearing a GI, along with Japanese sun logo headband. However, this time around, Georges St. Pierre's choice of apparel, provided by Hayabusa, led one fighter, Chan Sung Jung, the Korean Zombie to question Georges knowledge of the symbol emblazoned [...]
The UFC welterweight champion GSP will be cast in the upcoming film 'Captain America: The Winter Soldier'. He will be playing the villain "Batroc the Leaper", who is a mercenary and master of French kickboxing known as savate. GSP's last fight was at UFC 158 against Nick Diaz where he defended his welterweight title, but now it looks like he will be doing some kickboxing...
Georges St. Pierre is one of the most feared fighters in Ultimate Fighting Championship history, but he'll soon take on his toughest opponent yet — Captain America. In a move first reported by Latino Review on Monday, the UFC champion has agreed to portray Batroc the Leaper, one of the super hero's nemeses,  in the upcoming Marvel film Captain America: The Winter Soldier...
Ronda Rousey isn't the only Ultimate Fighting Championship (UFC) title holder getting blockbuster movie offers from Hollywood. Latino Review reports that mixed martial arts (MMA) "Marvel," Georges St. Pierre, will make his big screen debut in a supporting role in "Captain America: The Winter Soldier," the sequel to the wildly successful "Captain America...
MMA News

Delivered to your inbox

You'll also receive Yardbarker's daily Top 10, featuring the best sports stories from around the web. Customize your newsletter to get articles on your favorite sports and teams. And the best part? It's free!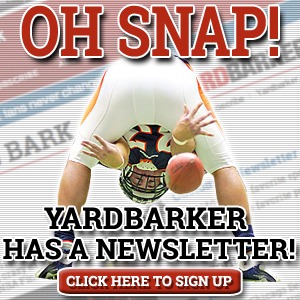 Latest Rumors
Best of Yardbarker

Today's Best Stuff

For Bloggers

Join the Yardbarker Network for more promotion, traffic, and money.

Company Info

Help

What is Yardbarker?

Yardbarker is the largest network of sports blogs and pro athlete blogs on the web. This site is the hub of the Yardbarker Network, where our editors and algorithms curate the best sports content from our network and beyond.