Found December 11, 2012 on hov-mma:
For Matt Brown, Rory MacDonald, and Alexander Gustafsson, it was a night to remember.  However, Mike Swick, BJ Penn, and Shogun Rua all had nights to forget Saturday night, and questions remain as to what's next for each.  Three seem to be at a crossroads and one seems likely to start over at the bottom.    Mike Swick has been on a heck of a ride since his fight with Paulo Thiago back in 2010. He was on the shelf for some 30 months, rehabilitating multiple injuries, and dealing with physical ailments that left his future in the world of MMA in doubt. He fought through all of that, making a triumphant return to action in August, defeating DeMarques Johnson by knockout in the second round. For fans of Mike Swick, it was an amazing night.     Saturday night he was matched up against Matt Brown, who seemed tailor made for Swick in terms of style.  What nobody knew, is that Matt has stepped his game up, in a big way.  Working with Matt Hume has taken his submission game to the next level, and Matt's standup has always been functional, if not technical.  That said, he looked very sharp Saturday and looks to be ready to take the next step.  For Mike Swick however, the next step is tricky. Here is what I'd like to see.  Name two fighters who have the ability to finish at a moment's notice, and who are struggling in recent contests.  One is clearly Swick, who has lost three of four.  The other has dropped three in a row, but would make a tremendous opponent for Swick, and the loser would be in danger of being let go.  I'd be all in for a contest between Swick and a recovering Duane Ludwig, who is currently rehabbing an injured knee.  The fight would be nonstop action, and the winner would have a new footing in the Welterweight division. BJ Penn is a legend, and anyone who doesn't feel as such doesn't understand the sport.  That said, it is very painful to see him continue to go out like this.  Dana White has been quoted as saying he feels Penn should retire on the heels of his one sided loss to Rory MacDonald, but I think there is another option.  It's a radical option mind you, but recreating BJ Penn is the only viable option he has at this point.  First, no more Welterweight fights.  He's outsized, plain and simple and it's an uphill battle for him to consistently be outweighed by some 20 plus pounds and be at a significant reach disadvantage.  He needs to refocus and fight at 145 pounds.  Yes, I'm suggesting a move to Featherweight for BJ Penn.    Simply dropping the weight won't get it done; he needs to make radical changes to his camp, and those who corner him.  BJ Penn doesn't need cheerleaders in his corner; he needs advice and game planning.  I know BJ is surrounded by those he loves and trusts, but those guys are not empowering him, they are simply telling him what he wants to hear, and cheering him on like fans, rather than coaches.  That has to stop if he's going to reach great heights.  So, assuming he can make the move to Featherweight, who should he face?    A matchup between BJ Penn and Chad Mendes would be interesting.  Mendes would struggle to take Penn down, and while Mendes is always improving, he'd be at a disadvantage standing with Penn.  BJ isn't going to start at the bottom, so this would be a great fight to gauge his abilities at 145.  A win for Penn would set him up with a title eliminator, and a loss would likely signify his end in the sport.  Either way, it would be a fitting fight for him to either re-launch his career or say goodbye in a fair even contest.  I'd pay to see it.    Mauricio Shogun Rua is a legend, and more than that, everything that's right about MMA.  He wears his massive heart on his sleeve, and fights every single fight like he's in the lion's den, fighting for life or death.  He doesn't know the word quit, and never fails to bring it.  That being said, he lost a fight that career wise, is devastating Saturday night against upstart Alexander Gustafsson.  Shogun is 5-5 in his ten fight UFC career and finds himself very much outside the title mix at 205 after his decision loss to Gustafsson, who will fight the winner of Jon Jones and Chael Sonnen down the line.  What does Shogun need to do in order to become more consistent and once again wear UFC gold?  That's something he needs to figure out, and sooner rather than later.  He trains hard, and yet seems to at times suffer from a lack of condition in the cage.  He striking is sharp and heavy handed, but he doesn't seem to land as clean as he used to.  His kicks and knees are devastating, but he isn't putting the shots together like he did back in Pride.  Whatever the missing ingredient is, he needs to get in the gym and find it.  He doesn't have time to waste.    Shogun is a star, and he can't start over at the bottom.  He gets paid too much for that.  He needs to face a big name, and there are two available.  Ryan Bader needs to get a win,  after being defeated by Lyoto Machida, and if he's going to take the next step, perhaps he needs to step up and face someone on Shogun's level.  More likely would be a fight with Thiago Silva, who would absolutely produce a tremendous fight with Shogun.  It would be a fun standup clash, where someone would get knocked out.  Shogun would be the favorite in both of these matches, and he needs a win at this point in his career.    Every single time we witness a great fight in the UFC, we're witnessing someone's hard work and blood, sweat and tears fall short.  It brings home Wide World of Sports' old adage of the "Thrill of victory and the agony of defeat."  Those that lose though can reinvent themselves, and come back to reach new heights.  For Mike Swick, BJ Penn, and Shogun Rua, that seems to be the necessity.  All I know is I respect all three, and will be watching if and when they try again.
Original Story:
http://www.hov-mma.com/2012/12/how-ot...
THE BACKYARD
BEST OF MAXIM
RELATED ARTICLES
Are you like me? Are you one of those frustrated BJ Penn fans who just doesn't understand why he chooses to continue to compete at 170 pounds? Do you find it strange that the smallest welterweight in the division would come out of retirement to take on the largest welterweight in the division? Well, after watching Lions football every Sunday for the last 20 some years of my life...
Mike Swick (Pictured) ended his 29-month hiatus in spectacular fashion by putting DaMarques Johnson to sleep with a vicious right hand at "UFC on FOX 4." Unfortunately for "Quick," his followup on primetime television didn't work out as smoothly. On Saturday night, Swick found himself on the wrong end of a highlight reel knockout. Matt Brown was the man who put him down...
BJ Penn's swollen eye hasn't even healed and people are already calling for his retirement. The UFC president along with several members of the media think it's time for the Prodigy to step down which is odd considering I just watched a guy go three-rounds with the future of the division.
After two years on the shelf, Mike Swick's comeback was one of the biggest story lines heading into UFC on FOX 4 this past summer. After his knockout of the night performance against DaMarques Johnson on that very card, it only made sense to give the fans another look at 'Quick' on the next big FOX card. Matt Brown knows a thing or two about comebacks. It's no secret...
If this is really it, and some hope for BJ's sake it is, then it was a good run. BJ Penn without a doubt is UFC Hall of Fame worthy, even though his pedestrian on paper record of 16-9-2 would make the average fan scoff, we know the the kid from Hilo would just scrap [...]
Ask, and you shall receive. Rory MacDonald has been granted his wish and will rematch former interim welterweight champion Carlos Condit (Pictured) at UFC 158.   The 170-pounders will collide in MacDonald's backyard of Montreal. Bell Centre hosts the March 16th festivities. UFC president Dana White confirmed the scrap with MMAJunkie on Wednesday afternoon. Just seconds after...
– TNA will be taping iMPACT! tonight and tomorrow, which will cover three episodes of the show to close out 2012. – TNA returns to the Vicksburg Convention Center in Vicksburg, Mississippi on February 9th. – UFC star BJ Penn recently spoke about Hulk Hogan being a hero of his when he grew up. Check out the video below..
The UFC On FOX 5 fights themselves did come through, as most contests were exciting, entertaining and featured a number of finishes. Although not everything went according to plan.
Entering this past Saturday's scrap with BJ Penn, welterweight Rory MacDonald was challenged by Penn to undergo random drug testing conducted by VADA (Voluntary Anti-Doping Association). While MacDonald obliged with "The Prodigy's" request, he admitted that the process was a bit "annoying." The distraction of having an agent pounding on his door unannounced demanding...
  Congratulations to speeds who won our UFC on Fox: Henderson vs Diaz Pick 'Em Contest (via a tiebreaker).  Next Pick 'Em Contest will be for one of the UFC events this coming weekend - haven't decided which one to run it for yet.  Thanks for playing! Consensus Picks Benson Henderson - 61% Alexander...
Yes, Mauricio "Shogun" Rua (Pictured). I'd be sporting a giant Kool-Aid smile if I were you, too. Despite dropping a convincing unanimous decision to Alexander Gustafsson at "UFC on FOX: Henderson vs. Diaz," the former light heavyweight champ was the night's highest earner. According to the Washington State Department of Licensing, Shogun left Seattle with a cool $175...
MMA News

Delivered to your inbox

You'll also receive Yardbarker's daily Top 10, featuring the best sports stories from around the web. Customize your newsletter to get articles on your favorite sports and teams. And the best part? It's free!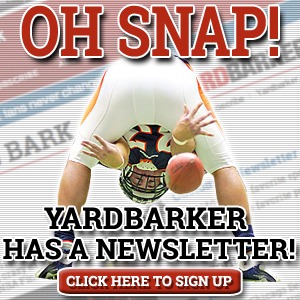 Latest Rumors
Best of Yardbarker

Today's Best Stuff

For Bloggers

Join the Yardbarker Network for more promotion, traffic, and money.

Company Info

Help

What is Yardbarker?

Yardbarker is the largest network of sports blogs and pro athlete blogs on the web. This site is the hub of the Yardbarker Network, where our editors and algorithms curate the best sports content from our network and beyond.