Found April 20, 2013 on Juiced Sports Blog:
An interesting 155-pound mixed martial arts (MMA) bout is set to take place at UFC on FOX 7, which will emanate from HP Pavilion in San Jose, Calif., later this evening (Sat., April 20, 2013). Nate Diaz returns after a losing effort against UFC Lightweight Champion Ben Henderson in his most recent performance, colliding with Josh Thomson, who similarly failed to secure a world title in his last bout under the Strikeforce banner. Both veterans are known for their exciting fights, and when the two meet on the televised UFC on FOX 7 tonight, it has all the ingredients to deliver a classic clash. Diaz — a lanky and aggressive product of Cesar Gracie's "scrap pack" — has become known for his blistering, pressure-based attack similar to the style of his brother, Nick Diaz. His assault also includes mid-fight antics, talking trash and flipping off opponents as the fight plays out. Diaz's striking approach is something with which few fighters can handle because his range, combined with constant pressure, often leaves his opponents in constant retreat. He wades forward with arm punches, fully willing to take a few shots if he can land more. And when he has backed an opponent into the fence, he plants his feet and tees off with heavier, more accurate punches. His striking mixes in very few kicks, and defensively, he is actually very flawed; however, with the pressure and endless cardio he brings, it's difficult for fighters to capitalize. Diaz is always open for kicks, especially to his legs, which is what we saw on full display when Henderson broke him down over the course of five rounds in Dec. 2012. Diaz also possesses a dangerous ground game, boasting a tenacious submission attack that has accounted for 11 of his 16 career victories. He has taken out notable fighters such as Jim Miller, Gray Maynard (on The Ultimate Fighter), Takanori Gomi, Marcus Davis and Melvin Guillard, all with his trademark ground attack. The Ultimate Fighter (TUF) 5 winner is fairly underrated in his ability to get the fight to the ground because usually it isn't something he pursues. However, when he does try takedowns, they are usually clinch-based trips or throws that have shown to be quite effective. From top position, he is just as dangerous as he is on bottom, as he'll readily sacrifice position if he sees an opportunity to submit an opponent, making him difficult to predict. Thomson — a well-rounded product of the American Kickboxing Academy (AKA) — has had a long and successful career that dates back to Jan. 2001. He has defeated fighters such as K.J. Noons, Duane Ludwig, Pat Healy and Gilbert Melendez, who he has battled three times to razor-close decisions. "Punk," like Diaz, is also an exciting fighter, but he is more refined in many ways. Offensively, his footwork is tight, creating angles that allow him to exploit openings in his opponents' defense. Thomson's striking game focuses heavily on kicks because he is usually rather ineffective with punches. When on the attack, he tends to attack and keep range with front kicks, with occasional head kicks and punching blitzes mixed in. Defensively, Thomas's footwork leaves much to be desired, tending to circle off a bit too late and leaving himself stuck against the fence. His defensive game relies heavily on his ability to obtain a clinch and then separate, though he also possesses a respectable counter striking approach. On the mat, Thomson is a more methodical fighter than Diaz, and while he is aggressive when he spots an opening for a submission, he won't necessarily jump on risky ones that Nate might. He is a very agile fighter, which helps tremendously in advancing position and in scrambles, which makes him a serious threat from the top position. Thomson's takedown game is very respectable, leveraging more traditional wrestling shots for single- and double-legs. He has used these takedowns effectively either to bring the fight to the mat or to make opponents wary of his shot, the latter of which will be helpful against Diaz. By keeping opponents guessing, Thomson opens more opportunities for himself standing, which is what we may see in his fight with Diaz. Nate Diaz vs. Josh Thomson will come down to who can establish his game earliest. Thomson has shown to occasionally be a slow starter, which will not serve him well against Diaz, especially in a three-round fight. Diaz will be on him from the get-go, meaning the match could very well play out in Diaz's favor in the early going. Thomson has to utilize his diverse kicking game and his counter striking if he intends to keep Diaz from swarming him, while Diaz has to check kicks and move forward if he wants to keep Thomson on his heels. If this fight makes it to the ground, expect Diaz to attack Thomson relentlessly with submission attempts as Thomson looks to control position and create openings for himself. This is a fight between two fighters who are tremendously skilled on the mat, as well as on their feet, with both of them coming off a loss. Each fighter will want to get back into the win column and it's not out of the realm of possibility for either to do so, making this an interesting fight to watch. And when you factor in their clash of styles, it's a showdown that could deliver UFC on FOX 7's "Fight of the Night" once the lights dim inside the "Shark Tank.", http://juicedsportsblog.com/sports-news/news/nate-diaz-vs-josh-thomson-ufc-on-fox-7-fight-of-the-night-early-pick
Original Story:
http://juicedsportsblog.com/2013/04/n...
THE BACKYARD
BEST OF MAXIM
RELATED ARTICLES
After delivering one of the more shocking upsets the mixed martial arts (MMA) world has seen in recent years, Josh Thomson showed that he's been paying attention in class. In his second-round "Knockout of the Night" of the eminently durable Nate Diaz (watch the replay here), Thomson made a triumphant return to UFC, where he hadn't competed since 2004. In short,...
Before Joe Thornton and company blow another playoff run inside of the Shark Tank this Spring the fine folks at the Ultimate Fighting Championship decided to bless San Jose with a real show. Last nights 7th UFC on FOX offering provided fans with 8 T(KO) finishes in all, the final two of the night coming via Matt "The Immortal" Brown and Josh "The Punk" Thomson...
Nate Diaz's 4/20 has officially been ruined this year, and the habitual medical marijuana smoker can thank Josh Thomson (pictured) for it. Thomson took it to Diaz in the second round of their lightweight shootout. His assault was highlighted by a vicious head kick that had the former top contender dazed and confused. Several bombs later and Thomson was triumphant in his return...
In the main event of the evening UFC Lightweight Champion Benson Henderson makes yet another appearance on the Fox Network as he battles the final Strikeforce Lightweight Champion Gilbert Melendez in a battle of two champions.
After a night of thrilling MMA action, UFC President Dana White awarded Matt Brown (pictured), Jordan Mein, Yoel Romero and Josh Thomson each an additional $50,000 for their special performances Saturday night at "UFC on FOX: Henderson vs. Melendez." Brown and Mein picked up "Fight of the Night" for their back-and-forth battle. Brown ended things in the second round of their...
UFC on FOX 7 offered up a flurry of knockouts during both the preliminary bouts and the main card in San Jose on Saturday. E…
Two champions collide. The talk between two of the best heavyweights comes to punches. One of Strikeforce's elite battles for his chance at title contention against one of the most decorated strikers in the sport. If you feel like for some reason you're not fully prepared for tonight's UFC on FOX 7 main card then check out this video after the jump.
image via facebook Setting the Scene: As Gilbert Melendez makes his final preparations for his UFC title fight with Benson Henderson in San Jose tonight a Droid with a vital message enters his locker room. It beings to abruptly play a holographic message of Cesar Gracie who appears to be wearing a traditional Alderaan princess gown. Gracie has the following message for Melendez...
MMA News

Delivered to your inbox

You'll also receive Yardbarker's daily Top 10, featuring the best sports stories from around the web. Customize your newsletter to get articles on your favorite sports and teams. And the best part? It's free!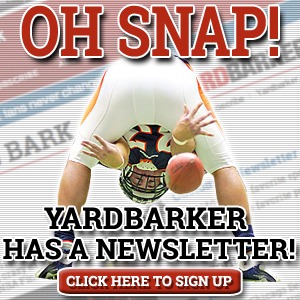 Latest Rumors
Best of Yardbarker

Today's Best Stuff

For Bloggers

Join the Yardbarker Network for more promotion, traffic, and money.

Company Info

Help

What is Yardbarker?

Yardbarker is the largest network of sports blogs and pro athlete blogs on the web. This site is the hub of the Yardbarker Network, where our editors and algorithms curate the best sports content from our network and beyond.