Found March 27, 2013 on With Leather:
"Yo I said best of 9."Hey, remember when Georges St-Pierre defeated Nick Diaz at UFC 158 by unanimous decision after he spent five rounds dropping Stockton's finest on the ground and completely eliminating his ability to box? And remember how, after all of the horrible things that GSP and Diaz had been saying about each other leading up to the fight, GSP and Diaz were like, "Yeah, that was all fake and we really respect each other"? Oh, and remember how Diaz was also like, "I'm probably going to jail because I don't pay taxes, so I'm going to retire"?Well, go ahead and forget everything except for that first part, because Diaz isn't retiring and his team is back to crapping all over GSP, because they think that St-Pierre either needs to forfeit his belt an cough up part of his PPV purse or Dana White and the UFC need to schedule a rematch. Oh Nick Diaz, you can't ever leave us."The Quebec Commission's statement is a disappointing admission that the March 16 event was not conducted under the rules applicable to a UFC title fight – or under the rules the fighters contractually agreed to, upon which rules Mr. Diaz was entitled to rely under his bout agreement," stated Jonathan Tweedale, a Diaz camp representative."Further serious irregularities including, inter alia, the Quebec Commission's failure to supervise fighters' provision of samples in connection with testing for Prohibited Substances and Prohibited Methods (under sections 71.1 to 71.6 of the Regulation), will be set out in an official complaint that will be filed imminently," the Diaz camp stated. (Via MMA Fighting)This isn't the first time that Diaz or his people accused GSP of juicing, but now they are also pointing their fingers at the Quebec athletics commission for allowing a title fight to take place when St-Pierre didn't actually make weight."Section 168 of the Regulation respecting combat sports provides that the maximum weight that a fighter must achieve at the official weigh-in shall be determined in advance by contract – and if the fighter does not make the contracted weight – in this case 170 pounds – then 20% of his purse or "the contestant's remuneration" will be deducted and paid to his opponent (subsections (7) and (8)). The contracted weight for this fight was 170 pounds. 170.9 is not 170, anywhere in the world, for a title fight. There is no question what "170 pounds" means, in the bout agreement, as a matter of contractual interpretation."The Quebec Commission deliberately relaxed the rule in this case and, by its own admission, allowed their home-town fighter to 'make weight' even if he weighed more than the contracted weight.""In the circumstances, Mr. St-Pierre remains legally and ethically obligated to fight Mr. Diaz at 170 pounds or else vacate the belt in favor of those prepared to fight at welterweight."I'm totally sure that Dana White and Co. are going to get right on this rematch. Right, giraffe?What about you, Gina Carano? Do you think Dana's going to cave and grant a rematch?Yeah, I thought so.The post Nick Diaz Isn't Retiring, Wants A Rematch Against Georges St-Pierre appeared first on With Leather.
Original Story:
http://feedproxy.google.com/~r/uproxx...
THE BACKYARD
BEST OF MAXIM
RELATED ARTICLES
PERFECT CASTING
Rumor has it that UFC fighter Georges St-Pierre is slated to portray Batroc the Leaper in the upcoming film, Captain America: The Winter Soldier.
A day after "The Korean Zombie" Chan Sung Jung alerted UFC welterweight king Georges St-Pierre that the "Rising Sun" Hayabusa gi he wore at UFC 158 against Nick Diaz was offensive to Asians, the popular combat style clothing company issued an apology for their oversight. On Sunday, Jung posted an open message to GSP on his Facebook addressing the controversial symbol he was...
UFC welterweight king Georges St-Pierre (pictured) may have finally met his match. According to Latino Review, St-Pierre will be taking his talents to the silver screen to play a villain on "Captain America: The Winter Soldier."  GSP will serve as Batroc the Leaper. The film is currently in production and is slated to open April 4, 2014. St-Pierre's inclusion comes as a...
Georges St-Pierre is coming off a relatively easy win over Nick Diaz and GSP is now looking to try his hand in Hollywood. St-Pierre  has locked in a pretty prominent role in Marvel's next installment of the Captain America series, Captain America:The Winter Soldier: SportsNet MMA analyst Joe Ferraro confirmed the role via twitter:   Just received confirmation that GSP will play...
The UFC welterweight champion GSP will be cast in the upcoming film 'Captain America: The Winter Soldier'. He will be playing the villain "Batroc the Leaper", who is a mercenary and master of French kickboxing known as savate. GSP's last fight was at UFC 158 against Nick Diaz where he defended his welterweight title, but now it looks like he will be doing some kickboxing...
Is it possible for the Nick Diaz/GSP drama just stop already? No? Alright, that's fine, because I haven't been this fascinated by pure drama since highschool. This is absolutely incredible. Today, in a somewhat shocking turn of events, Nick Diaz's lawyer has made it known that he plans on filing a complaint against the Quebec Athletic Commission stemming from the fallout of...
UFC welterweight champion Georges St Pierre will star in Captain America: The Winter Soldier, playing the role of French mercenary Batroc the Leaper. Production hasn't begun on the film yet, but it's expected to begin filming in May.  Now, here's why this is so relevant to the UFC: St Pierre is the company's biggest draw, and his role in the film will likely...
Georges St. Pierre is one of the most feared fighters in Ultimate Fighting Championship history, but he'll soon take on his toughest opponent yet — Captain America. In a move first reported by Latino Review on Monday, the UFC champion has agreed to portray Batroc the Leaper, one of the super hero's nemeses,  in the upcoming Marvel film Captain America: The Winter Soldier...
Ronda Rousey isn't the only Ultimate Fighting Championship (UFC) title holder getting blockbuster movie offers from Hollywood. Latino Review reports that mixed martial arts (MMA) "Marvel," Georges St. Pierre, will make his big screen debut in a supporting role in "Captain America: The Winter Soldier," the sequel to the wildly successful "Captain America...
MMA News

Delivered to your inbox

You'll also receive Yardbarker's daily Top 10, featuring the best sports stories from around the web. Customize your newsletter to get articles on your favorite sports and teams. And the best part? It's free!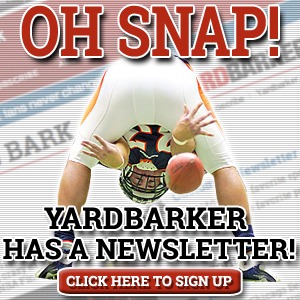 Latest Rumors
Best of Yardbarker

Today's Best Stuff

For Bloggers

Join the Yardbarker Network for more promotion, traffic, and money.

Company Info

Help

What is Yardbarker?

Yardbarker is the largest network of sports blogs and pro athlete blogs on the web. This site is the hub of the Yardbarker Network, where our editors and algorithms curate the best sports content from our network and beyond.