Originally posted on
NESN.com
| By Ricky Doyle | Last updated 12/16/16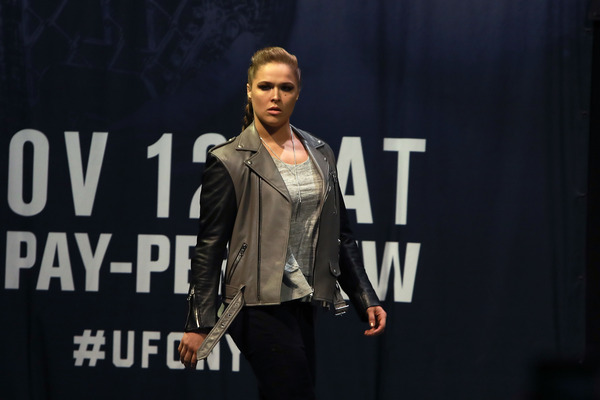 Ronda Rousey is set to return to the octagon at UFC 207.
Michael Reaves/Getty Images
Ronda Rousey probably isn't going to show off a fancy car collection, tweet photos of betting slips or promote any $10,000 caption contests on Instagram anytime soon.
In short, she isn't Conor McGregor or Floyd Mayweather Jr.
While McGregor and Mayweather frequently promote their wealth on social media, Rousey couldn't be bothered, instead insisting she's not motivated by money.
"If money is the motivation, then (f—) that," Rousey said in an ESPN article published Thursday. "All these Money people … Money Mayweather, Money McGregor. I see they're trying to do an angle or whatever. People buy it.
"The worship of money in our society is so deep. But just because that's the easiest way to keep people's attention or entertain them doesn't mean that's the right way."
Of course, Rousey has made her fair share of cake. She is one of the most popular fighters in UFC history and has juggled plenty outside the octagon, including a movie career.
But as the former UFC women's bantamweight champion prepares for her bout with Amanda Nunes later this month at UFC 207, she's driven by pride and exacting revenge following her first MMA loss in November 2015.
At the end of the day, for Rousey, money isn't all that important.
"I've had no money before, and it wasn't the end of the world," Rousey told ESPN.
"All I need is me and (my boyfriend) Travis (Browne) and our little house in the woods, popping out babies and making snowmen and I'm cool, man. Really, I'm good."
For better or worse, McGregor or Mayweather probably have different aspirations.
MORE FROM YARDBARKER:
Best athlete by state all time
QUIZ: Name every UFC fighter Ronda Rousey defeated
Before her stunning defeat at the hands (and feet) of Holly Holm, Ronda Rousey defeated six different UFC fighters to defend her Women's Bantamweight Championship. Can you name them all?
MORE FROM YARDBARKER
MMA News

Delivered to your inbox

You'll also receive Yardbarker's daily Top 10, featuring the best sports stories from around the web. Customize your newsletter to get articles on your favorite sports and teams. And the best part? It's free!