Found February 02, 2013 on hov-mma:
The Reem is back ladies and gentleman. This fight is brought to you by corn nuts. Not to be confused with horse meat. 
Antonio "Bigfoot" Silva walks out to "O Rappa" by Lado B Lado A. "The Demolition Man" comes out to "In My Mind" by Ivan Gough & Feenixpawl featuring Georgi Kay.
Round 1:
Reem is just waiting for his opening early. Lands a left on the body of Foot and the two clinch. Seperate, Reem lands one shot again and they do some cage work. Overeem lands some knees to the chest and leg of Foot. Foot paws at the midsection of Reem. Foot goes for the take down and Reem quickly reverses planting Foot against the cage. More knees from Reem and little punches from Bigfoot. Reem backs off. Reem showing total disregard for his opponents stand up game. Hands are down. Almost Anderson Silvaesque. Huge leg kick but Foot answers. Very slow pace so far. Reem with more knees to the chest of the giant against the cage. The round ends and it's all Reem early on. 10-9 Alistair. 
Round 2: Reem with a monster take down a half minute into the middle frame. Side control from Reem and Foot is throwing some bows from the bottom. Reem hammers the huge target that is the face of Bigfoot. He's now in Foot's guard. Reem is cracking Foot with this huge shots from top position. 25 to be exact as we pass the mid-way point according the Mike Goldberg. The fighters are upright again with just 30-seconds remaining in the round. Reem lands an uppercut and Silva answers with a knee from the clinch. Foot is game. Alistair is up though 20-18 heading into the third.
Round 3: Bigfoot has Reem in trouble early! Lands some shots and Reem wants nothing to do with it. A flurry from Bigofoot! Overeem is out ! He crumbles. Head kick, right hands, uppercuts - bing, bang, boom. Silva wanted to go over and kick Reem while he was down. Herb Dean had to hold him back. No love lost here.
Final Result: Antonio Silva (18-4) defeats Alistair Overeem (36-12) via KO (UltraViolence), Round 3, 0:25
photo credit - strikeforce
Original Story:
http://www.hov-mma.com/2013/02/ufc-15...
THE BACKYARD
BEST OF MAXIM
RELATED ARTICLES
The fight looked pretty even going into the last round between Antonio Bigfoot Silva and Alistair Overeem.  Silva had no intentions of letting the judges take this fight into their own hands.  Silva knocked the crap out of Overeem in round 4 and scored the KO victory. Overeem's head looked like a punching bag, and I couldn't believe how long he kept standing up and taking...
Alistair Overeem certainly talked the talk leading up to Saturday's shootout against Antonio "Bigfoot" Silva (Pictured), and for the opening two rounds "The Demolition Man" walked the walk. Unfortunately for Overeem, the third frame came rolling around and Bigfoot blitzed him with a barrage of bombs that abruptly put an end to his night. Not to mention his shot at the...
My partner in crime and @SoundandFuryMMA co-host Dan Rose made a great point during our first podcast this past Friday. He mentioned names like Tony Sylvester, James Thompson, Kazuyuki Fujita, Todd Duffee. He even made light of Reem's unimpressive win over a top guys like Werdum, and a Brock Lesnar who had just came of what ended up essentially being MMA career ending diverticulitis...
A heavyweight shootout between Antonio "Bigfoot" Silva (Pictured) Alistair Overeem was the third scrap to air live in Saturday's "UFC 156: Aldo vs. Edgar" pay-per-view broadcast. Please click HERE to catch our live results and play-by-play coverage. Mandalay Bay Events Center in Las Vegas, Nevada is hosting tonight's festivities. The show is headlined by a featherweight...
Today the Nevada State Athletic Commission released the UFC 156 medical suspensions to BoneSnapper.com. In all ten of the 22 fighters are serving medical suspensions. Frankie Edgar suffered an orbital fracture and must have maxillofacial Dr clearance or no contest until 08/02/13; minimum suspension no contest until 04/04/13, no contact until 03/20/13. Antonio Silva is suspended until...
As expected, Alistair Overeem (Pictured) will find himself in the exact same place he was one year ago if he beats Antonio "Bigfoot" Silva on Saturday. UFC president Dana White confirmed during Thursday's media gathering that the former Strikeforce heavyweight champ will get first dibs at Cain Velasquez's crown if he's victorious at UFC 156. White didn't say what would...
The disappointment that was the match between Rashad Evans and Antonio Rogerio Nogueira is exactly what was needed prior to the fierce showdown that was Aldo vs. Edgar. Don't confuse this. Ideally all of the fights at UFC 156 would have been outstanding. However, having a letdown (a unanimous decision won by "Little Nog") just before the UFC Featherweight Title bout...
Every week here on the lovely HOV-MMA Network, we will be bringing to you, our loyal readers and now hopefully listeners a podcast called The Sound and the Fury. It's going to cover some MMA news, Predictions, Recaps and Interviews. It's hosted by Dave Reno and his HOV sidekick Dan Rose. This week, Dave attented Bellator 87, and gives us his take on the happenings. We...
No fight team had more on the line at UFC 156 than the talented Blackzilians. The squad's top two superstars were on display: Alistair Overeem (Pictured) returned from a nine-month steroid suspension would have earned a shot at Cain Velasquez's heavyweight crown with a win over Antonio "Bigfoot" Silva, while Rashad Evans could have found himself in a tango with middleweight...
MMA News

Delivered to your inbox

You'll also receive Yardbarker's daily Top 10, featuring the best sports stories from around the web. Customize your newsletter to get articles on your favorite sports and teams. And the best part? It's free!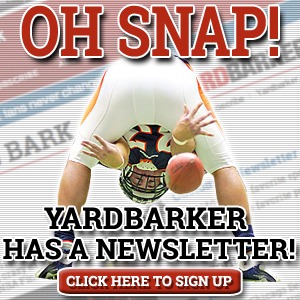 Latest Rumors
Best of Yardbarker

Today's Best Stuff

For Bloggers

Join the Yardbarker Network for more promotion, traffic, and money.

Company Info

Help

What is Yardbarker?

Yardbarker is the largest network of sports blogs and pro athlete blogs on the web. This site is the hub of the Yardbarker Network, where our editors and algorithms curate the best sports content from our network and beyond.