Found February 17, 2013 on 5thRound.com:
The cheater's handbook for testosterone replacement therapy (TRT) suggests athletes are manipulating the regimen while preparing for a fight. They will jack up their testosterone levels beyond normal ranges in order to push their bodies to its outermost limit. As showtime steadily approaches, they will then taper off the treatment to get their testosterone back to a natural level – therefore, no flunked drug tests. Because MMA organizations and athletic commissions (except Nevada) don't conduct random, out-of-competition exams, there's no way to police TRT use – or any performance-enhancing substances, for that matter. However, UFC President Dana White (Pictured) is finally fed up with the "cheating" and he's going to do something about it. "If you asked me three months ago, it's legal. It's sports science, but everybody figures out a way to take a great thing and cheat and make it bad," White said during Saturday's press conference in England. "What guys are doing, I believe guys are doing, is jacking up this stuff through the roof through their entire training camp then getting back down to normal levels right before the fight, which is cheating. "I hate it. I don't like it. I'm going to fight it. And if you are using TRT in the UFC, we're going to start testing the [expletive] out of you through your entire camp. I truly believe guys are cheating on it, and I don't like to see a natural gifted athlete go in and fight against a guy who has been jacked up on TRT for three months." White has teeter-tottered on the controversial subject over the years. When he abruptly cut Nate Marquardt in June 2010, White admitted "Nate the Great" may have used TRT as a performance-enhancing drug (PED) because Marquardt was so far beyond the legal limits when he flunked his pre-fight drug exam. However, as recently as six months ago, White did an about-face claiming to be fine with TRT as long as fighters submitted their doctor's notes to athletic commissions and were granted a therapeutic-use exemption (TUE) to be on it for their upcoming scraps. The reason why most aren't on board with TRT is simple – it's seen as circumventing the system to get prescribed a legal PED. That's why White will overstep the commissions and conduct his own pop quizzes on UFC fighters on TRT. "We're regulated by the government. Testosterone replacement therapy is legal," White added. "Well, I think we should test guys all the way up until their fight to make sure that the entire training camp their limits are where they're supposed to be, they're at the legal limits their whole camp. "When you sit down and you start talking about it, it's not fair. It's not fair. And if your testosterone level isn't high enough, maybe you're too old to fight." Vitor Belfort is the latest fighter to join the ever-expanding list of TRT users. Marquardt, Chael Sonnen, Frank Mir, Forrest Griffin and Dan Henderson are some of the UFC's most notable stars on TRT.
Original Story:
http://www.5thRound.com/138914/ufc-fi...
THE BACKYARD
BEST OF MAXIM
RELATED ARTICLES
Last Saturday's UFC on FUEL TV 7 event featured 12 fights, with nine of them being decided by the three judges sitting cageside. With so many scraps ending via decision, it's easy to understand why most of the bouts didn't leave a lasting impression.   However, the welterweight affair between Matt Riddle (Pictured) and Che Mills certainly caught UFC President Dana White's...
Check out Dana White's post fight media scrum.  Couple take a ways from this, Dana's new stance on TRT and how he plans on testing fighters who get the exemption, the attempted match up between Josh Barnett and JDS, and how the deal with Cyborg and Invicta played out. Thanks to Fighters Only for the video. Dana White Stance on TRT Cris Cyborg signs with Invicta
UFC President Dana White joined members of the MMA media after the post-fight press conference for the traditional media scrum. The topics discussed ranged from TRT, Tito Ortiz's pres conference, Spike ratings and much more. Watch the media scrum below: Courtesy of: Fighters Only
Unrelated but wonderful.By now you're probably aware that the International Olympics Committee – long known for being a bastion of integrity and morality – has decided to do away with amateur wrestling as a Summer Olympic event. You know this because you read about it in a rational news source or Joe Rogan rage-Tweeted your feed or because Chael Sonnen screamed it into your...
Dana White takes a picture with a fan.  Got to love the Boss's dedication to the people. Dana White Video Blogs on Intravid Dana White Suffers Mineirs Attack at Trinity College
Check out the boss Dana White's second video blog for Saturday's Fight on Fuel TV.  Ever since Nick the Tooth grappled with Joe Lauzon on the one of Dana's video blogs previous to the FOX 5 fights he's been in nearly every video.  The guy is entertaining though. Shout out to Intravid for the find. Dana White Video Blogs on Intravid Nick the Tooth Flies the UFC plane
Less than one month ago, Nick Diaz (Pictured) arrived in Canada to host a dreaded "beauty pageant" to promote his UFC 158 blockbuster bout against welterweight king Georges St-Pierre. Diaz was on his best behavior before, during and after the press conference, which led many to believe the 29-year-old had finally turned a new leaf. Well, as the old adage goes, "Old habits die...
Ediane Gomes will be the first test for Cris Cyborg in Invicta and this video shows she will not be a layup fight.  Although Rousey took her out in only 25 seconds.  Thanks to MiddleEasy.com for the video. Dana White's Media Scrum Cyborg Has Message For Rousey
Although the UFC is only offering a bantamweight division for women, they were still willing to keep former Strikeforce featherweight champion Cristiane "Cyborg" Santos (Pictured) under contract while paying her to fight for Invicta FC. However, instead of agreeing to the deal – which would have afforded the 27-year-old the countless benefits of being employed by the planet's...
We've seen the bros before belts philosophy countless times in mixed martial arts, including at American Kickboxing Academy, and that's why UFC President Dana White believes Daniel Cormier (Pictured) will ultimately drop to the light heavyweight division to avoid a scrap against AKA teammate and UFC heavyweight champ Cain Velasquez.  Although Cormier will make his big league...
A big issue in MMA today is the judging.  UFC on Fuel TV 7 was not free of this problem.  There were a couple of questionable scores but none more evident than the split decision win for Matt Riddle.  Riddle clearly dominated the fight with superior wrestling and control and the judge who scored it for Mills should never be allowed to be involved in an MMA event again.  At least...
MMA News

Delivered to your inbox

You'll also receive Yardbarker's daily Top 10, featuring the best sports stories from around the web. Customize your newsletter to get articles on your favorite sports and teams. And the best part? It's free!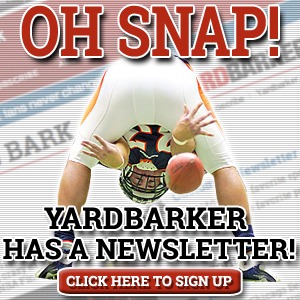 Latest Rumors
The Backyard

Today's Best Stuff

For Bloggers

Join the Yardbarker Network for more promotion, traffic, and money.

Company Info

Help

What is Yardbarker?

Yardbarker is the largest network of sports blogs and pro athlete blogs on the web. This site is the hub of the Yardbarker Network, where our editors and algorithms curate the best sports content from our network and beyond.