Denver Nuggets guard Jamal Murray likely won't be getting many votes for Rookie of the Year, but what he apparently fought through this season was nothing short of astounding.Nuggets insider Chris Dempsey of Altitude Sports reported on Thursday that Murray played in all 82 games this year through a sports hernia. The 20-year-old Murray finished the season with 9.9 points, 2.6 rebounds...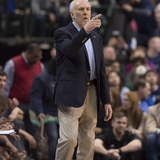 Denver Nuggets point guard Emmanuel Mudiay had a funny moment during Thursday's game against the San Antonio Spurs, but he ended up apologizing for it later.Popovich was ejected from the game late in the second quarter, and Mudiay was right there working alongside the referee to give Pop the heave-ho: Mudiay was told after the game about his actions getting a lot of attention and...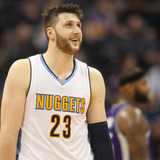 Jusuf Nurkic would apparently welcome a move out of Denver. ESPN's Marc Stein reported on Saturday that the Nuggets are "openly shopping" the 22-year-old Bosnian big man ahead of the trade deadline. Chris Dempsey of the Denver Post caught up with Nurkic after Denver's 121-106 loss to Oklahoma City later in the day to ask him about the report. "I have no comment about that," Nurkic...
Tweet +1 Like Share Pin Reddit Emmanuel Mudiay was expected to be the Denver Nuggets up-and-coming superstar, but with a rough start and a recent injury, it seems that Denver...
  The Denver Nuggets will face the Minnesota Timberwolves tomorrow night on the road, and the team could be about as whole as they've been all season — minus Wilson Chandler — as rookie Emmanuel Mudiay will hopefully be in uniform. Mudiay has missed the team's previous 12 games with an ankle sprain. Oh, Mudiay says he's gonna play tomorrow. — Vic Lombardi (@VicLombardi) January...
  Denver Nuggets rookie point guard Emmanuel Mudiay's injury update is going to be a little longer than expected. It was thought the rookie could be back for tonight's contest against the Utah Jazz, but he'll be out tonight and perhaps a little while longer, according to Chris Dempsey. #Nuggets G Emmanuel Mudiay (ankle) is out of tonight's game vs. Utah. He did not participate in...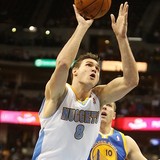 Danilo Gallinari popped up on the injury report for the Denver Nuggets earlier today before the Philadelphia 76ers game with a "left knee strain," yet still played 39 minutes, scored 24 points and looked 100 percent healthy in Denver's 108-105 victory. However, Chris Dempsey of the Denver Post is reporting that Gallinari in fact has a deep bone bruise in his left knee. He hurt...
Since the uprising of the Rocky Mountains, one thing about Colorado has never changed: The altitude. And for decades, Denver's four major sports teams have been using the thin air to their advantage; none more so than the Nuggets, who have long held one of the NBA's most intimidating home-court advantages, forcing opponents to run up and down the court until their lungs stop working...
Last season was a forgettable one for the Denver Nuggets. With a new head coach, a new attitude and a new face of the franchise the Nuggets are looking for a fresh start. Chris Dempsey of the Denver Post joined Renaud Notaro on Mile High Sports Radio to discuss what to expect from this year's team. Dempsey explained that while expectations need to remain realistic don't expect the...
  According to Chris Dempsey of the Denver Post, the Nuggets have added free agents Oleksiy Pecherov and Devin Sweetney to their training camp roster #Nuggets training camp invitees are G/F Devin Sweetney, C Oleksiy Pecherov and G Matt Janning. Camp starts in about three weeks. — Chris Dempsey (@dempseypost) September 9, 2015 Pecherov, 29, has been out of the NBA since the 2009...
MORE STORIES >>
MMA News

Delivered to your inbox

You'll also receive Yardbarker's daily Top 10, featuring the best sports stories from around the web. Customize your newsletter to get articles on your favorite sports and teams. And the best part? It's free!