December 17, 2016; Sacramento, CA, USA; Paige VanZant (red gloves) fights Michelle Waterson (blue gloves) during UFC Fight Night at Golden 1 Center. Mandatory Credit: Kyle Terada-USA TODAY Sports December 17, 2016; Sacramento, CA, USA; Paige VanZant (red gloves) fights Michelle Waterson (blue gloves) during UFC Fight Night at Golden 1 Center. Mandatory...
To this point, Michelle Waterson's daughter Araya has been to all of her fights.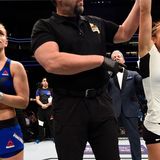 Paige VanZant definitely didn't get the result she wanted in her fight with Michelle Waterson after she was choked out in the first round in the main event from Sacramento on Saturday night.It was VanZant's second loss in her past three fights — all of which were sandwiched around a stint on "Dancing with the Stars" where she took off several months to participate in the reality...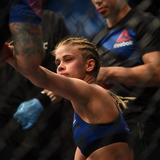 Paige VanZant was submitted by Michelle Waterson at "UFC on FOX" Saturday night in Sacramento and said after the loss that she is going to pursue other opportunities outside of fighting, though she insists she'll be back as a fighter. VanZant fell to 7-3 after her defeat, which marked her second loss in three fights. The UFC strawweight has developed a name outside of her MMA fame...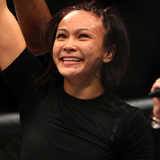 Michelle Waterson made short work of Paige VanZant with a rear naked choke submission in the first round in the main event at FOX UFC Fight Night in Sacramento.Official result: Michelle Waterson def. Paige VanZant by submission (rear naked choke) at 3:21, R1More to come…
RFA strawweight champion Jocelyn Jones-Lybarger (6-1) has been tapped to replace the injured Michelle Waterson (13-4) at UFC 194. Waterson was originally scheduled to battle the undefeated Tecia Torres (6-0) but was forced off the card due to an undisclosed injury. Lybarger will bring a four fight winning streak with her into her octagon debut, her latest coming over the former top...
'The karatie Hottie' Michelle Waterson has been forced out of her UFC 194 strawweight fight with Tecia Torres on December 12th in Las Vegas due to an injury. The fight had been set to take place on the televised portion of the preliminary portion of the stacked card and was seen as an important fight […]
UFC 194 has suffered its first loss following an injury to Michelle Waterson that forced her out of her upcoming fight against Tecia Torres on Dec. 12 in Las Vegas.Sources close to the fight confirmed Waterson's withdraw to FOX Sports on Tuesday following an initial report from MMAJunkie.com.Waterson was set to make her second appearance in the Octagon following a win in her debut...
Two top UFC female fighters Holly Holm and Michelle Waterson were the subject of a UFC Media lunch in L.A yesterday to talk about their upcoming fights. Of course Holm has been getting a lot of attention lately with the former boxing champion set to fight Ronda Rousey for the bantamweight title later this month in Australia, but former Invicta FC champion Waterson also has a big...
Michelle Waterson knows that she's in for a real fight Dec. 12 at UFC 194 when she takes on top strawweight contender Tecia Torres. "Tecia is ranked number five for a reason," she recently told Submission Radio. "She's young and she's eager and she's hungry, and she comes from a great camp. But for me, I feel like I perform better when I'm under pressure, and like I said, rise to...
MORE STORIES >>
MMA News

Delivered to your inbox

You'll also receive Yardbarker's daily Top 10, featuring the best sports stories from around the web. Customize your newsletter to get articles on your favorite sports and teams. And the best part? It's free!