On Saturday night, Vitor Belfort entered the cage for the 39th fight of his storied career, facing an up-and-coming prospect in Kelvin Gastelum. Over the past 21 years, Belfort has been at the center of the MMA universe. Belfort has won world titles. He has fought in all the major promotions and took part in some of the biggest fights in recent memory. But recent years have not been...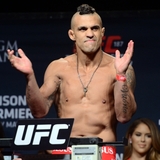 Ronaldo "Jacare" Souza (pictured) felt that a win over Vitor Belfort should solidify his spot as the UFC middleweight division's top contender. It's tough to argue after what he did to "The Phenom" on Saturday at UFC 198. Souza made Belfort look old and out of place, quickly disposing of the former UFC champ in juster under five minutes. Current UFC middleweight champion Luke...
When Vitor Belfort and Dan Henderson fight for the third time this Saturday at UFC Fight Night 77, their combined years will total nearly a century of martial arts experience. In other words, they're both old as hell. Simultaneously, this makes them both endearing and endangered; neither will likely compete for that much longer, and opportunities to see them work are becoming increasingly...
This UFC 187 middleweight title fight produced fireworks with Vitor Belfort initially having the champion Chris Weidman in trouble on the feet, only to then find himself on the receiving end of a sustained ground and pound assault as Weidman earned a first round TKO victory. Round One: The middleweight title fight is underway with a touch of the gloves. Head kick attempt from...
Chris Weidman (pictured) promised he would finish the "cheater" Vitor Belfort quickly on Saturday at UFC 187. Let's just say Weidman is a man of his word. After taking some vicious punches in the opening minutes, Weidman scored an easy takedown and unleashed some ground-and-pound. Belfort stood no chance once the scrap hit the mat. Weidman advanced to full-mount and really started...
UFC middlweight champion Chris Weidman (12-0) will look to take out another Brazilian middleweight contender when he takes on Vitor Belfort (24-10) in the co-main event of UFC 187 next Saturday night. This is the 4th time these two have been scheduled to face one another over the past two years and now that we're less than one week out, we're hoping UFC officials channel their inner...
(Mandatory Credit: USA Today Sports) The two best middleweights in the world, champion Chris Weidman (12-0) and challenger Vitor "The Phenom" Belfort (24-10), were supposed to meet nearly a year ago at UFC 173.  Between then and now, due to injuries and questions surrounding PED use, the highly anticipated bout has been scheduled 4 different times.  Hopefully the 4th time's the...
The last time the Nevada Athletic Commission randomly drug tested Vitor Belfort (pictured), the UFC middleweight top contender failed miserably by clocking high levels of testosterone. So, why has the NAC not surprised Belfort with another drug screening after voting unanimously to grant him a license exactly three months ago, particularly when one of the three stipulations they...
A broken left hand has forced middleweight champion Chris Weidman to pull out of his title defense at UFC 181 against Vitor Belfort, the UFC announced Monday night.The Dec. 6 Las vegas fight likely will be rescheduled for February.Weidman's trainer Ray Longo thinks the break will benefit his fighter."I'm looking at it different," Longo said. "I'm looking at it like I want this guy...
Oh, that Chris Weidman is quite the jokester. Last month, Vitor Belfort claimed he no longer needed TRT because he traded in the controversial treatment for TNT. Just in case you don't understand what the Brazilian is trying to say, Belfort swapped out synthetic testosterone injections for dynamite. Apparently, it appears Belfort dropped some pounds in the process – which Weidman...
MORE STORIES >>
MMA News

Delivered to your inbox

You'll also receive Yardbarker's daily Top 10, featuring the best sports stories from around the web. Customize your newsletter to get articles on your favorite sports and teams. And the best part? It's free!