Posted October 28, 2013 on AP on Fox
Clint Bowyer fielded fan questions for nearly 30 minutes Monday at the NASCAR Hall of Fame, where the topics covered everything from his recent appearance on an episode of ''Duck Dynasty'' to his displeasure with people who text while driving. Not a single person asked him about Richmond. Finally, nearly two months after Bowyer spun late in the race that set the field for the Sprint Cup-deciding Chase, the scandal is finally fading into his rearview mirror. His actions in the Sept. 7 race triggered a massive chain reaction that knocked the wind out of NASCAR as it headed into its championship portion of the season. Michael Waltrip Racing was crippled with the loss of a longtime sponsor, and Martin Truex Jr. and 15 percent of the MWR workforce were given pink slips. Bowyer, one of the most popular drivers inside the garage, suddenly found he was considered Public Enemy No. 1 among a fan base that only in the last few years had begun to appreciate his talent and humor. ''I was in middle of a storm, certain kind of storm. A four-lettered storm is what I'd call that,'' Bowyer said Monday. It took a toll on the freewheeling country boy from Kansas. He was second in the points heading into the Richmond race and thought he'd challenge for a championship this year. Then came the fallout from Richmond, where NASCAR said MWR deliberately manipulated the finish of the race in an attempt to get Truex into the 12-driver Chase field. He said he quickly figured out the final laps at Richmond had created a firestorm that wasn't going away anytime soon. ''I didn't that night. But then (figured out) `this is not good,' ''Bowyer said. ''I was immediately crushed because of the sport and what I care and believe about this sport. It was tough.'' The Chase was effectively over for Bowyer before it began. He opened with a ninth-place finish at Chicago, where points leader Matt Kenseth won, and was 17th the next week at New Hampshire, where Kenseth won again. Just like that, Bowyer was 10th in the standings and out of the title hunt. He acknowledged Monday the Richmond drama ''definitely'' contributed to the No. 15 team stumbling out of the gate. Bowyer wasn't the same off the track, either. Dale Earnhardt Jr. noted last month that it had been difficult to watch Bowyer suffer through the backlash from fans. ''Clint is a good guy and obviously was just following orders,'' Earnhardt said. ''He did some things that were out of character and regrettable, and he feels terrible to have any involvement in it. I know that for a fact. I know that to be genuine. It's been tough watching him go through that process, too, because he's not that kind of guy to go starting that kind of mess.'' Bowyer said he read things about himself over the last seven weeks, heard things on the radio, and learned to bite his tongue. ''Out of respect and understanding the magnitude of the situation, I never would have dreamed in a million years that would have escalated into what it did, it was a bad deal,'' Bowyer said. ''Hardest thing I've ever been through in this sport, but certainly not the hardest thing I've been through in my life. It was tough to listen to those things for a while. It's not like me to just keep my mouth shut. I wanted to bite back, but certainly, again, respected the situation. I understood the magnitude of it and knew I was part of it and didn't want to be.'' It's the third time since 2010 that Bowyer's title chances were yanked out from underneath him in the blink of an eye. He opened the 2010 Chase with a win at New Hampshire that vaulted him from 12th to second in the standings. Then NASCAR ruled his car was illegal, docked him 150 points, and the lengthy appeal process wore down his race team. Richard Childress Racing never got the points back, but it didn't matter, anyway. Bowyer finished 25th and 15th in the two races after New Hampshire and spent the entire Chase trying not to finish last in the field. Last year, Bowyer used a win at Charlotte at the midpoint of the Chase to move to fourth, then close to third in the standings with the leaders in sight with two races remaining. But an angry Jeff Gordon chose the penultimate race to settle a vendetta and deliberately wrecked Bowyer late in the race at Phoenix. It ended his title chances with one race remaining, and this year he hardly got out of the gate. ''Just been the story of my career in NASCAR. Two steps forward and one back,'' he said. ''A lot of that except for this last time, I didn't have anything to do with it. I don't build the damn cars, I didn't crash myself at Phoenix. Some of those are out of your control. Certainly one of them I had something to do with it. It's tough, but hey, man, it's life. Life's tough. It ain't going to slow me down. I have a blast doing this.'' And Bowyer had a blast on Sunday at Martinsville, where it was clear he's finally out of the fog. He led 60 laps - he'd led only nine laps total since Richmond, where he led 72 - and finished third. It was his best finish of this Chase, only his third top-10 in seven races and first top-five. It moved him up two spots in the standings to sixth, and Bowyer can now see the top-five in the final standings. That's where he wants to end the season, and where he believes he belongs after 13 weeks ranked no lower than third. ''It was fun to be at Martinsville and be back in action. I live for that. The excitement, intensity, emotion, energy, the fights, the hard racing,'' he said. ''It wasn't meant to be this year. As far as the future, there's been a lot of plans and meetings to get that set in stone and make the best of it. We will. We've made mistakes and certainly learning from them. I've had enough. You're going to play the cards you're dealt the best you can.''
Original Story:
http://msn.foxsports.com/nascar/story...
THE BACKYARD
BEST OF MAXIM
RELATED ARTICLES
(Eds: With AP Photos.) By JENNA FRYER AP Auto Racing Writer Clint Bowyer fielded fan questions for nearly 30 minutes Monday at the NASCAR Hall of Fame, where the topics covered everything from his recent appearance on an episode of ''Duck Dynasty'' to his displeasure with people who text while driving. Not a single person asked him about Richmond. Finally, nearly...
Clint Bowyer says the controversy at MWR is settling. Martin Truex Jr. could have a deal to drive the #78 car next week. Dale Earnhardt Jr. says that he was wants to be a after someday. Kyle Larson will be in the #51 car at Texas for the Sunday Race. David Star will be in the #55 car for the Saturday race at Texas.
Here is the entry list for Sunday's AAA Texas 500from Texas. There are 43 entries for 43 spots, so no drivers will miss the show. Among the highlights of the list: Clint Bowyer features Sour Apple Extra Strength 5-Hour Energy Toyota, Kyle Busch has Snickers on his #18 Toyota, Joey[...]
NASCAR News

Delivered to your inbox

You'll also receive Yardbarker's daily Top 10, featuring the best sports stories from around the web. Customize your newsletter to get articles on your favorite sports and teams. And the best part? It's free!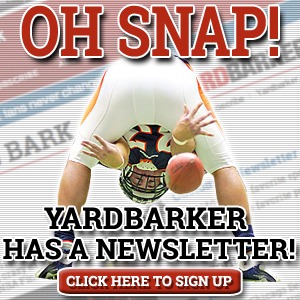 Latest Rumors
The Backyard

Today's Best Stuff

For Bloggers

Join the Yardbarker Network for more promotion, traffic, and money.

Company Info

Help

What is Yardbarker?

Yardbarker is the largest network of sports blogs and pro athlete blogs on the web. This site is the hub of the Yardbarker Network, where our editors and algorithms curate the best sports content from our network and beyond.