Posted April 25, 2013 on AP on Fox
Denny Hamlin wishes he didn't need medical clearance to race. The 32-year-old NASCAR star drove himself to Richmond International Raceway on Thursday, but was begrudgingly preparing for another weekend watching someone else drive his familiar No. 11 Toyota. At his hometown track, that was doubly disappointing because the weekend kicked off with two races on Thursday night, including the Denny Hamlin Short Track Showdown to benefit Hamlin's charitable foundation. ''I'd rather just do it,'' Hamlin said about getting back in the race car. ''Honestly, I know everyone is trying to protect me from myself, but I would have raced at Martinsville two weeks ago.'' Hamlin wasn't cleared to return, however, after a visit Wednesday to Dr. Jerry Petty of Carolina Neurosurgery and Spine Associates, and telephone consultations with others. Much of the phone call sounded like a foreign language, Hamlin said, though he did pick up enough to understand things are inexact with injuries such as his, and recovery times. ''Some kind of in-plate is not healing the way that they wanted it and that's what they wanted in order to clear me,'' said Hamlin, who grew up within 30 minutes of RIR. ''Really, that was their determining factor and, obviously, my injury is very, very hard because there is no exact science to the risk. ''No one knows what the risk will be if I race this week or if I race two weeks from now.'' Hamlin already deals with chronic pain caused by bulging discs in his back, and says he'd have no trouble climbing in an out of a window to get in the car. He tentatively plans to do that next weekend at Talladega, where his goal is to start the race to begin collecting critical driver points, then climb out at the first opportunity and turn the car over to a relief driver. That's just a short-term fix, though, and Hamlin sees the point of no return not far in the distance. After Talladega, the series moves to Darlington where starting and relinquishing the car would be difficult to do without losing several laps, making the idea of writing off the season appear ever more sensible. Hamlin is clinging to the idea that if he misses a handful of races, his team could accumulate enough points in the races he does make to still gain one of the 12 spots in the 10-race championship run. With each race he misses, though, that become a much less likely scenario, and one that could cause him to decide to have back surgery planned for the offseason sooner with an eye toward a healthier 2014. ''I think if this goes past Darlington, then I don't know what the chances of us making the Chase are even if we were to race this weekend, race next weekend or the one after,'' he said. ''Obviously, if it goes past Darlington our chances are crushed even harder.'' Surgery would have a recovery period of about six weeks, Hamlin said, leaving open the possibility to he could return to run a few races at the end of the season, but without championship aspirations. Then again, Hamlin joked a day after Joe Gibbs Racing teammate Matt Kenseth received harsh penalties from NASCAR, ''if everyone keeps getting these penalties, I'm going to be the points leader soon.''
Original Story:
http://msn.foxsports.com/nascar/story...
THE BACKYARD
BEST OF MAXIM
RELATED ARTICLES
(Rainier Ehrhardt/NASCAR via Getty Images) After Denny Hamlin hurt his back in a last-lap wreck with Joey Logano at Auto Club Speedway, he vowed he would be back in a race car by Richmond, while his team of doctors said it would be more like Darlington. Determined, Hamlin had his team and those around him convinced he would be ready for Richmond, a full three weeks ahead of schedule...
Denny Hamlin remains in a holding pattern concerning whether or not he can race this weekend. Hamlin is awaiting final word on whether or not he is cleared to compete at Richmond International Raceway this weekend and does not expect to have that until after business hours today. Dr. Jerry Petty has to give final approval on clearing Hamlin. "There's a large team of doctors...
Denny Hamlin will not return to action at Richmond International Raceway on Sunday. Hamlin has been out of action since a last lap crash at Fontana involving former teammate Joey Logano. After missing the last three races Hamlin has sunk to 26th in the driver standings. On Wednesday night he let fans know that he would not return to action at Richmond via twitter. "Unfortunately...
Denny Hamlin hasn't been cleared to race at his home track in Richmond as he had hoped. Hamlin sustained a compression fracture of a vertebra in his lower back in a last-lap accident at California on March 24. Doctors said he'd miss at least five races, but Hamlin hoped to return early to race at Richmond, where he's a two-time winner. But Hamlin wasn't cleared...
Denny Hamlin wishes he didn't need medical clearance to race. The 32-year-old NASCAR star drove himself to Richmond International Raceway on Thursday, but was begrudgingly preparing for another weekend watching someone else drive his familiar No. 11 Toyota. At his hometown track, that was doubly disappointing because the weekend kicked off with two races on Thursday night,...
For Denny Hamlin, Joey Logano is still a pain in the ... well, back. And if suffering from chronic back pain wasn't difficult enough for Hamlin, who aggravated discs in his back and fractured a vertebra in a wreck with Logano in the NASCAR Sprint Cup race at Auto Club Speedway on March 24, watching this weekend's activities at his hometown track from the No. 11 FedEx pit...
By: Toby Christie – Follow on Twitter @Tobalical Denny Hamlin wanted to start the race at Richmond — his home track — that he was holding out hope that his body would heal faster than the time frame set by Dr. Jerry Petty. Hamlin held out hope until late Wednesday, when the hopes of competing Saturday vanished. Hamlin tweeted the following: "Unfortunately I won't be racing...
Joe Gibbs Racing announced Wednesday that Denny Hamlin will be out for this weekend's Toyota Owners 400 from the Richmond International Raceway. Hamlin had stated he was 50/50 about a return at his home track, but doctors did not give him the go ahead. He will look to return next weekend at Talladega. The full Joe Gibbs Racing statement: Following a medical evaluation on his...
Kyle Busch is turning Denny Hamlin's Short Track Showdown into his personal showcase. Busch, a teammate of Hamlin's with Joe Gibbs Racing, grabbed the lead before the 5-minute pit stops that came after 46 laps Thursday night, then pulled away when the race went back to green, easily holding off David Ragan for the victory. It was his third win in the six years of the event...
NASCAR News

Delivered to your inbox

You'll also receive Yardbarker's daily Top 10, featuring the best sports stories from around the web. Customize your newsletter to get articles on your favorite sports and teams. And the best part? It's free!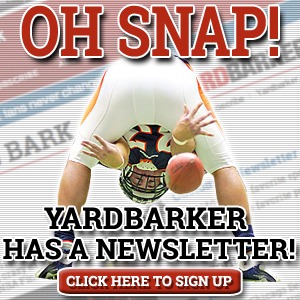 Latest Rumors
The Backyard

Today's Best Stuff

For Bloggers

Join the Yardbarker Network for more promotion, traffic, and money.

Company Info

Help

What is Yardbarker?

Yardbarker is the largest network of sports blogs and pro athlete blogs on the web. This site is the hub of the Yardbarker Network, where our editors and algorithms curate the best sports content from our network and beyond.