Posted October 29, 2012 on AP on Fox
Jimmie Johnson dominated, as expected, at Martinsville Speedway, and Brad Keselowski didn't flinch. This championship duel might go down to the wire after all. Johnson, a five-time series champion, raced to his seventh career victory on NASCAR's trickiest oval Sunday, and the triumph helped him erase a seven-point deficit and supplant Keselowski as the points leader with three events remaining. Even so, Johnson knows the title chase is far from over, that there's plenty of racing yet to do. ''I'm ecstatic about the win today and ecstatic about the points lead, but this is no cake-walk,'' Johnson said after the 59th victory of his career and fourth this season. ''These guys are bringing their best each and every week. ... The next two races will tell the tale. Anything can happen. We could both wad it up next week and Clint Bowyer is your champion.'' Johnson moved two points ahead of Keselowski, who finished sixth for his highest career showing at the track, and came away knowing that he'd more than held his ground on a track where he's still learning and Johnson is as good as anyone. ''He's our competition and we've got to beat him,'' Keselowski said. ''We know that, but at some point you've got to do your own thing and just rely on what gets you to where you're at, and what's got us to where we're at is just solid finishes when we don't have a shot to win the race. And we didn't have a shot to win today and we got a solid finish, so I feel confident about that.'' The series next moves to Texas and Phoenix before finishing up at Homestead-Miami. ''I know this championship's going to come down to Homestead,'' Keselowski said. ''You've just got to be in position to where you've got a shot at it and we're doing the things it's going to take.'' Both drivers needed only to look at Denny Hamlin's day to be reminded that things can go south fast. Hamlin seemed poised to get in the thick of it, and then had an electrical problem that sent him to a 33rd place finish and out of contention. ''When these things happen, you've just got to suck it up and move on,'' Hamlin said. ''There's nothing I can do about it. One of these days it's going to be our time. It's just not right now.'' Keselowski's day was nowhere near as adventurous as Hamlin's, but effective all the same. He started 32nd, methodically worked his way forward, and was never really a factor until he took a late gamble to grab the lead - and a crucial bonus point. He was leading the race briefly when a caution flag flew and he and Dale Earnhardt Jr. opted to stay out, then watched with surprise as the other 16 lead-lap cars all headed to pit road for fresh tires. ''It's at the end of the race and half the field had just pitted 20 or 30 laps ago,'' Keselowski said. ''If I was running 15th, I would have stayed out. I would have put `em in my shoes and said, `By golly, I would have stayed out.' None of those guys did and I don't know why. Well Dale (Earnhardt) Jr. did. He had some sense. It just wasn't meant to be.'' When the race went back to green with 19 laps to go, Keselowski was a sitting duck whose best bet was to hang on for as long as he could and then avoid any Martinsville mayhem that cropped up in a furious dash to the finish. Johnson, who led eight times for 193 laps, passed him on lap 487 on his way to making the race a bonus points bonanza. He got one for leading a lap, one for leading the most laps and three for the victory, wiping out a seven-point deficit. Kyle Busch was second, followed by Kasey Kahne, Aric Almirola, Bowyer, Keselowski, Jeff Gordon and Brian Vickers. On the final restart, Busch said he was trying to avoid spinning Johnson heading into turn one, but nudged him. Johnson slowed, and Busch too, and ''when I went back to the gas, I spun my tires and got loose, and he squirted away from me.'' Bowyer also had a great car, leading 154 laps, and Gordon led 92. Until the problems arose, Hamlin had put on a clinic about how to pass cars on the 0.526-mile oval. After his first pit stop, Hamlin was penalized for entering pit road too fast, a penalty that moved him to the back of the lead lap, which was 31st. Immediately, he started quickly working his way forward. After 200 laps, he was contending and actually left pit road with the lead, but again, he was penalized for speeding entering pit road, again dropping him to the back of the lead lap, this time 28th. He again worked his way into the top five until his problems dropped him 34 laps behind. Hamlin dropped 49 points off the pace. Bowyer is third, 26 back, and Kahne is 29 back.
Original Story:
http://msn.foxsports.com/nascar/story...
THE BACKYARD
BEST OF MAXIM
RELATED ARTICLES
Brad Keselowski is no longer leading the Sprint Cup points standings, but he remains confident in his Penske Racing team. "Don't count us out," he said Sunday. Keselowski's transformation at the Cup level since crew chief Paul Wolfe took control of the team in 2011 has been remarkable. Lest we forget, Keselowski finished 25th his rookie season. Once Wolfe came...
Brad Keselowski talks like racing continues to be business as usual. The 28-year-old is leading the standings in NASCAR'S Chase for the Sprint Cup, and while his margin over five-time champion Jimmie Johnson is only seven points, and perennial contender Denny Hamlin is only 20 points behind, Keselowski quickly dismisses talk that being chased in the chase means pressure. Keselowski...
After seven races in the 2012 Chase for the Championship, including victories at Chicagoland and Dover, Brad Keselowski and the #2 Miller Lite Dodge team are ranked second in the NASCAR Sprint Cup Series driver and owner point standings. They trail Jimmie Johnson and the No. 48 team by just two points. Keselowski is coming off a sixth-place finish in the Tums Fast Relief 500 last...
Brad Keselowski differed from those who talked about the aerodynamic problems of the 2013 Sprint Cup cars. Keselowski was given a chance on Tuesday and Wednesday to test the 2013 Ford Fusion at Phoenix. Keselowski's chance to drive the car was the first tire test at a one-mile flat track. "I thought it was a great test," Keselowski told the NASCAR Wire Service. "I had heard...
Jimmie Johnson leads Brad Keselowski by just 2 points…
Brad Keselowski trails Jimmie Johnson by two points with Texas looming…
After capturing his seventh career win at Martinsville Speedway, Jimmie Johnson is one big step closer to his sixth Sprint Cup championship. Johnson's victory Sunday at the famed paperclip erased a seven-point deficit in the Chase standings, knocking Brad Keselowski from his perch as points leader with three races remaining. Johnson, who captured his fourth victory of the year...
Jimmie Johnson held off Kyle Busch on a restart with five laps to go Sunday and won for the seventh time in his career at Martinsville Speedway. The five-time series champion moved into the lead in the championship standings, two points over Brad Keselowski with three races remaining. Keselowski started 32nd, methodically worked his way forward, and took a late gamble to grab the...
MARTINSVILLE, VA – Ryan Blaney finished eighth at Martinsville Speedway in the No. 29 Draw-Tite RAM on Saturday afternoon. The Brad Keselowski Racing (BKR) driver had an impressive debut in his first race at Martinsville. Blaney qualified in the 11th position on Saturday morning pacing the 0.526 mile oval in 19.842 seconds or 95.434 M.P.H. to begin the Kroger 200. Lap 18 brought...
Ryan Blaney, driver of the No. 29 Cooper Standard RAM, will make his seventh career start in the NASCAR Camping World Truck Series season on Friday evening at Texas Motor Speedway. This weekend, Cooper Standard returns to the No. 29 Brad Keselowski Racing (BKR) RAM as its primary sponsor. Friday evening will mark Blaney's first career start at Texas Motor Speedway in any NASCAR...
Jimmie Johnson, driver of the #48 Lowe's Chevrolet, won the pole for Sunday's TUMS Fast Relief 500 from the Martinsville Speedway. After qualifying ended he spoke to the media about the pole win and his outlook for the race. Below is the transcript from that meeting. YOU'VE GOT A LOT OF THOSE CLOCKS OVER THERE JUST TALK ABOUT STARTING UP FRONT OBVIOUSLY A GREAT PLACE TO BE...
NASCAR News

Delivered to your inbox

You'll also receive Yardbarker's daily Top 10, featuring the best sports stories from around the web. Customize your newsletter to get articles on your favorite sports and teams. And the best part? It's free!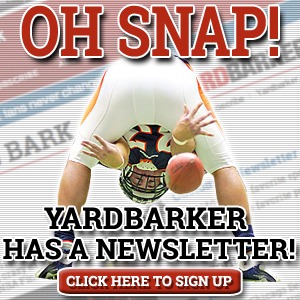 Latest Rumors
The Backyard

Today's Best Stuff

For Bloggers

Join the Yardbarker Network for more promotion, traffic, and money.

Company Info

Help

What is Yardbarker?

Yardbarker is the largest network of sports blogs and pro athlete blogs on the web. This site is the hub of the Yardbarker Network, where our editors and algorithms curate the best sports content from our network and beyond.