Found March 04, 2013 on Fox Sports Arizona:
By JOHN MARSHALL AP Sports Writer AVONDALE, Ariz. -- Danica Patrick had one of the hardest hits of her career when her car slammed into the wall at Phoenix International Raceway on Sunday, but walked away uninjured. Running 26th with just over 100 laps left, Patrick blew a right front tire coming around turn 4 and slammed the right side of her car into the wall. She careened back onto the track and was hit hard again by David Ragan, flipping her hood over the windshield and shredding the left front fender as protective foam flew from the driver's side door. Patrick coasted to a stop near the inside wall with pieces of her car strewn across half the home straightaway. A smoking chunk of tire also flew into pit lane. Patrick climbed out of her car and was quickly cleared by the infield care center. "Whenever those right-fronts go, they always hit hard because you don't broadside, you hit more straight on," Patrick said. "It took a hard hit both sides and I&...
Original Story:
http://www.foxsportsarizona.com/03/04...
THE BACKYARD
BEST OF MAXIM
RELATED ARTICLES
Phoenix- Many outside the NASCAR community thought Danica Patrick had turned the corner and was ready to contend in the NASCAR world. She started on the pole for the biggest race of the season at Daytona International Speedway last weekend and ran up front all race. Patrick was running third all the way up to the final lap with a shot to win it but made a costly mistake, not making...
Last week she was the belle of the ball in Daytona when she became the first woman to win the pole at Daytona and to lead a lap in the Great American Race. This week she gets a flat and crashes into the wall. On the upside (which since there was no one hurt I can say that) we get to see the crash from the fan's point of view as well as from a camera in Danica's car--kinda...
Danica Patrick, driver of the #10 GoDaddy.com Chevrolet, was involved in an accident on lap 184 after losing a right front tire. Below are quotes from Patrick after the accident. WHAT HAPPENED OUT THERE? "Obviously I blew a right front. No real warning. I wasn't that tight either; I was sliding a little bit. I felt like most of the day I was chasing the rear. It was a little...
Danica Patrick, driver of the #10 GoDaddy.com Chevrolet, met with members of the media at Phoenix International Raceway and discussed her success at Daytona, expectations for weekend at Phoenix, comparison of her first Indianapolis 500 and Daytona 500 and other topics. TALK ABOUT YOUR EXPECTATIONS FOR PHOENIX THIS WEEKEND: "It was nice to come here at the end of the season, and...
Danica Patrick's day ended in disappointment after she blew a right-front tire during the NASCAR Sprint Cup Subway 500 and wrecked on the frontstretch at Phoenix International Raceway. The accident on Lap 185 was further compounded when David Ragan slammed into her No. 10 GoDaddy.com Chevy SS. "Obviously I blew a right front," Patrick said. "No real warning....
Danica Patrick slammed her car hard into the wall during a race at Phoenix International Raceway, but was uninjured. Patrick blew a right-front tire coming around turn 4 on Sunday and slammed into the wall. She careened back onto the track and was hit hard again by David Ragan, flipping her hood over the windshield and shredding the left front fender. Patrick coasted to a stop...
AVONDALE, Ariz. -- If a driver is only as good as his or her last race, then Danica Patrick deserves to be ranked among the top 10 in the Sprint Cup Series for now. Patricks 2013 coming-out party at Daytona International Speedway was impressive. She started from the pole, led five laps and ran more circuits (113) in the top three than any other driver before finishing eighth. ...
Getty Images Danica Patrick struggled with her car all weekend at Phoenix. After qualifying 40th, Patrick made little headway in her second Sprint Cup start of the season. Just past halfway Patrick cut a tire midway though turn three sending her No. 10 Chevrolet SS into the wall collecting the No. 34 Ford Fusion of David Ragan as she came down the race track. Patrick was running...
As far as crashes go, this one has nothing on the Daytona 500-like pileups that are common to NASCAR. But it still had to be pretty freaky for Danica Patrick on Sunday when she blew out a tire and suddenly couldn't see where she was going. Patrick's car lost a tire on lap 176 as she was coming out of turn four at the Subway 500 at the Phoenix International Raceway. She bounced...
I walked into work two days after the Daytona 500, and the first two people I spoke with about the race essentially opened with, "What an awful last lap Danica had." Huh. Danica Patrick started the last lap third and finished eighth. At Daytona, you can start the final lap third and finish in traction. (Guess their TVs were busted for the Saturday race.) It was the most unfair...
Tony Stewart, driver of the #14 Bass Pro Shops/Mobil 1 Chevrolet, met with media and discussed the learning process for the new race cars, Danica Patrick's performance at Daytona, his opinion of the Phoenix International Raceway track, and more. HOW IS THE NEW CAR HANDLING? "So far, so good. We are just a little bit tight, balance-wise; but other than that it drives really good...
Pit Row Just Got Darkly Fun 10) Hoping to provide protection against some of the more temper tantrum-y drivers 9) For the highly influential PR in blogs like this one 8) Just have all kinds of money to spend now that every gun fan is stocking up post-Newtown 7) Somehow feel safe enough to make a public political stand in Texas 6) Wanted to make sure that NASCAR looked neutral...
NASCAR News

Delivered to your inbox

You'll also receive Yardbarker's daily Top 10, featuring the best sports stories from around the web. Customize your newsletter to get articles on your favorite sports and teams. And the best part? It's free!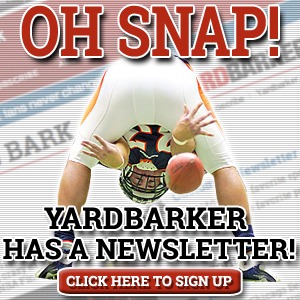 Latest Rumors
Best of Yardbarker

Today's Best Stuff

For Bloggers

Join the Yardbarker Network for more promotion, traffic, and money.

Company Info

Help

What is Yardbarker?

Yardbarker is the largest network of sports blogs and pro athlete blogs on the web. This site is the hub of the Yardbarker Network, where our editors and algorithms curate the best sports content from our network and beyond.