Darrell Wallace tells Fox Sporits that Denny Hamlin 'might need to take some Adderall for that one.'
Denny Hamlin talks his disappointing final restart and shares his happiness for Austin Dillon's win at the Daytona 500.
Starting with the drivers leading the pack, Alex Bowman and Denny Hamlin, here's Sunday's Daytona 500 starting lineup of 40 drivers, plus 20 people who will get plenty of face time at the track.
Denny Hamlin tells ESPN.com and JeffGluck.com he told a podcast 'a number that has no fact behind it.'
While much of the talk about performance-enhancing drugs in sports regularly revolves around steroids and other muscle-building compounds, recent years have seen a lot of focus on drugs that enhance mental performance, specifically Adderall and other medicines usually prescribed to treat issues like attention deficit disorder. There's previously been talk about this in Major League...
When Denny Hamlin said on a podcast Friday that 70 percent of drivers use Adderall or similar-type medicine to help focus he said he was joking. Hamlin met with NASCAR officials Friday afternoon and does not face any disciplinary measures.
In an interview for Barstool Sports' "Pardon My Take" podcast that was made available Thursday, Denny Hamlin stirred controversy when asked about drugs and drug testing in NASCAR. Hamlin acknowledged that he was tested "all the time," but he also speculated that 70 percent of his fellow-competitors took the prescription drug Adderall to improve performance. Adderall is on NASCAR...
Alex Bowman and Denny Hamlin will start on the front row.
2016 Daytona 500 champ Denny Hamlin takes Fox pit reporter Regan Smith for ride around a place he knows very well: Daytona International Speedway.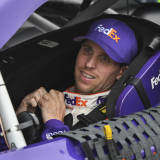 Danny Hamlin was not popular among fans who attended the NASCAR Cup Series race at Martinsville Speedway on Sunday.Hamlin battled with Chase Elliott — who had the lead at the time — on the final few laps of the race, and appeared to tap his opponent's bumper. That spun Elliott out and sent him into the wall, ending his chance of winning the race. The two drivers got into a bit of...
MORE STORIES >>
NASCAR News

Delivered to your inbox

You'll also receive Yardbarker's daily Top 10, featuring the best sports stories from around the web. Customize your newsletter to get articles on your favorite sports and teams. And the best part? It's free!