Joe Gibbs Racing driver says he has talked with Kevin Harvick, and 'we're good.'
Monster Energy NASCAR Cup Series drivers Denny Hamlin and Darrell Wallace Jr., affectionately known as "Bubba Wallace," haven't made up since their dust-up last weekend after the Daytona 500 official season-opener for the Cup Series. During Wallace's media availability at Atlanta Motor Speedway on Friday, ahead of Sunday's Folds of Honor QuikTrip 400, Wallace mentioned that he was...
Feud has cost Daytona 500 runner-up his membership in a NASCAR-oriented golf league.
On his "Happy Hours" SiriusXM NASCAR Radio show, 2014 NASCAR premier series champion Kevin Harvick always gives his proverbial two cents on NASCAR current events. Last night's show was no exception, as one of the topics the driver affectionately known as "Happy" gave his take on was Denny Hamlin's recent comment in a Barstool Sports interview, implying that 70 percent of NASCAR drivers...
Denny Hamlin took to social media to explain the shouting match with Darrell Wallace Jr., saying it was Wallace's personal comments about him, not the post-race wreck.
Monster Energy NASCAR Cup Series veteran driver Denny Hamlin wasn't happy with comments made Sunday after the Daytona 500 by series rookie Darrell Wallace Jr., referencing a comment Hamlin made in a Barstool Sports interview, speculating that about 70 percent of NASCAR drivers took Adderall, a substance banned by NASCAR without a prescription, to improve focus. Hamlin met with NASCAR...
Joe Gibbs Racing driver was asked about the barb shortly before an altercation with Wallace in the garage.
Darrell Wallace Jr. said Tuesday on SiriusXM NASCAR Radio he was still texting with Denny Hamlin to resolve their issues from the Daytona 500.
Denny Hamlin was not happy with Darrell "Bubba" Wallace Jr. after the finish of Sunday's Daytona 500.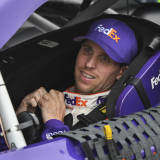 Danny Hamlin was not popular among fans who attended the NASCAR Cup Series race at Martinsville Speedway on Sunday.Hamlin battled with Chase Elliott — who had the lead at the time — on the final few laps of the race, and appeared to tap his opponent's bumper. That spun Elliott out and sent him into the wall, ending his chance of winning the race. The two drivers got into a bit of...
MORE STORIES >>
NASCAR News

Delivered to your inbox

You'll also receive Yardbarker's daily Top 10, featuring the best sports stories from around the web. Customize your newsletter to get articles on your favorite sports and teams. And the best part? It's free!