Radio communications and Joey Logano played big parts in Brad Keselowski's win at Talladega.
By David Morgan, NASCAR Editor In a car that looked more like it had just completed 500 miles at Martinsville than a race at Talladega, Joey Logano nearly pulled off the three-peat in the fall race at the track, but in the end had to settle for a fourth-place finish when the checkered flag flew. "Brad and I worked well together and we were able to help him win the race today, which...
Joey Logano takes you inside the car to give you a sense of what it is like in a restrictor-plate race.
By David Morgan, NASCAR Editor Joey Logano's season may not have gone quite to plan with his No. 22 team missing the playoffs, but heading into Sunday's Alabama 500 at Talladega, Logano will look to play spoiler at the 2.66-mile track. "I'm wired one way," said Logano.  "I've got one gear and it's wide-open.  That's all I've got, so, for me, it keeps it pretty simple.  When I come...
In recent months, we've seen an uptick in creative gender reveals for different athletes. More often than not, it appears like every baseball player hits a blue or pink powder out of a baseball. #ThisIsMyCrew pic.twitter.com/4pj5L1E2zK — Milwaukee Brewers (@Brewers) July 2, 2017 On Monday, the 27-year-old NASCAR driver Joey Logano took the gender reveal to a whole new level. pic...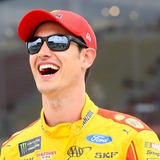 To reveal the gender of their baby, Joey and Brittany Logano chose a method that is about the best way possible considering Joey drives cars for a living.On Monday, Logano posted a video to his Twitter account of him driving a Mustang doing doughnuts. The smoke from the tires was eventually visibly blue, indicating the couple will soon welcome a boy into the world. Afterward, both...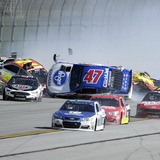 You can tell when a race is about to end at Daytona and Talladega. The drivers aren't giving up an inch and that usually leads to multi-car crashes.With 20 laps to go in the GEICO 500 at Talladega, 2nd place Chase Elliott and 3rd place A.J. Allmendinger got together to spark a 16-car crash that resulted in Elliott and Allmendinger going airborne and Allmendinger sliding on his top...
Joey Logano and crew chief Todd Gordon recap the strategy that brought them to Victory Lane in the Toyota Owners 400 at Richmond International Raceway.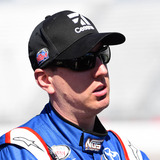 A few years ago, in an attempt to boost interest in the sport amidst sagging ratings and develop more engaging personalities in the sport, NASCAR decided to loosen up its rules and restrictions on tough racing. The policy colloquially known as "have at it, boys" came into effect several years ago where the sport encouraged their drivers to handle business on the track.Of course,...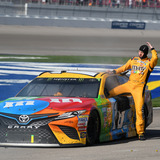 In Las Vegas, your luck can change in the blink of an eye. That's what happened to Las Vegas native Kyle Busch at the end of Kobalt 400 Monster Energy NASCAR Cup Series race.With a couple laps to go, race leader Brad Keselowski was developing a problem and Martin Truex Jr. pounced. As Truex drove on for the win, Keselowski was falling back and was getting passed by more cars. Entering...
MORE STORIES >>
NASCAR News

Delivered to your inbox

You'll also receive Yardbarker's daily Top 10, featuring the best sports stories from around the web. Customize your newsletter to get articles on your favorite sports and teams. And the best part? It's free!