To Seattle, Love, Your Portland Trail Blazers
Posted July 05, 2008 on TheSavvy1's Blog:
Dear Seattle, I really do feel bad for out neighboring fans up north for having the PooperSonics oops I mean SuperSonics stolen from you. So I am going to take it upon myself to introduce you to your NEW Northwest franchise "The Portland Trail Blazers". Now don't worry these guys are easy to love. But I do have a few things you need to be prepared for before you come over to the scarlet and black side. To start things off comfortably I want to remind you of a few familiar faces you should all know of. (These guys really are great not only have they lived in your beloved city, but they also saw the light was a lot brighter when you drive south down I-5/I-205.) Paul Allen- Owner/Multi-Billionaire. Paul is one of the best owners in the league. He attends over half of the games during the season and once he sees a contender window opening he is not afraid to open up that pocket book. He loves athleticism and up tempo basketball. Nate McMillan-Head Coach/Mr. Sonic As you all know Nate is one of the best coaches in the league. A former Sonic himself which also had his number 10 retired in the rafters. Now don't think that we can just retire #10 now that your Sonics are extinct. Besides thats Joel "Tha Thrilla" Przybilla's number. But if we can get a title or two maybe we can do something for him. Maurice Lucas-Ass.Coach/Frmr Sonic "The Enforcer" is better known as a Trail Blazer. But I do want to recognize that he wore a Sonic uniform to. Luc plays an important role in developing the bigs. Brandon Roy-SG/All Star/UW Husky Here is a Seattle born boy you all will be proud of. I don't need to speak much of him because you all should already know. But in our eyes he is our next "Clyde the Glyde". In a few years we should see "The Natural" on the Olympic team and maybe a Wheaties box. Martell Webster-SF/SeattlePrep Another Seattle product. Martell is a great young talent. A fan favorite, and he has the smoothest jump shot this side of the State of Massachusetts. Hard to believe he is only 21. Huge future for this cat. Although you will still need to be patient with him. He has improved his game both offensively and defensively every season. I live near the practice facility and I see his slick silver Chrysler 300 with the big shiny wheels all of the time which means he is a hard worker. So OK, how about that. We have a few Seattle natives in our organization. I hope I made you feel a little more welcome. Now before I introduce you to the rest of the guys we do have a few catchy phrases you will need to know. So next I will list a few of our broadcasters new and old along with where they came from etc.... Rip City!- Very popular phrase around town. Bill Schonley our legendary broadcaster of 30 years coined that phrase in the 70's. It can be used in many different ways. For example, if Greg Oden is doubled down low then kicks it outside to Martell Webster who then drains a three. You can scream out an emphatic RIP CITY!. Or if you want to sound a little more like "The Schonz" you can then follow up the "Rip City" with a "Yes Sir". OK now say it with me, "Rrrrip City,Yes Sir". Very nice. You may also use this any time the Blazers make a great play. Other Famous Bill Shonley phrases... Holy Backboard Lickedy brindle up the middle He took a hop, skip and a jump. Good evening basketball fans where ever you may be. Just so you don't get confused our current radio commentator is Brian Wheeler. Most of the new school fans only recognize the man known as "Wheels". He's a great radio personality and also has a few coined phrases of his own. (I will list them below.) He has been on board with the Blazers for about I believe 7 plus seasons. He probably will not reach the legendary status of Bill Shonley (Especially if every contract year we hear rumors of him talking with the Lakers.) but we are very lucky to have such a knowledgeable and dedicated broadcaster. He also has his own afternoon radio show on 95.5 The Game (www.955thegame.com) called Wheels After Work. You get little insider local trail blazer info and he always has great guests year round. I would recomend tuning in ASAP just so you can get familier with him. So like I mentioned before here are Wheels coined phrases you will need to get familiar with.... Wheels Phrases, Boom Shaka Laka! OOOOH That was nasty! Sloan looks Mystified, mortified, etc... Their are more but you will have to listen this season on 95.5 or online @ www.955thegame.com to get the full experience. We play all of our home games at the Rose Garden, I have linked Map quest directions for you from Seattle right here. (http://www.mapquest.com/mq/4-2gwxg5d8) It seems to be a three hour drive. But remember at the Rose Garden you need to plan to be early and stay late! Just so you are prepared Portland is a very knowledgeable basketball town. You may be able to get away with wearing a Seattle shirt for one season and we will be forgiving. But year two you better have saved the cash to purchase the scarlet and black. Keeping that in mind we don't want some fairwheater fan either. Seeing as we are going to be hanging some banners shortley you better educate yourself and be a loyal fan. How about now I introduce you to the rest of the guys. I really think we will have this roster together for a while so I think it will be safe for you to open yourself up to these guys. C) Greg Oden We don't know much about Greg yet. But from what we have scene is they don't make 7 footers like him. He will be a fast defensive minded shot blocking, rebounding machine. His offense should improve as he gets more experience. Having him ready this season is going to be fun to watch. PF) Lamarcus Aldridge LA or Stretch is a Texan with game similar to Rasheed Wallace and maybe a little Tim Duncan. He is not to their level yet. But last year in his first full season he averaged 18 and 7. He will be a great compliment to Oden on the defensive end next season. (Welcome to the block party.) He is also a great charicter guy. On another note it would be good to see him bulk up, just a tiny bit. And get a little more nastiness to his game. SF) Travis Outlaw T-Law or TrOut is a long freak of an athlete. This country boy from Mississippi can touch the top of the backboard. Not quite a Shawn Kemp. But he has improved his game every season in the league since he came out of high school. He has an improving jumper that extends out to the three. Very good fourth quarter producer with the ball in his hands. Defensively he is not that great one on one but off the ball he wreaks havoc. Still improving. SG) Rudy Fernendez "The Spanish Fly" is going to be a rookie this season. He has won many olympic medals and MVP awards overseas. He appears to have a nice step back jumper and can get to the rim. He is very thin so we will have to see how he holds up through the entire season. PG) Steve Blake Won an NCAA championship at the U of Maryland. Blake is just a solid point. Probably better suited as a backup. But he shoots a good percent, makes good desitions and is an underrated defender. C) Joel Przybilla Tha Thrilla is a great rebounder/shotblocker. Offensively you will hold your breat unless he dunks it. He is a great team player and can probably kick Shaq's butt. (His hobbies include Kickboxing) Has had a handful of 5 plus block games. Also 15 plus rebound games. Will be the best backup in the league once Oden is ready. PF) Channing Frye Channing is Mr. Happy Go Lucky. He is happy to be here. But will also be happy play more somewhere else. He is a very nice piece off our bench with his range, but could be one of the expendable guys also. He is a great interview if you ever get to hear him. PG) Sergio Rodriguez Spanish Chocolate was a spark plug his rookie year, but fell off the map last year. He easily could become your favorite with his Nash style, but he has shown he shoots terrible and cannot play D. Serg has a lot of improving to do to get into the rotation. He also has become a mental head case with a few comments he has made this offseason. PF) Ike Diagu Don't know much yet. We just got him from the Pacers. From what I do know is he is an undersized 4 that was an exceptional scorer/rebounder in college. Ike was a lottery pick, but has had injury troubles the past season. PG) Jerryd Bayless He is our prized rookie from Arizona. Slotted as a top 5 pick he fell to us at 11. He has a lot of developing to do but should prove to be a above average point in two seasons. Shoots well and can get to the rim, but needs to work on playmaking passing skills. Trade Bait, I mean PF/C) Raef LaFrentz I am not gonna waste time with his skill set because I don't know. He has not played hardely since he has been here. His huge 12 million dollar expiring contract will be dangled untill the deadline. But only if we need a certain peice. Well, thats the group. I do have some homework for you. The blazers have a handful of Euros overseas. Please research them and then you can post an anilazation of their games on yardbarker. Lets see have I missed anything... Oh yeah you must follow these simple 5 rules below. #1) Hate the Lakers #2) Any time Kobe touches the ball you must boo. #3) *Practice "In KP We Trust"* #4) Be a confident Blazer fan, not cocky #5) Thank Paul Allen for KP *Definition for #3* In KP we trust, means no matter how many trades or if it seems like a roster move does not make any sence at all. Always remember who turned Ratliff/Telfair/Khryapa and some draft pick swapping into BRoy and LA. The man who ridded Portland of the wanna be thugs, and drug addicts. The man who changed the Jail Blazers back into the Trail Blazers. We have to trust the man with the given name Kevin Pritchard. And always remeber to thank Paul Allen for finaly buying in to him as well. From, Your New Fellow Trail Blazer Fans! Please purchase your merchandise here http://www.nba.com/blazers/index_main.html
THE BACKYARD
BEST OF MAXIM
College Basketball News

Delivered to your inbox

You'll also receive Yardbarker's daily Top 10, featuring the best sports stories from around the web. Customize your newsletter to get articles on your favorite sports and teams. And the best part? It's free!
THE COLLEGE BASKETBALL HOT 10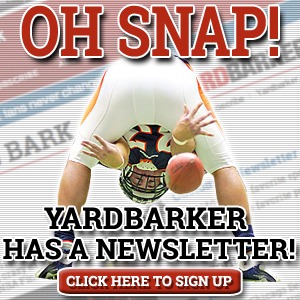 Latest Rumors
The Backyard

Today's Best Stuff

For Bloggers

Join the Yardbarker Network for more promotion, traffic, and money.

Company Info

Help

What is Yardbarker?

Yardbarker is the largest network of sports blogs and pro athlete blogs on the web. This site is the hub of the Yardbarker Network, where our editors and algorithms curate the best sports content from our network and beyond.