Found January 31, 2013 on NBA 24/7 365:
PLAYERS:
Ed Davis
,
Jon Leuer
,
Tayshaun Prince
,
Austin Daye
,
Rudy Gay
,
Hamed Haddadi
,
Jose Calderon
,
Greg Monroe
,
Andre Drummond
,
Brandon Knight
,
Andrea Bargnani
,
Amir Johnson
,
Landry Fields
,
DeMar DeRozan
,
Terrence Ross
,
Steve Nash
,
Chauncey Billups
,
Marc Gasol
,
Zach Randolph
,
Darrell Arthur
TEAMS:
Memphis Grizzlies
,
Detroit Pistons
,
Toronto Raptors
,
Los Angeles Lakers
,
Los Angeles Clippers
,
Minnesota Timberwolves
By William Bohl (@BreakTheHuddle) The NBA's meta-season within its season was abruptly kick-started last week when the Memphis Grizzlies shipped most of their bench off to Cleveland for a seldom-used role player, Jon Leuer, and a little bit of luxury tax freedom. After that deal was completed, speculation ran rampant as to whether or not the Grizzlies were done maneuvering.  Yesterday, they obviously proved they weren't. By now, I'm sure you know the details, but just in case you've missed it: Memphis Grizzlies receive: C Ed Davis (from Toronto) Second-round draft pick (from Toronto) F Tayshaun Prince (from Detroit) F Austin Daye (from Detroit) Toronto Raptors receive: F Rudy Gay (from Memphis) C Hamed Haddadi (from Memphis) Detroit Pistons receive: G Jose Calderon (from Toronto) That's a lot to dissect. It's important to keep in mind the motivation, both basketball and financial, that causes deals like this one to get done. For the Grizzlies, it's mostly financial – Gay is due to make more than $37 million over the next two seasons, and their new ownership group seems bound and determined to avoid the luxury tax, no matter what it takes. Tayshaun Prince is a downgrade from Rudy Gay, but will bring professionalism and defense to Memphis – opposing small forwards have compiled just a 10.8 PER against him this season. Austin Daye likely won't be much of a factor, and the second round pick should be a fairly high one, but is, after all, still just a second round pick. As for Ed Davis… more on him in a bit. Detroit had to part with a franchise cornerstone and fan favorite (Prince) but garnered a solid point guard (Calderon) with  an expiring contract in the process, freeing them up to make a potential run at free agents in the summer. It's the kind of deal smart teams make to create cap space and enable themselves to build around the young talent already in place – notably Greg Monroe, Andre Drummond and Brandon Knight. There are a lot of reasons to hate the deal for Toronto, and since most of the basketball-writing world has spent the past 18 or so hours hashing those out in superlative detail, I'll provide the Cliff's Notes version here: After taking on Gay's salary, the Raptors will have more than $147 million (through 2014-15) committed to five guys (Gay, Andrea Bargnani, Amir Johnson, Landry Fields and DeMar DeRozan) who probably should never all be on the floor at the same time. None of the five are true franchise players, and the team will have no money left to maneuver any further. Terrence Ross, Toronto's promising 8th overall pick of this past year's draft [editor's note: LET ROSS DUNK!], will immediately move behind Gay in the line for minutes, which will likely stunt his development. As if all that wasn't enough to sour your taste on the deal from Toronto's end – the Raptors also sent Ed Davis, the 13th overall pick in the 2010 Draft, to Memphis. A 6'10 big man out of the University of North Carolina, Davis has rebounded nicely from his sophomore slump, when he averaged 6 points and 6 boards on 51% shooting. Since he started receiving consistent minutes following Andrea Bargnani's injury, "Boss" has put up a 13/8/2 line on 55% shooting from the floor. He turns 24 in June and is still on his rookie deal through next season, in which he'll earn $3 million. The Toronto coaching staff and front office spent a lot of time molding his considerable talent, only to jettison him a month and a half after it started to really pay off. Toronto is also painfully ignorant of history – while trading away lottery picks that "haven't developed quickly enough" for short-term answers is tempting, smart teams don't engage in such behavior. There are plenty of examples of high draft picks who needed a few years of experience before turning into above-average players. Who(Year Drafted) When it clicked… Stats Before Stats After Steve Nash (1996) 5th season, 2nd team,26 years old 237 games, 7/2/444/40/85 shooting% 70 games, 16/3/748/40/90 shooting% Chauncey Billups (1997) 6th season, 5th team,26 years old 297 games, 11/2/440/36/87 shooting% 74 games, 16/4/442/39/88 shooting% Jermaine O'Neal (1996) 5th season, 2nd team,22 years old 210 games, 4/3/047/0/56 shooting% 81 games, 13/10/147/0/60 shooting% Joe Johnson (2001) 3rd season, 2nd team,22 years old 159 games, 9/3/241/34/77 shooting% 82 games, 15/4/443/31/75 shooting% Jermaine O'Neal was 23 when he made his first All-Star Game – the rest were all over the age of 25 and had already completed at least five seasons in the league. I'm not saying Ed Davis is a surefire bet to be a future All-Star – but three years from now, he'll be the most important player left from this deal, and it won't be close. Fan expectations are colored by exceptions to the norm – we all want lottery picks to come in immediately and succeed. Young, gifted big men don't just appear out of nowhere, and often require a little grooming and patience before you see a payoff. I would have expected Toronto to be just the place for Davis to get the time necessary to see if he could take the next step; instead, we're going to find out if he can adjust to being a role player on a playoff team. To complicate things further, Davis is going to a Memphis team with two terrific (and entrenched) frontcourt players in Marc Gasol and Zach Randolph, and another forward(Darrell Arthur) who is well-liked by the Grizzlies' coaching staff. He's now the fourth-best big man in a loaded frontcourt, meaning he can kiss the regular minutes he was receiving in Toronto good-bye. It's a shame, really. He's a solid, if unspectacular, rebounder. He's posting above-average shooting percentages everywhere from the rim-to-15 feet. His defense needs some work, but has been coming along since his inauspicious rookie year. Memphis had problems scoring before the deal, and still will – but at least they get some financial freedom, and a young player with a lot of potential along with it. Moving forward, it'll be interesting to see how the rest of the roster responds to the deal, or if Memphis is done making moves. Oftentimes, folks are too quick to pass final judgment on trades – and while I'm tempted to say Memphis clearly got the better end of the transaction, much of the outcome depends on Ed Davis, and how he develops in the coming year and a half. BreakTheHuddle primarily covers the MASH-unit otherwise known as the Minnesota Timberwolves. Leave a comment below, follow him on Twitter @BreakTheHuddle or email him at BreakTheHuddle@gmail.com.
Original Story:
http://nba247365.com/?p=10050
THE BACKYARD
BEST OF MAXIM
RELATED ARTICLES
In a deal that I honestly thought would never happen after the Grizzlies front office managed to get under the luxury tax threshold by dealing Marreese Speights, Rudy Gay has been traded.The Raptors will send out Jose Calderon and Ed Davis for Gay and Hamed Haddadi.The Pistons will acquire Calderon, with the Grizzlies receiving Tayshaun Prince and Austin Daye.The Grizzlies...
Monday, my boy Josh retweeted this: .@alleniverson and Delonte West (@charleeredz13) might be teammates soon: cmplx.it/XGo4mD — Complex(@ComplexMag) January 28, 2013   Yes, apparently the Texas Legends, the NBA Developmental League affiliate of the Dallas Mavericks, are interested in signing Allen Iverson to join a roster that already includes former NBAers Delonte West, Rashad...
The Memphis Grizzlies, Toronto Raptors, and Detroit Pistons made some noise around the NBA Wednesday night as they all agreed on a blockbuster trade that will clearly effect these franchises going forward, not to mention the rest of your fantasy season!The Grizzlies, Raptors and Pistons agreed to a six-player trade Wednesday that sent star swingman Rudy Gay to Toronto.The Grizzlies...
Rudy Gay is on his way to Toronto in the latest and most dramatic move in the Memphis Grizzlies makeover, a person with knowledge of the situation told The Associated Press. The Grizzlies agreed to trade their star swingman to the Raptors on Wednesday, parting with the leading scorer on a team that has aspirations of making a run in the powerful Western Conference. The person spoke...
Grizzlies leading scorer Rudy Gay is reportedly bound for the Great White North. ESPN.com's Marc Stein reports that Memphis has agreed in principle to ship Gay to the Raptors in what is being described as potential three-team deal. Stein quotes sources saying that the Grizzlies will acquire forward Ed Davis and guard Jose Calderon from Toronto, but that Calderon will likely be...
The Memphis Grizzlies have agreed to trade leading scorer, Rudy Gay to the Toronto Raptors, along with Hamed Haddadi, for Ed Davis, Jose Calderon and a second round pick. The Grizzlies are shipping Calderon immediately to Detroit, for Tayshaun Prince and Austin Daye. Here are the grades from this massive three-team trade. Memphis Grizzlies Add: Ed Davis, Tayshaun Prince, Austin Daye...
Turns out there was some merit to the trade rumors involving the Memphis Grizzlies and Toronto Raptors.  With the help of Joe Dumars and the Pistons, Chris Wallace and Bryan Colangelo closed the deal sending Rudy Gay to Canada in exchange for Ed Davis and Jose Calderon, who will land in Detroit (just Calderon, not Davis; he's a Grizzly).  Tayshaun Prince and Austin Daye will...
The Memphis Grizzlies, playing for the first time after trading away Rudy Gay, get set to face the Thunder in Oklahoma City tonight. While the Gay swap for Ed Davis, Tayshaun Prince, and Austin Daye saves the tea money and improves depth in the long-run, they'll be fairly depleted in tonight's match-up. AccuScore has the Thunder as heavy favorites with 87.3 percent chance at...
The Memphis Grizzlies are nearing completion on a trade to send forward Rudy Gay to the Toronto Raptors, league sources told Yahoo! Sports. The teams are expected to present proposals to their respective owners on Wednesday. It is unclear whether the Grizzlies have found a third team to join the trade or will absorb the $10.5 million expiring contract of Jose Calderon themselves...
Adrian Wojnarowski of Yahoo! Sports reports the Grizzlies and Raptors are closing in on a deal that would send Rudy Gay from Memphis to Toronto. The big hang up in the deal is finding a third team willing to take on Jose Calderon's expiring contract. It would seem this is a perfect place for the Magic to step in and use that $12 million trade exception they have handy. However...
The Memphis Grizzlies traded away arguably their best player and leading scorer Rudy Gay for spare parts to save a little money on their salary cap next year and it showed tonight in a game against the NBA's 2nd best record Oklahoma City Thunder. The Thunder led 58-34 at the half and never looked back. Kevin Durant dropped in 27 as the Thunder took a 106-89 victory over the Grizzlies...
NBA News

Delivered to your inbox

You'll also receive Yardbarker's daily Top 10, featuring the best sports stories from around the web. Customize your newsletter to get articles on your favorite sports and teams. And the best part? It's free!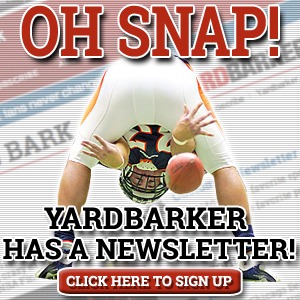 Latest Rumors
Best of Yardbarker

Today's Best Stuff

For Bloggers

Join the Yardbarker Network for more promotion, traffic, and money.

Company Info

Help

What is Yardbarker?

Yardbarker is the largest network of sports blogs and pro athlete blogs on the web. This site is the hub of the Yardbarker Network, where our editors and algorithms curate the best sports content from our network and beyond.