Found June 20, 2013 on Project Spurs:
This was San Antonio Spurs guard Manu Ginobili Tuesday evening after his team had just had an NBA championship in their grasps, but couldn't close the deal as the Miami Heat forced a Game 7. "I had a very good game last game," said Ginobili of Game 5 where he scored 24 points and passed for 10 assists, "and today I just couldn't maintain it.  I was very insecure‑‑ well, I had a career high in turnovers in a really bad moment.  It really helps to make me feel terrible." "Even with all that," continued Ginobili, "we were so close of winning it.  So it's one of the many things I'll be thinking tonight." After a spectacular Game 5 performance, Ginobili continued on the roller-coaster ride he's been on throughout these Finals as he only scored nine points, threw three assists, and turned the ball over a career-high eight times on Tuesday in Game 6. "I have no clue how we're going to be reenergized," continued Ginobili. "I'm devastated.  But we have to.  There's no Game 8 afterwards.  We're going to have to play our best game, even better than today.  Shoot better, better defense, less turnovers in my case, but, yeah, there's no secret recipe for bouncing back." Going back to Game 4, where Ginobili played 26 minutes, contributed only 5 points, 3 assists, and 1 turnover, the question 'what's wrong with Manu?' began to arise. From Game 4 to Game 5, as the criticism was surrounding Ginobili, his teammates never lost faith in him, and they knew he would bounce back. After Game 5, I wrote a column describing how the Spurs are like a family. In a family, when one member is struggling at a low point in their life, the other members don't just abandon them or criticize them, instead they offer support and continue to hold the belief that the struggling member will eventually overcome their challenges. The same could be said for the Spurs on Tuesday after the game and Wednesday at the team's practice. There, Ginobili's teammates once again faced the media and made everyone aware that they haven't lost faith in Manu. "Manu will be good," said Duncan Tuesday night. "He'll be fine.  He made some turnovers and some unfortunate plays, but honestly, the last play down the stretch there, it can go either way.  We obviously believe it was a foul going down the middle.  We get two free throws and we're talking about something different here, if that happens." Duncan was referring to a play in overtime when the Spurs held the Heat scoreless on a possession, grabbed the rebound down one point, and head coach Gregg Popovich cued for Ginobili to take the ball down the middle of the lane. Ray Allen would strip Ginobili and the referees didn't blow the whistle, so the Heat would take the turnover and turn it into points by way of free throws. "So he'll be just fine," continued Duncan of Ginobili. "He'll blame himself and put it on himself.  That just makes him more aggressive and more ready to play the next one." Even Coach Popovich said Ginobili will be ready for Game 7. When asked if he's worried about the mental state of Ginobili, Coach Popovich had this response. "No, because that's how a competitor feels.  A competitor feels it deeply and really, really tough loss in that regard.  And I expect Manu to feel like that after the game." "But he'll be fine," concluded Popovich of Ginobili. "You know, Manu, like I said, he has his ups and downs," said Danny Green at the Spurs' practice Wednesday. "Obviously the last game wasn't his best game.  We don't expect him to score 20 and have 10 like he did in Game 5, but we just expect him to play hard, to attack the defense, put pressure on them, and take care of the ball." So with the support of his coach and teammates, Ginobili too addressed the media Wednesday and said though he's slowly getting over the Game 6 loss, he's preparing himself for another shot at the title in Game 7. "I'm still down," said Ginobili. "A blow like that, it's not easy to get back up.  But after 12 hours now, I feel a little better.  Knowing that we have another chance, that we can do so many things better, and that we are in a Game 7 of the NBA Finals.  There's not much more than that." "In this one, again, I just got to try to do my best to forget, learn from mistakes, and have a good, solid game next to my teammates," said Ginobili as Game 7 approaches.  "Not about trying to score more.  Just be solid and more aggressive and less mistakes of course." There's no telling what type of Ginobili will come out of the tunnel for Game 7, but for a player who is putting a lot of the responsibility on his shoulders for the Game 6 loss, Ginobili is one who you could infer will come out with fire in his eyes and will be ready to leave it all on the line. Ginobili could play decent, he could play great, or he could continue to struggle and that's the extraordinary part about basketball in the case of a guy like Ginobili. You can never predict his next move. He helped the Spurs clinch Game 7 against the Detroit Pistons back in 2005. He gave the Spurs a 3-point lead in 2006 against the Dallas Mavericks, but then took it away by fouling Dirk Nowitzki on the following play. Even in these crazy 2013 playoffs, he took an early 3-pointer that gave the Golden State Warriors a chance to take the lead in Game 1 of the second round, but then he eventually knocked down a 3-pointer at the buzzer to send the Spurs into overtime and eventually clinch the game. You just can't predict what Ginobili's going to do, and that's what makes him so unique. It's what makes Manu, well Manu. Game 7 could possibly be Ginobili's last in a Spurs uniform or in a basketball uniform altogether. Should it be, Game 7 will be the closing chapter of his career, and that's where you have to realize – Manu's story is still being written. As for Ginobili himself, he knows regardless of how bad Tuesday was, Thursday offers a chance for redemption. "And we'll try to bounce back and still get it back," finished Ginobili Wednesday. "We still have time." Remember folks, his story is still being written, will Manu be Manu? We'll have to wait and see.
Original Story:
http://www.projectspurs.com/2013-arti...
THE BACKYARD
BEST OF MAXIM
RELATED ARTICLES
Thanks to the website "Vine", classic mash-ups like this one can come to fruition in a matter of seconds. Check out Mad Men's "Don Draper" reacting to Manu Ginobili's thoughts on the lack of a foul call in the final seconds of overtime of game six of the 2013 NBA Finals:
If Manu Ginobili's comments after the Spurs blew a Game 6 lead to the Miami Heat in the final minute are any indication, then San Antonio won't have much of a chance to win Game 7 of the NBA Finals. The Spurs were so close to winning the NBA championship on Tuesday that losing the [...]
The Spurs were so close to another championship, they could taste it. Instead, they are trying to wash out the bitter flavor stuck in their mouths. Tim Duncan, Manu Ginobili and Tony Parker were devastated after they blew a 10-point lead to begin the fourth quarter and a five-point lead with 28 seconds remaining in regulation in Game 6 of the NBA Finals on Tuesday. Their 103-100...
Manu Ginobili wasn't able to carry over his strong play from the Spurs' Game 5 win (24 points, 10 assists) into Game 6 Tuesday night. In his second straight start, Ginobili scored just 9 points, had 8 (game-high) of the team's 13 turnovers and called the 103-100 OT loss devastating. According to TheStar.com: "I have no clue how we're going to be re-energized," said Ginobili...
The San Antonio Spurs were moments away from capturing title No. 5 for the franchise versus the Miami Heat in Miami in Game 6 of the NBA Finals, holding on to a 5-point lead.  Then a three pointer by Ray Allen, missed free throws by the Spurs, and a few rebounds that did not go San Antonio's way and the Spurs saw their lead evaporate and lost in overtime, 100-103. After...
TOUGH ONE TO SWALLOW
After blowing a 10-point lead in the fourth quarter and losing in overtime, Spurs veteran Manu Ginobili didn't mince words when explaining how it felt, saying, "I'm devastated."
According to The SA Express News, Manu Ginobili had a tough time shutting his eyes after the Game 6 loss. When asked how he slept after his 9 point, EIGHT turnover performance, Manu was brief – "With some assistance," he said. So does that mean he took sleeping pills? Did he rub one out? Did he wrap himself in a warm blanket while his dog licked the spaces between his toes...
Ok I'm not recapping the game per say, you all saw it. It was an instant classic, and one of the better games in NBA history. I'm here to talk about something else. Something that permeates twitter and the like after every big game, something that grinds my gears. Did the refs hand this game to the Heat? We've all seen it by now; Manu Ginobili cutting to the hoop...
The San Antonio Spurs (15-4) will look to win their fifth NBA title tonight in Miami as they face the Heat (14-7) in Game 6 of the NBA Finals in Miami. The Spurs are coming off a 114-104 win over the Heat in Game 5 in San Antonio to take a 3-2 series lead. Manu Ginobili made his first postseason start since and tallied 24 points and 10 assists. Tony Parker had 26 and 5 assists...
Tony Parker refused to consider it, though it can't be ruled out. Those last, agonizing moments of the NBA Finals may have been the last we see of these San Antonio Spurs. Tim Duncan, Manu Ginobili and Parker have been together for more than a decade, through more than 100 postseason victories. They are proud winners who have endured some crushing defeats, but nothing ever...
It was painful to watch as the San Antonio Spurs walked off the Heat home court in a Game 7 loss in the NBA Finals. It was the first time in the Spurs' history they lost in an NBA Finals. The Spurs spoke about the loss and needless to say, the pain of losing in basketball's grandest stage was evident on their faces. Tim Duncan: Coach Pop: Tony...
NBA News

Delivered to your inbox

You'll also receive Yardbarker's daily Top 10, featuring the best sports stories from around the web. Customize your newsletter to get articles on your favorite sports and teams. And the best part? It's free!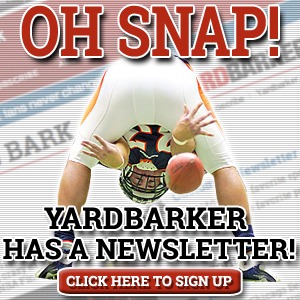 Latest Rumors
Best of Yardbarker

Today's Best Stuff

For Bloggers

Join the Yardbarker Network for more promotion, traffic, and money.

Company Info

Help

What is Yardbarker?

Yardbarker is the largest network of sports blogs and pro athlete blogs on the web. This site is the hub of the Yardbarker Network, where our editors and algorithms curate the best sports content from our network and beyond.