As we head into the challenge round of our All Time NBA Mock Draft we have learned a couple of things about people's views on the history of the NBA. A great big man will always influence the game more than a great guard, defense may win championships, but some offensive forces just can't be stopped, and most of all never count out what type of scheme someone is playing in, because as little as coaching matters, with all this hypothetical talent together, putting those players in the best position to win is more important than just collecting talent. So we start out pool play 2 with a look at two of the better PGs to ever step on the floor, oh and that Wilt guy, with the All Time NBA Mock Draft- Magic Johnson v Jason Kidd. Game Thread. Showtime is Back PG – Magic 38min
SG – Squid 33min Squid is in when Magic is out…
SF – Kobe 38min 23 SF 15 SG
PF – Marion 24min
C – Unseld 38min Dominque Wilkins 25min SF
Rondo 10min PG
Detlef Schrempf 10min C
Connie Hawkins 24min PF Defense=3G man2man rotations… we double Wilt all game when Unseld's in…Magic(Squid when Magic's out) calls out who…we won't use the same man more than twice in a row…they'll use predetermined calls to send them…when playside player doubles closest man picks up his man the next covers his…last man in the rotation will spilt the 2 men left open leaving furthest pass easiest but will anticipate that pass…here's where our athleticism and quickness help us…should the cross-court pass be made closest guy slides out in defensive stance allowing the jumper first but contest as they go up…his players want to go to the rack…we want to force jumpers or force baseline…only guy that stays home always is Unseld…on PnX go under on Kidd fight through on everybody else with the screener's man showing quick then dropping back… Wilt…Unseld…Unseld will push him out further than Wilt would like…he'ss big enough and strong enough to get Wilt off the blocks and that's all we want…keep that big body on him then attack the boards…on the pass he may pull the chair on occasion and try for a steal or on the catch to force a travel…once Wilt begins his dribble we'll send double…our men then rotate as stated…we expect alot of Wilt due to our size…but our quickness should neutralize… Kidd…Kobe…we want Kobe to chop the head off…without Kidd BigGame becomes the guy after Magic retired and Thompson has his own troubles…pick up full-court all over him…once at half-court drop back a step and play those passing lane…work the clock down ensuring they go to Wilt…that will help us to get our rotations moving without worrying about Kidd getting others involved…when Kidd is out and Kobe/Squid in…Squid will play the bench PG… SG…whomever he puts here will face Squid or Kobe…good luck…Wilkes we play a step off weak-side…denial when he is strong-side…in his kitchen when he has it…rare double off him when he's in and only when he's the cross-court pass…Thompson we stay a step off…never lose site off ball so he cant get those put backs and lobs…we bump him as he runs by…our guys trail him as he runs through screens…all over him when he has the ball forcing baseline…anyone else we play a step off looking to make anticipation steals… SF…Marion/Wilkins…Worthy's the main man…we want Marion ALL over him when Kidd has the ball…full-court…never separate unless called by Magic for the double on Wilt…Wilkins plays same way inside the 3pt line but a step off full-court before that…if he gets it in the post a small step off (half arms length) waiting for that spin…anticipate and take that charge sometimes…if Wilkes is in…play him for the jumper picking up half-court…if Rodman is here Wilkins/Magic in that order…will play him as described below… Rodman…Magic/Wlikins/Hawk…we sag here…shade the side he's on but never go more than 2 feet from the key in any direction…we look to make alot of steals here…Magic avg. 3.4 steals by playing pasing lanes…that's what we want…he'll get some rebounds but so will Magic/Hawk…whomever is guarding Rodman will crash boards…sag…anticipate steals…and help most…Wilkins only has him if at SF… Lucas…Hawkins/Magic…he may want Rodman off bench…Hawkins and Magic are here…PF and SG are his weakest positions…stay about a foot off without ball…PnX Magic will switch oterwise fight through…the switch player should be fine as Lucas wants to shoot and any player that's on him can bother that shot…try and keep him off the boards… 10min bench 1-3-1-zone…Rondo top…Squid/Nique wings…Detlef high…Hawk low…Wilt may get a couple of minutes here…wings sag between post and their area almost like a front to invite a long range shot if he's in…double Wilt on catch…otherwise Hawk plays tough…we'll anticipate passes alot…Rondo will be very aggressive up top…outside 3 will leave assigned areas alot anticipating steals or traps…on traps everybody not involved in trap get in passing lanes… Kobe will always release…Nique will leak out if Kobe is resting…everybody else is crashing the boards…we look to make steals w/a gambling defense…he lacks shooting that would kill us and only his PG's can pass…even Kidd coughs it up alot…high 4.0tos for a season prime… recap…work down shot clock…push Wilt out a step or 2…swarm Wilt outside his comfort zone…then off to the races…Magic has Rodman whenever they are together…Marion will move to Lucas if in with Rodman… Offense… run…off steals…rebounds…made baskets…always look to leaked player then Magic…Unseld's the greatest fastbreak starter ever…Magic's the greatest fastbreak PG…we're outta here…Kobe/Nique up ahead…not there…slides short corner Marion/Squid/Nique filling lanes…Squid stops for 15 footers sometimes…not there…Kobe cuts to the basket as Magic circles back no-look/lob…not there…Kobe sets up in post…Unseld free-throw line..Marion weakside short corner…Squid/Nique top-side opposite Magic…2-1-2 Magic looks to Kobe post…Kobe goes to work on smaller jump happy Thompson…pump-and-drive/pump-pump-jumper…Wilkes there?…fade…up-and-under…pump-pivot-pump-and-1… Magic looks off Kobe…Squid/Nique gets killer screen from Unseld down middle Magic dime…not there…go through…Marion cuts back door loob…not there…go through to opposite short corner and replace Squid/Nique…Squid/Nique gets hand off from Magic…Magic to post Kobe shoots top-side opposite Squid/Nique…before Magic passes off he may call for a pick at top of the key from Unseld…if they go under Magic steps back Wes slips to the basket…if Wilt doesn't go with Unseld…Unseld post-up PG…if Wilt slides down Magic has a clear path as the PG will get stuck behind BIG UNSELD… Magic in the post…Marion cuts baseline…Magic hand-off/quick weakside dump Marion dunk…not there…go through weakside short-corner…Kobe slips middle quick pass…not there…run through hands up…you never know…Marion/Unseld shoots to basket as Magic works the post for rebound or no look… look off Magic in post…reverse ball to Kobe…Kobe for 3…not there…top of the key pick from Unseld…Kobe pop-it/pump-and-1 if they fight through screens…if double…Kobe splits double dunk/steps back pump-pump-and-1… when Nique's in with starters he and Kobe will switch spots at times…constant motion…Marion/Squid/Nique sometimes find a hole by the basket and sit there…Magic will hit em w/that laser…when Kobe's feelin it Magic will get Kobe the ball early…about 4-6 possessions or until a couple misses… 10min bench…still push w/Rondo then 4-out-1-in…Hawk high-post…Hawk ISO in high-post…look to drive-n-kick to Detlef or cutting Nique…Hawk was a solid passer…Rondo/Hawk PnX…Rondo drive-n-kick…really want to get Detlef some 3′s…Nique ISO…PnR w/Hawk…Nique/Hawk drop to post sometimes…this set is where Nique and Hawk dominate his bench…Detlef will punish their bigs from 3pt-land… PG- Kidd (36mins)
SG- Thompson (36mins)
SF- Worthy (36mins)
PF- Rodman (36mins)
C- Wilt (42mins) Bench PG- Tiny (12mins)
Jamaal Wilkes- 24mins (12 @ SG, 12 @ SF)
PF- Jerry Lucas- 12mins
C- Arvydas Sabonis (6mins) Defense Surprisingly I feel like we match up very well with WlkWlk's mis mash of talent and this game should come down to who is able to get stops, us, and control extra possessions, again us. Magic- Worm gets the call here and that shouldn't surprise anyone. We want to unleash vintage, defensive player of the year Worm from his Pistons days that checked Magic in the finals. While Wlk has fantastic supporting scorers, the offense should and will run through Magic, meaning we want one of the best defenders ever to guard Magic to take him out of his normal game by being physical, harassing him as soon as he crosses half court, but doing it a step back as too take away passing lanes and cut off penetration as best as possible before they get to the three point line, when he will start to body up at times, and other times play that step back defense. Why are we putting Worm on Magic? Check out what was said back in Nugs heyday during the 88' finals: Said Laker forward Mychal Thompson: "(Rodman) has been giving Buck (Johnson) a lot of problems. Defense is Rodman's game, and he's got the size and quickness to stay with Buck. Rodman is 6-8, and Buck can't throw him out of the way like all the little guys. "Dennis covers Magic like a blanket," Laker Coach Pat Riley said of Rodman. One of the things we want to do with Rodman is make Magic the primary scorer, effectively nullifying the best use of Magic, as the facilitator and creator for their offense. The other nuance of Rodman guarding Magic is it will take him off the offensive glass, where he excelled at getting easy put backs or being able to reset the offense. Kobe- Kidd gets the call here. Pretty simple, it's Kobe, we want to limit the damage by contesting everything, going under screens if he isn't hot early, to invite long range jumpers, and then if he is hitting from outside of 18ft, fight through screens, run him off his spots, and keep him in front as much as possible. Squid- Thompson gets the call here. W/ all the options they have offensively Squid will get pushed out to a tertiary or worse option. We want to take advantage of that with Thompson looking to double or trap Kobe (notice not Magic) any chance he gets and then recover back.
Keep him in front, play for penetration by keeping a step off, and bait him into longer jump shots. Matrix/Nique- Worthy gets the call here no matter who they start. Trix was a less physical, less skilled version of Nique, but both flourished in the open court, or in situations of being set up. The one caveat is when Nique iso's, which he was very good at, we want to push him towards the baseline and allow Wilt to come over and help out if need be. Again, force them into long jumpers, we know they will try and punish us by penetration, but we want to funnel everything we can to the baseline to make it easier for Wilt to get to help. Unseld- Wilt was bigger, stronger, faster, more athletic, and just flat out better. We will use Wilt as help and recover, front on post ups because of the large size disparity, and make it nearly impossible for him to get clean looks. Transition- Wlk, much like our squad, is built to run, so we will be fine in getting up and down, but the difference is he doesn't have the inside presence to run an actual showtime offense and his playmakers, outside of Magic and Unseld, weren't really play makers. Kobe has never played in an up and down tempo, and is more of a ball in his hands type guy, so we want to make sure we get him draped by Kidd as soon as the break starts. Don't let him catch the ball in transition, getting to the basket, instead push him to catch the ball before the break starts effectively killing that fast break opportunity. How do we do that? Well first by disrupting their rebounders in Magic/Unseld/Matrix. Rodman will most likely, unless Wlk has a wish to not let this be a close game, have Magic covering him, meaning that Rodman will either be checked by Magic and therefore won't have to find him in order to body him up to cut off the fast break before it gets revved up. It isn't a full court press, or a trap, it is simply getting the ball out of his players hands. The last part that will help us keep their fast break under control, other than our offense scoring at will, is Wilt. Unseld was a FANTASTIC outlet and trigger man for the fast break, but he never had to defend Wilt in his prime, and he never had to outlet around, over and through Wilt in his prime. IF we miss a shot we Wilt is going to immediately body up Unseld anytime he gets a rebound, cutting off the outlet pass that will trigger many a fast break. Bench defense- Other than Wilkins (who we covered) they don't have a lot of bench thunder that worries me. Man up by position, with basic defensive principals applied, force Rondo into being an outside shooter by sagging off anywhere above the free throw line, try and force Manu to go right and be physical with him in the lane, don't sag off or give him space to shoot. Stat/Hawkins- Cut off their lanes on the fast break… Force them to be jump shooters and keep them out of the middle of the paint where they are most effective. Dan/Schrempf- Do not leave them open on fast break, find them and get a hand in their face. Offense- Run w/ a purpose- We have the horses to get up and down the floor and dominate the pace w/ our big man down below in Wilt. We are running a simple 1-3-1 offense that will be our base offense if we aren't able to score when we break. Kidd running the point Worthy/Thompson filling the wings, Wilt taking the trailing side Kidd isn't on and Rodman trying to get into a fight with Magic. Attack the basket, they have no one inside that can stop us from getting to the rack, and we have the athletes to get their superstars in trouble if they try. If there isn't an easy mid range J or trip to the tin then we want to pull it out and reset and get into the 1-3-1 set. Option 1/2/3/4/5: Dump it down to Wilt. Run the entire damn show through Wilt looking to set him up on either block, Unseld can't stop him from getting where he wants to go. Double screen from the wing and Rodman to get Kidd moving to an easier entry pass, and then dump it down, have Rodman then set another screen for the other wing and have him flash once Wilt gets the entry pass. PnR w/ Wilt and perimeter player, shouldn't pose too many issues, if they want to go under the screen we have Wilt seal and open up to get the ball, even if it is 20ft away from the basket and the wing player cut. If they go over the screen we run normal PnR, have Wilt roll, have the perimeter player look to attack the rim or get the ball to Wilt attacking the rim. Have wing set high screen for Kidd, Rodman goes down to opposite block and sets back screen for other wing, and Wilt fakes post and sets additional screen for wing to come get ball on low block to 10 ft extended and get an easy look. Bring Wilt and have a 1-4 high look at allow perimeter player to use either big to attack off a screen w/ the wing player crashing to the hoop as well. If they pack the paint we will attack more w/ screens from Wilt and the wing players to get the action on the defense confused. Obviously Wilt isn't options 1-5, but we want him getting the bulk of the touches and our wings working off him, instead of looking for the wings first. When Wilt is out we are going to keep our 1-3-1 running, but put Sabonis in the high post and let Tiny and Thompson be our main guys, so yes when Wilt is out for his 6 total minutes Thompson is not. Attack with Tiny/Thompson, get them looks through high screens with Sabonis, or off of cuts using Sabonis' excellent passing abilities. Lucas and Wilkes will always look to get open if their men double on drives or help as they are dangerous set shooters.
Original Story:
http://feedproxy.google.com/~r/TheSpo...
MORE FROM YARDBARKER
NBA News

Delivered to your inbox

You'll also receive Yardbarker's daily Top 10, featuring the best sports stories from around the web. Customize your newsletter to get articles on your favorite sports and teams. And the best part? It's free!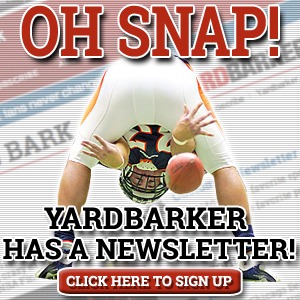 Latest Rumors
Best of Yardbarker

Today's Best Stuff

For Bloggers

Join the Yardbarker Network for more promotion, traffic, and money.

Company Info

Help

What is Yardbarker?

Yardbarker is the largest network of sports blogs and pro athlete blogs on the web. This site is the hub of the Yardbarker Network, where our editors and algorithms curate the best sports content from our network and beyond.