Found December 01, 2012 on Orlando Magic Daily:
Sunday is going to be a weird day for Magic fans. In one sense it will be extremely cathartic -- the object of hatred for much of the past nine months will be front and center on the TV screen. Venom can be unleashed on Twitter and schadenfreude (taking pleasure in other people's pain) can be expressed in a very real manner. Let's not even go into the feelings should Orlando actually win in Los Angeles on Sunday. In another sense it will be bizarre. Dwight Howard has changed his look. He is wearing a new jersey (same number, different color), got rid of one of his arm sleeves and added a headband. It is a tangible symbol of the change Howard is going through. Yet, on the other hand, he is still much the same player. He will miss free throws. He will dunk hard. He will change shots in the paint. And for eight years, he did all that in Orlando as hard as any player could. The first time the Magic face the Lakers, set up for tip off Sunday at 9:30 p.m. ET, will ...
Original Story:
http://www.orlandomagicdaily.com/dece...
THE BACKYARD
BEST OF MAXIM
RELATED ARTICLES
Dwight Howard ended up with the Los Angeles Lakers because that is where he wanted to be. It is generally assumed that Howard will sign an extension with the Lakers at the end of the season and become the next cornerstone of their franchise. Had L.A. thought Howard would stick around for a year and pack his bags in the summer of 2013, they never would have traded for him. While it...
FROM DOWNTOWN
Dwight Howard isn't known for his skills on offense. It basically consists of being able to get the ball low on the block and dunking or performing the Mikan Drill. Howard is so bad as a shooter that he actually lost a FT and 3pt-shooting contest to the mascot for the Los Angeles Kings. Yes, [...]
Dwight Howard says he's happy with the Lakers. Very. But he won't commit to staying with them past this season. "We're not going to talk about it," he said Saturday. "We're not getting into that." He's sticking with the recent trend established by LeBron James, Chris Bosh and, this season, Chris Paul. Howard is another All-Star in the last...
Jameer Nelson, who's a game-time decision (tendinitis) vs. the Lakers, was asked at this morning's shootaround what it will be like to see former teammate Dwight Howard play for the Los Angeles Lakers tonight. Playing alongside each other for eight seasons, Howard and Nelson were once close, and while the Magic point guard had nothing negative to say about Howard, he implied...
Los Angeles Lakers center Dwight Howard hit his first three-pointer since the 2006-07 season in the final seconds of the Lakers 122-103 victory over the Denver Nuggets. Howard scored 28 points with 20 rebounds and three blocks while Antawn Jamison led the team in scoring with 33 points.   The Nuggets were led by Danillo Gallinari with 19 points while Denver's high energy Kenneth...
The Magic defeated the Lakers by a final score of 113-103 in Dwight Howard's first game against his former team.
PAU RIGHT IN THE KISSER
The Lakers star apparently is extremely frustrated with his teammate, saying the following to reporters about Gasol: "Put your big boy pants on."
Dwight Howard said he's happy with the Los Angeles Lakers but wont commit to staying with the organization past this season. "We're not going to talk about it," Howard said Saturday to the Los Angeles Times. "We're not getting into that." Click Link To Read More! "This is a place that I've always prayed that I could be a part of something...
Every morning, we will give you five things from the night before in the NBA to start your day. 1: When it rains, it pours It was a rough 48 hours for the Nuggets. First was the wild finish in Golden State that ended with Andre iguodala's shot falling after the buzzer. The next night was an absolute offensive onslaught from the Lakers. It is hard out there for a Nugget...
By the time Dwight Howard stepped back and oh-so-coolly hit just the second 3-pointer of his entire career in the closing seconds, it didn't even seem weird to the Los Angeles Lakers. With so many unlikely numbers in improbable places on that bulging scoresheet, what was one last long-distance shot for a team that finally discovered its elusive rhythm? Antawn Jamison scored...
Magic 113, Lakers 103 ***Dwight Howard's first game against his old team certainly didn't go according to plan, but what has gone according to plan for the Lakers this season? In LA's disappointing, come-from-ahead loss, Howard scored just 21 points on 34 combined shot/free throw attempts. He threw up brick after brick from the stripe as Orlando put together a 40-point fourth...
Every morning, we will give you five things from the night before in the NBA to start your day. 1: Magic had something to prove Jameer Nelson was maybe the only guy willing to admit what Sunday's 113-103 win against Dwight Howard the Lakers actually meant. While Jacque Vaughn called it just another game and Glen Davis siad he was not worried about what Dwight Howard was...
NBA News

Delivered to your inbox

You'll also receive Yardbarker's daily Top 10, featuring the best sports stories from around the web. Customize your newsletter to get articles on your favorite sports and teams. And the best part? It's free!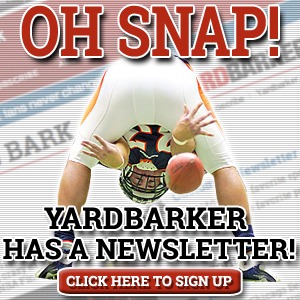 Latest Rumors
Best of Yardbarker

Today's Best Stuff

For Bloggers

Join the Yardbarker Network for more promotion, traffic, and money.

Company Info

Help

What is Yardbarker?

Yardbarker is the largest network of sports blogs and pro athlete blogs on the web. This site is the hub of the Yardbarker Network, where our editors and algorithms curate the best sports content from our network and beyond.