Found January 06, 2013 on Boston's Bettah:
Is Demarcus Cousins on his way to Boston? When the Celtics waived two prospects Kris Joseph and Jarvis Varnado earlier Sunday morning, it was seen as minor cost cutting moves. Both of their contracts were about to become guaranteed and the Celtics didn't want to deal with it. That may not have been the case reports CSN's A. Sherrod Blakely. #Celticstalk: The #Celtics decision to waive Vernado AND Joseph, opens the door for what one league source says may be a "blockbuster" deal. — A. Sherrod Blakely (@SherrodbCSN) January 7, 2013 Hmm, what could qualify as a "blockbuster" deal for the Boston Celtics? The only name that has been shopped around recently is the Kings center Demarcus Cousins, but earlier reports said this week said the deal was "unlikely". Who could the mystery player be? #Celticstalk: The name that keeps coming up with everyone I speak with about the #Celtics and trades, is #Kings stud DeMarcus Cousins. — A. Sherrod Blakely (@SherrodbCSN) January 7, 2013 This would certainly be news considering that Cousins is the most coveted player on the trade-market. The fact that the Boston Celtics waived two players to do it means that they are also taking in extra salary if a deal is imminent. Only four players on the roster qualify as a "high-salary" player and the only one that would qualify as a "trade piece" would be Jeff Green. I'll let you guess who the other three players are. If Cousins is indeed the target, it remains to be seen what the prospects that the Celtics would be sending to Sacramento. They don't need another low-post man so that would seem to take Sullinger off the board. The only player I can see that the Kings might covet would be Avery Bradley, but they also already have a two-guard. Maybe Danny Ainge convinced the Kings that Jeff Green was the second coming of Larry Bird, to which I laugh. Certainly need to keep our eyes on this over the next 24 hours.
Original Story:
http://www.bostonsbettah.com/?p=5565
THE BACKYARD
BEST OF MAXIM
RELATED ARTICLES
BEANTOWN BOUND?
Sources say that the Celtics are working on a deal involving several players in a trade for the Sacramento Kings' mercurial center, one that may soon be complete.
The rumor of the night: DeMarcus Cousins to the Boston Celtics. Rumors of a Cousins trade are nothing new. But Sunday night, AM 1510 NBC Sports Radio in Boston reported that Celtics GM Danny Ainge was working on a deal for the disgruntled Sacramento Kings center. Among the names in a rumored deal: Jeff Green, Jason Terry, Courtney Lee, Jared Sullinger and Avery Bradley. Not all...
The Kings continue to be adamant that DeMarcus Cousins won't be traded.
Well, it was fast: #Celticstalk: The #Celtics decision to waive Vernado AND Joseph, opens the door for what one league source says may be a "blockbuster" deal. — A. Sherrod Blakely (@SherrodbCSN) January 7, 2013 After some minutes of playing around with names in our heads, Blakely brought us a familiar name: #Celticstalk: The name that keeps coming up with everyone...
TORONTO - Sacramento Kings center DeMarcus Cousins says he has had difficulty finding his rhythm this season. Don't tell that to the Toronto Raptors. Cousins had season highs with 31 points and 20 rebounds and the Kings defeated the Raptors 105-96 on Friday at Air Canada Centre for their second win in a row. The loss snapped a three-game winning streak by the Raptors...
He talks about the talented Kings teams of the 1990s, teams led by Chris Webber and Mike Bibby and says he wants to be part of restoring that level of success. "That's like a trophy to me," Cousins said. "Taking a team no players really want to go to, a team considered the worst in the league, and through all the struggle and all the negativity, they found the way to win...
After a flurry of chatter to the contrary Sunday night, the latest reports say Kings big man DeMarcus Cousins is not coming to Boston. The talk started after the Celtics waved Kris Joseph and Jarvis Varnado Sunday. Some speculated that was a move to free up cap space as the team positioned itself for a major deal, because waving Joseph caught many off guard. Once that ball started...
According to CSNNE's A. Sherrod Blakely, the latest buzz around a trade for temperamental big man DeMarcus Cousins is the Kings seeking multiple young players and draft picks. While the Celtics could pull off such a move, in a package based around Avery Bradley and Jared Sullinger with others such as Courtney Lee, Fab Melo, Brandon Bass, etc., Danny Ainge should walk away and...
Celtics fans cannot seem to get DeMarcus Cousins off their minds, no matter how dead that trade rumor might be. The salary complications and Cousins' behavioral issues have been debated ad nauseam, so it is not worth going into those massive obstacles any further. One thing that has been repeated so often in the last few weeks, to the point that it has almost been accepted as fact...
After several rumors and reports this weekend speculated that the Celtics were in hot pursuit of troubled Sacramento Kings center Demarcus Cousins, USA Today's NBA writer Sam Amick is reporting that a deal between the two teams won't happen: DeMarcus Cousins is not going to the Celtics. Teams continue to be told that he's not available. That is all. — Sam Amick (@sam_amick...
DeMarcus Cousins scored a season-high 31 points and matched his career high with 20 rebounds, John Salmons scored eight of his 20 points in the fourth quarter and the Sacramento Kings beat the Toronto Raptors 105-96 on Friday night. Jason Thompson scored 14 points and Isaiah Thomas had 11 as the Kings won their second straight road game. Sacramento had gone 1-13 away from home before...
Brook Lopez is the highest scoring center in the NBA, but DeMarcus Cousins isn't far behind. Although Cousins got the better of the most recent matchup, it was Lopez and the Brooklyn Nets that emerged with the win. The centers will be matched up for the final time this season as the Nets and Sacramento Kings attempt to continue their respective surges Saturday night at Barclays...
NBA News

Delivered to your inbox

You'll also receive Yardbarker's daily Top 10, featuring the best sports stories from around the web. Customize your newsletter to get articles on your favorite sports and teams. And the best part? It's free!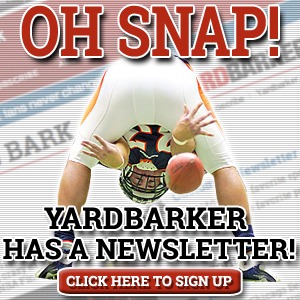 Latest Rumors
Best of Yardbarker

Today's Best Stuff

For Bloggers

Join the Yardbarker Network for more promotion, traffic, and money.

Company Info

Help

What is Yardbarker?

Yardbarker is the largest network of sports blogs and pro athlete blogs on the web. This site is the hub of the Yardbarker Network, where our editors and algorithms curate the best sports content from our network and beyond.